Grete Waitz—Role Model, Friend, and Pioneer of Modern Day Women's Running
A Tribute to Grete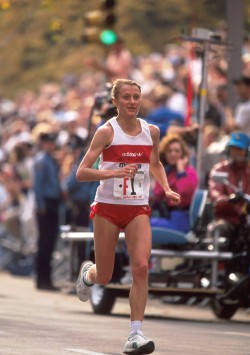 Our friend Grete Waitz—the 9-time New York City Marathon winner from Norway and world-record holder in many long distance events, including numerous world bests in the marathon—passed away last Tuesday morning at the age of 57. Diagnosed with cancer in 2005, Grete quickly became an ambassador in the fight against the illness, leading Norway's King Harald V to award her the Royal Norwegian order of St. Olav First Class. Sadly, she lost her own brave fight.
"Grete is in our hearts and always will be."
That's the message I shared with many of my fellow runners during the past days. We've exchanged emotional notes filled with admiration for Grete and told and re-told our own personal memories of the most gracious runner who ever lived.
Grete was an icon in long-distance and marathon running. In her first marathon—New York in 1978—the young schoolteacher from Oslo won in a world-record time of 2:32:30. It was just the beginning of a string of outstanding performances that broke important ground for women's running, and culminated in an Olympic Silver Medal in 1984.
Back at the end of the 70's I was living behind the "Iron Curtain" in East Germany. Getting the sports news from the "outside" was difficult. I had just started running in autumn 1978 and was quickly moving up from the shorter distances to the half marathon. "It's possible," my first coach said encouragingly, "and it has been done before." That's how I first heard the name "Grete" and about her New York Marathon victory. It inspired me and I have admired her ever since.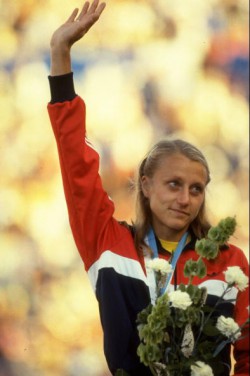 Grete and her coach and husband Jack would think "new and longer distances," and showed us that it was possible to train and prepare not just for the then-longest Olympic distance for women of 1,500m, but also for the 3,000m, 10,000m, and on up until the marathon on the elite level. Many of today's most successful runners begin with the shorter distances and move up to the marathon. They use their speed and add the endurance training to run such fast results in the 26.2 miles. Grete was a pioneer, and we remember her fantastic and groundbreaking achievements from the mid 70's until the end of the 80's with deepest admiration.
Her victories in the New York City Marathon and her world-record breaking times caught the attention of the world. Her name became synonymous with endurance sport and women's marathoning, and her astounding performances caused people to come out every year in autumn to cheer for Grete in New York. To them she was simply "Grete." No last name was necessary. And as New York went, so went the world.
She opened the doors for many women runners to realize that we could dream, that we were able to run further and faster. And in 1984, thanks to her achievements, the women's marathon finally was accepted and became an Olympic sport.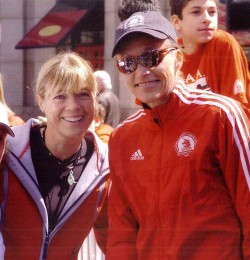 I was fortunate to have met Grete early in my marathon career. She was such a wonderful, graceful, and inspirational runner, and gave women the courage to try racing distances longer than the 800 meters. She instilled in us the realization that women's marathon running was indeed possible at an elite level. She thought it, trained it, and then put it into real results. With her extraordinary example, the world had no other choice than to accept it.
My tribute to Grete can't be measured in words, and she will always be in my heart. We will remember her as a most inspiring athlete and person. We admire her for her love of running, her outstanding athletic achievements, and her care for other people. She was our role model, our inspiration.
Grete leaves behind a legacy we will cherish forever.
As a measure of her world-wide stature, the government of Norway is planning a National Tribute for Grete in May. It will be a chance to say "goodbye" and "thank you" to the remarkable woman who left us so much.
Keep Running! See You on the Roads and Trails!

Maybe you would like to read more about Grete's outstanding athletic achievements, her life, and her legacy. Here's an article by our writer Jörg Wenig.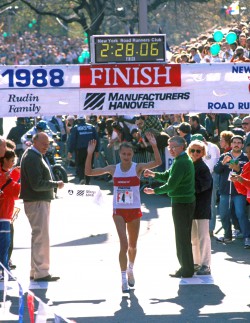 There is no other women who played a bigger part in the development and progress of women's running than Grete. The Norwegian celebrated great victories as a world-class athlete—first on the track and in cross-country, later on the roads—and especially in the marathon. And after her professional career was over, she used the popularity she gained through her success to pass on the joys of health-benefiting running to thousands of people. A highlight was the Grete Waitz Lopet event, founded by her, which took place in its original form until 2004 in Oslo (Norway), and was at that time the largest run for women in the world.
During a time when the longest distance permitted in women's races at major championships was 1,500 meters, Grete won the national junior titles in the 400 and 800 meters in Norway. It was later said that it had not been easy for Grete to convince her parents to support her interest in athletics. But in 1971, Grete Waitz ran a junior world record over 1,500 meters (4:17.0minutes), after she had, by the way, set a high-jump best of 1.61 meters in the same year. As an 18 year old she competed in the 1,500m at the 1972 Munich Olympic Games. At this premiere of the Olympic 1,500m distance for women however, she did not manage to get past the early heats. Longer distances were not yet part of the Olympic schedule.
Back then, Grete had not fully discovered her potential for longer distances, despite the fact that she had always been a strong cross-country runner and remained undefeated at this event for 12 years until 1981. At the beginning of the 1970s, the runner from Oslo was still far away from her later strength in the marathon distance. This became clear in a 1974 statement by Grete cited by Roberto L. Quercetani in his book "A World History of Long Distance Running." Grete was asked after her 1,500m bronze medal at the European Championships in Rome whether she wanted to perhaps switch to the 3,000m—that distance had been added for the first time to the European Championships. She replied: "I've already tried this distance and I think it is too long!"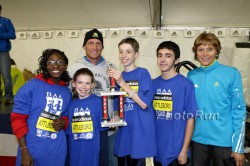 Today, with hindsight, this statement sounds astonishing. A year later, Grete must have laughed about it herself. For in 1975 she improved the 3,000m world record in Oslo by six seconds, running 8:46.6. In 1976, she bettered the mark to 8:45.4. But even the 3,000m was too short for Grete, who had married her coach Jack Waitz in 1975. After she won the first of five cross-country world championship titles in 1978, the co-founder of the New York City Marathon, Fred Lebow, invited her to compete in his race.
Grete had never before attempted a marathon. "I went," she later recalled about a situation just before the start, "to a bearded man who was giving instructions from a jeep and asked him: 'Mister Lebow, which way do I have to run here?'" About two-and-a-half hours later she had won the New York City Marathon and on her debut improved the world record of Christa Vahlensieck of West Germany by almost two minutes, with a 2:32:30. That was the beginning of her unique success story in New York, through which she became a role model in women's running. The following year, she returned to New York and became the first woman ever to go under two-and-a-half hours (2:27:33). The race was broadcast live for the first time. But the TV-coverage came to an end without reporting the ground-breaking record. The Norwegian was shown crossing the finish line—, but only running insiders understood the momentous feat they'd just witnessed.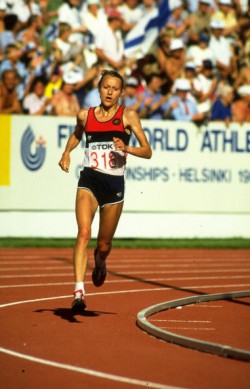 Grete can also certainly be credited with the fact that women's long distance was paid more attention to after that. She ran the last of her four marathon world records—in 1983 in London—with a time of 2:25:29 hours. With this result, Grete, who set national records from 800m to the marathon during her career, had improved the women's marathon mark by over nine minutes within five years. In 1983, she became the first women's marathon World Champion in Helsinki; a year later she won silver at the first Olympic women's marathon. Her New York Marathon record will likely stand for all time: Grete won the event nine times. No one has been able to come close. British runner Paula Radcliffe has won three New Yorks; Bill Rodgers was victorious four times in the 1970s.
The tenth victory, as much as Fred Lebow had wished it for her, proofed elusive. In 1990, Grete tried one more time and finished fourth. In 1992, she started again in New York, this time however under different circumstances: She jogged alongside Fred Lebow, the man who first brought her to New York, who was fighting brain cancer. They finished together in 5:32:34 hours, cheered to an emotional finish by thousands. Fred Lebow died from a brain tumor two years later.
Even during the time of her greatest triumphs, Grete was a campaigner for women's distance running. When her statue was unveiled in front of Oslo's Bislett Stadium in 1984, she started the first Grete Waitz Lopet there. Six thousand Norwegian women ran the race and soon the event grew to 45,000 runners. "They used to drink coffee—today they run," Grete said once. She had a significant influence in that. "I don't know whether I have really made running popular," she said, "but I have made it at least acceptable for people that don't look like it [runners]." In cooperation with her sponsor, adidas, Grete later supported the successful establishment of women-only runs in Dublin and Berlin as well.
"Previously people thought it was interesting to just run from the start to the finish line," she said. "Today, they don't want to pay for that alone anymore. There has to be a program. At the women's run in Oslo, the fun and what surrounds it stands take center stage, not the competition." After her professional running career, she worked not only as a race organizer, but also as a coach, running-book author, and commentator. The beloved Norwegian traveled as guest of honor to many events. After her cancer diagnosis in 2005, she also became involved in training programs that aim to prevent this disease.
Grete's Milestones: World Records, Championship Results and Personal Bests
Marathon world champion in 1983
Olympic silver medalist in 1984
Third place at the European Championships over 3,000m in 1978
Cross-country world champion in 1978, '79, '80, '81, and '83
Cross-country world championship bronze medalist in 1982 and '84
World records over 3,000m in 1975 (8:46.6 minutes) and '76 (8:45.4)
European record over 5,000m in 1982 (15:08.80)
World's bests over 15K (47:53/1984), 10 miles (53:05/1979), and 20 miles (1:51:23 hours) as well as four times in the marathon: 2:32:30 (1978), 2:27:33 (1979), 2:25:41 (1980), and 2:25:29 (1983)
Grete's Fantastic Nine Wins at the New York City Marathon
| | |
| --- | --- |
| Year | Mark |
| 1978 | 2:32:30 (World Record) |
| 1979 | 2:27:33 (WR) |
| 1980 | 2:25:41 (WR) |
| 1982 | 2:27:14 |
| 1983 | 2.27:00 |
| 1984 | 2:29:30 |
| 1985 | 2:28:34 |
| 1986 | 2:28:06 |
| 1988 | 2:28:07 |
© Copyright 2011-2022 by Uta Pippig. All Rights Reserved.
More Insights
October 13, 2020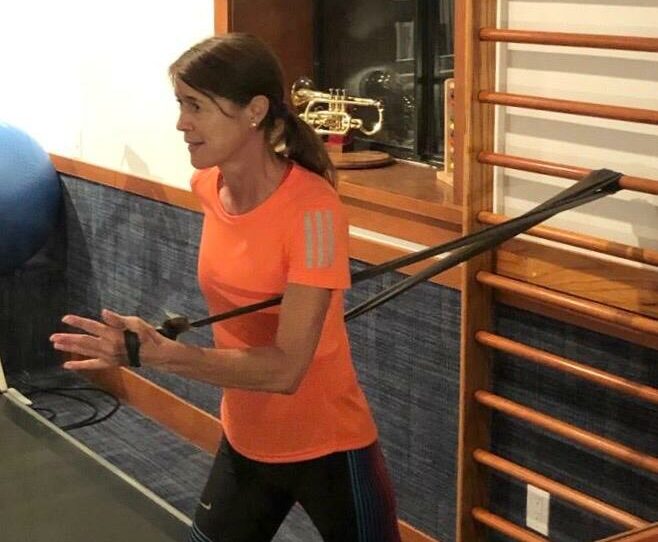 June 29, 2018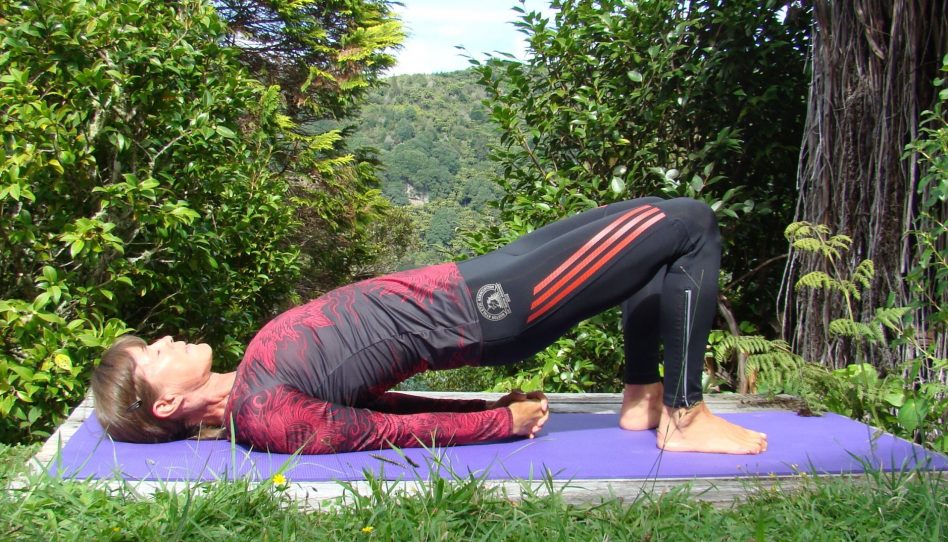 May 15, 2018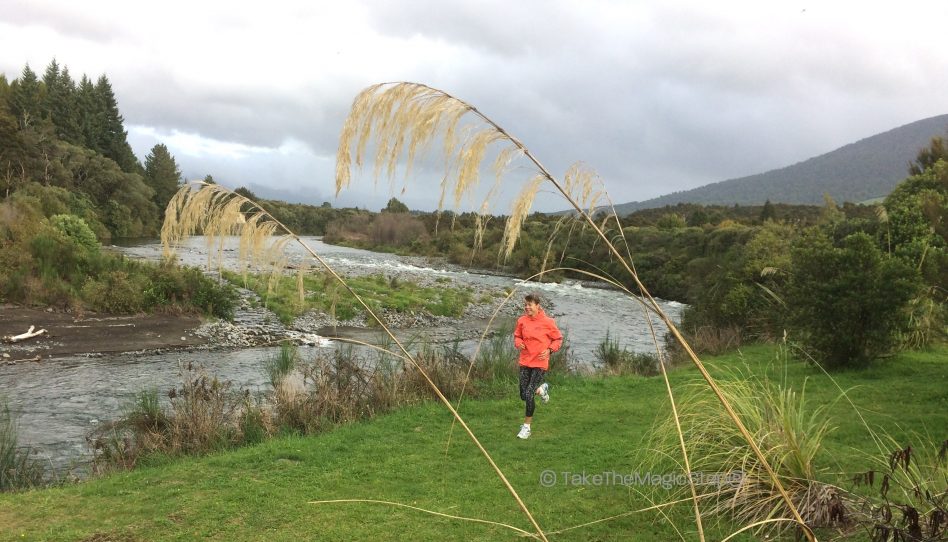 October 7, 2015