Dear Runners, Are You Prepared for Fantastic Events and Races this Spring? Some Last-Minute Tips for YOU…
It's Running Season again and I send you enthusiastic greetings! I hope you can crown your long winter of training with successful and fun races—from the 5K to the ultramarathon.
Before I pass on a few supporting thoughts and last-minute tips, I would like to salute all of you who have already participated in one of the many exciting running events this spring, and I hope you are pleased with your achievement. The article "After the Marathon: A Guide to Quick Recovery" might be useful in helping you to recover as quickly as possible, and to be able to get back into training soon after your race.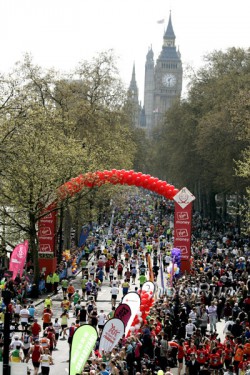 If your much-anticipated running event is still to come, I hope your training has been successful and that you are properly rested and mentally well-prepared. I'm sure you've thought about your own race preparation, but maybe some of the following thoughts can be a welcome addition to your routine.
Your event might be just around the corner, so I hope your tapering is going well. "Tapering" means running less than in your previous weeks of endurance training by substituting shorter and faster workouts, thereby allowing your muscles, body, and mind to recover and prepare for the race you've been focusing on.
It also means enjoying a relative rest from all the mileage you have put in, and getting excited about racing and competing. Building up your "running shape" can be a fun process, and positive thinking will allow you to release even more energy for your upcoming event.
Here's a link to an article I like to pass on to you each running season: "Two Days Before the Marathon." I have included some useful tips and advice on what to do and what not to do in these last days before your marathon, and how to overcome any "butterflies" that might accompany your great adventure. Many of these tips can also support those of you who are gearing up for distances between 5K and the half marathon, and even an ultramarathon.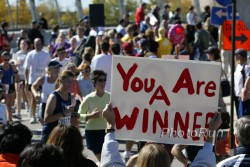 Besides the information in the article on training, equipment, nutrition, and mental preparation, here's further advice for the last weeks and days before your chosen event:
Your excitement and YOUR positive thoughts can work together to help you succeed: You have prepared well and trained so hard, and I hope that now you can focus on happy thoughts—particularly all the positive feedback you got from your training. Maybe you can remember an especially good workout that left you with the confidence to tackle your race and run a good time! Many of you might also be running for a charity: you are doing so many good things for others as you compete and I am in awe not only of your dedication to training, but also your fundraising activities.
Special Thought: The knowledge that your family and friends and maybe your coach are supporting you might help put your mind at ease in the days before—and give you wings during your race!
It would be best to stay away from trying anything different: Please, now is not the time to experiment with new equipment, a new diet, or a new running style. Your body is accustomed to the way you have been training, so stay with your regimen and you will do fine.
Special Thought: Keeping to a routine you've tried out before AND you believe in can help you to stay injury-free and be at your best on race day!
Focus on running relaxed: I hope you can feel good and confident about yourselves; please run with something in reserve: at no time now should you feel tired while running! During your race try to stay as relaxed as possible. It may be beneficial to check the article: "Would You Like To Run Better? Relax!"
Special Thought: Keeping to a proper running style will help you to maintain your average race pace much longer.
Finalize your race strategy: It's always a help to check out the race course and familiarize yourself with the terrain in advance. The event Web sites usually have great course information. As you wait for race day, you might want to plan your strategy for your run, particularly what pace you are hoping to keep. It's fun to plan some special meeting points on the course where family and friends can cheer you on. In addition, please make yourself familiar with the logistics of race morning. Know what to expect at the starting line and, to a lesser extent, at the finish line. Maybe you have friends who've participated in the event in previous years and can share their experiences of the course and key logistics with you.
Special Thought: Take some time to decide on a good strategy for your run based on your training and on your body's current level of fitness. Perhaps you've been dealing with last-minute health and training issues—please take these into account when you finalize your strategy for the days before and for the day of your event.
Allow your body to recover with good sleep: Getting enough sleep will help you to have a fresh mind and to stay focused. A race can be such a mental game: Play it strong! Give yourself the greatest chance to be mentally and physically at your BEST. A good night's rest can also help keep your immune system in shape to avoid colds or other ailments that could affect your health.
Special Thought: Your entire body is gearing up for your event, so support it by ensuring that the final days are not too hectic or stressful. The aim is for you to enjoy optimum mental and physical strength on race day.
And finally, here are two key pieces of advice on how to handle your event, whatever the distance:
When you start your race, please try to stay at a comfortable pace. Not too fast—it is better to be cautious. The excitement of having finally arrived at the starting line after weeks of anticipation might lure you into running too fast, and you are at risk of expending too much energy in the early stages of the race. It is a frequent and typical mistake we runners make, and unfortunately it often means we are forced to slow down dramatically at the end. It is best to run the first half of your race (particularly of a marathon) slightly slower—or at least at the same pace—than the second half: that means in 'Negative Splits.'
Special Thought: If you can, focus on 'Negative Splits.' Calculate beforehand what your pace needs to be to achieve this goal, then check your mile times in the early stages of the race to be able to adjust your pace. This will allow you to run faster and more comfortably.
Another thought would be to try to mentally break the entire distance into segments. This tactic is especially beneficial for the marathon, but you can use it equally successfully over shorter distances. Think for instance from water station to water station or from mile to mile. It can help you not to feel too overwhelmed at the beginning of your marathon or other race.
Special Thought: During the last part of the marathon you can even concentrate on one half mile to another, to keep your focus and your running form as good as possible. It is an effective mental tool!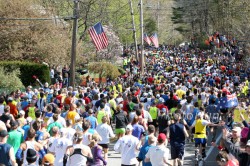 For now, be well and rest well. Before I ran my own events I always told myself, "Nothing can bother me now, nothing can worry me now." I would sleep well the days before a competition (most of the time ;-)) because my mind was filled with positive thoughts. I was at ease, knowing I was going to have a great experience on the marathon course or on the running track. I hope the same is true for you. It's natural to feel a little nervous from time to time, but see it as a positive sign. Your mind is getting ready to be "TOP-FIT" for your great adventure!
Whether you come out and support the runners along the beautiful courses and trails, or you are participating in one of the upcoming wonderfully organized events, I hope you have been touched by all the excitement—and maybe the marathon fever in London, Boston, Madrid, Prague, or the many other cities worldwide. May it inspire you to run your best race ever, or maybe step up to join one of the adventurous 26.2-mile excitements next year!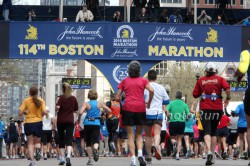 My trip to the Boston Marathon this upcoming weekend will be special because I have been invited again to coach the runners of the Hoyt Foundation. During their training weeks since December, this marvelous team has done a wonderful job preparing for the marathon and fundraising for the foundation. I will talk to the team and share some last-minute tips on Saturday evening, April 16. I'm sure you know the remarkable story of Dick Hoyt and his son Rick. Here's a link to their Website where you can follow tireless Dick pushing Rick in his wheelchair as they get ready for their 29th running of the Boston Marathon.
I am delighted that I'll be able to visit again another charity team that participates in Boston: the runners of the Dana Farber Marathon Challenge. The DFMC is raising funds for the Dana Farber Cancer Institute, and will kick off the marathon weekend with their special pasta party in the afternoon of Sunday, April 17.
Maybe you would like to follow me on twitter. I will keep you updated on the marathon, on further coaching tips and more. And maybe you'll come out and join me and many fellow runners for a fun 5K on Sunday morning, April 17, in Boston. Here's some information on the 5K as well as the next day's Boston Marathon, and a few of the other events I will be joining like the Boston Tea Party Team Canada Brunch on Sunday.
On behalf of the entire Take The Magic Step® Team I send you happy spring greetings. Whether you are running a marathon or a 5K, or perhaps starting a new fitness routine—any new goal for a life of wellbeing—I hope you will have a great time!
And to all you competitors: may you not only have a great race, but also one of the most memorable experiences of your life.
Keep Running! See You in Boston—and on the Roads and Trails!

© Copyright 2011-2022 by Uta Pippig. All Rights Reserved.
More Insights
October 13, 2020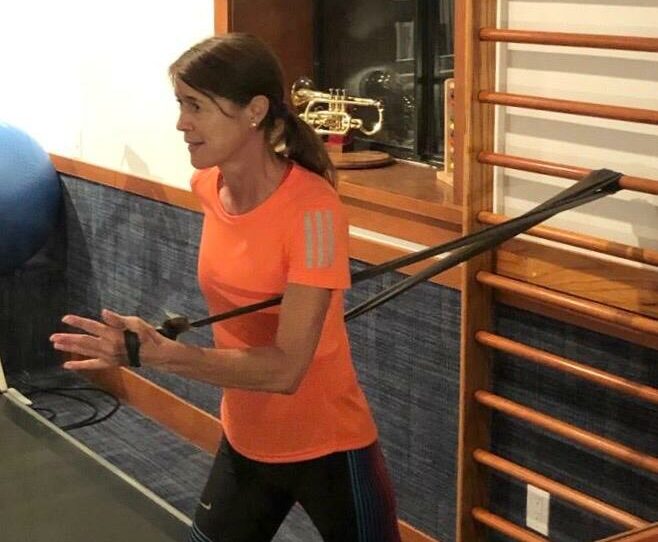 June 29, 2018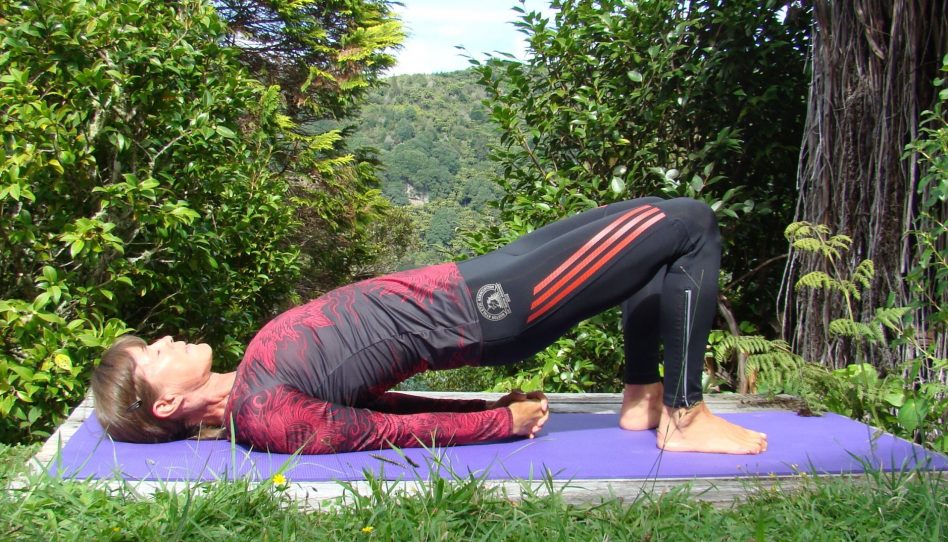 May 15, 2018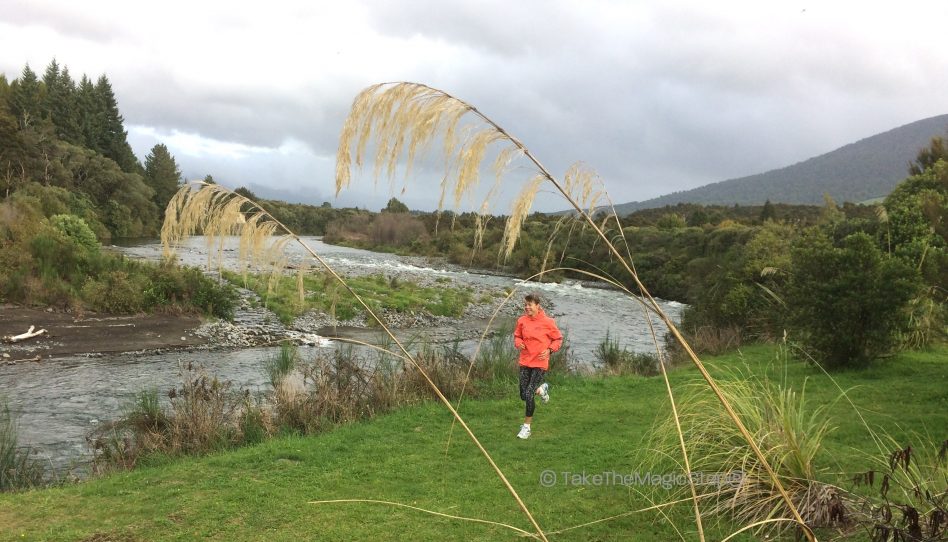 October 7, 2015