A 'Thank You on Pedals' to the Children and Students of SOS Outreach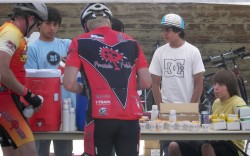 The children from SOS Outreach—a humble charity that is making a big difference in so many young lives—know that summer in the Colorado Mountains is an invitation to some wonderful outdoor activities. You might meet them biking, hiking, or running—or even camping, fishing, or climbing the nearby higher peaks.
Last Saturday, July 24, they put aside their usual activities to become volunteers at the fabulous 9th annual 100-mile Dusty Boot River Ride. Accompanying us cyclists on our way through the breathtaking Colorado Rocky Mountains, they provided food, refreshing drinks and encouragement at the aid stations of this charming bike event, which benefits thousands of underprivileged children.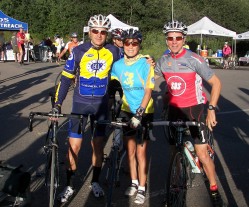 We headed out early that beautiful morning. Weather conditions were perfect and I was thrilled to join the more than 750 cyclists taking part. I chose to pedal the 100-mile Ride, but some rode distances of 100 kilometers (62 miles) or 42 miles. It wasn't a race but a ride for everyone. It could be enjoyed by the bike newbie—my friend Charlina finished her longest bike ride ever—as well as expert cyclists like Vail adventure racer Mike Kloser. Mike, a 2002 inductee into the Mountain Bike Hall of Fame and 3-time Eco-Challenge champion, explains how he got into the sport: "I started riding a dirt bike, began running some and then got a road bike, followed by a mountain bike. It took off from there."
Mike's philosophy is 'Never let the day slip away,' and with that in mind I began pedaling that morning with my friends Joe and Bill. The course started in 7,500-feet-high Beaver Creek, and we used the gentle descent to 7,000 ft in Wolcott as a nice warm-up to get ready for the north-bound climb to a top elevation of 8,250 feet on the Wolcott Divide.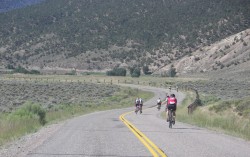 From there, the long descent from the summit, the winding road through the Eagle River Valley and finally following alongside the Colorado River was breathtaking. I am always in awe of Colorado's beauty, and the course felt almost like a "scenic-tour"—until Joe started pushing the pace on the hard-packed dirt road, and a small group of riders tried to follow him.
It was pure fun! We had a blast! I thought, 'This is how the children from SOS Outreach must feel when they're enjoying outdoor activities that are both serious exercise and play for them.' At the confluence of the Colorado and Eagle rivers, we turned east for the gentle uphill challenge that follows the Eagle River back to Beaver Creek. I was so inspired by Joe that I tried to lead a small part of the way—secretly hoping to reach the next aid station fast, where the children and their refreshments were waiting for us! The support and enthusiasm of these terrific boys and girls is the highlight of the whole event. I couldn't thank them enough for simply being there, hanging out and helping to make this day so fulfilling.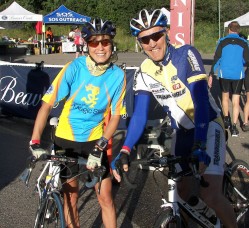 Seeing the children, who have benefited from the different programs of SOS Outreach, was so special. They were ready at all the aid stations and, as always, heralded our arrival at the finish line with tinkling hand bells. It is a joy to see their happiness and confidence—and know that their future, once unsure, is now so bright.
For the last nine years, SOS Outreach has used the funds raised by the Ride—the largest annual fundraising event of this remarkable charity—to give underprivileged kids, urban and local, the chance to experience winter sports like snowboarding and skiing. Their activities expanded in January 2009 when SOS Outreach merged with Meet the Wilderness, a group that shared the same philosophy, but provided summer outdoor sports programs such as rock climbing, hiking and camping. Kids from ages 8 to 18, many of whom have never known anything but city streets get transportation to the mountains, equipment and clothing. Adult mentors—known as "Sherpas"—stress the SOS values of Courage, Discipline, Integrity, Wisdom, and Compassion.
Take The Magic Step® has been an enthusiastic supporter of SOS Outreach. We met Arn Menconi, founder of the organization, and Seth Ehrlich, the development manager and some members of their staff. We were thrilled to also be able to invite some of the children, students, and Sherpas to one of our team meetings a few weeks ago. Spending an evening with the children, several of whom have been in the program for many years, was a great reminder of why we admire this group so much. Their omnipresent love and enthusiasm for all kinds of outdoor activities was so engaging! As impressive young athletes and dedicated students—and coming from modest environments at best—they are models for their peers. Some will go on to attend the country's top Universities.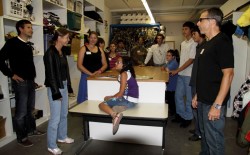 Harvard professor Dr. Gil Noam, who has studied SOS Outreach's methods, says, "Their programs offer leadership training, positive interactions and mentorship that have proven to provide youth with the tools they need to overcome their adversities and become confident, contributing adults." SOS's Nathan Rodriguez told Take The Magic Step®: "We focus on minorities, kids from low income families and kids with emotional problems. We work with the city schools and teachers to help us pick deserving boys and girls. When we take them out to the mountains for the first time we aim to give them an experience that will change their lives."
The Dusty Boot Colorado-Eagle River Ride is one of those high quality, beautiful rides that can be on the calendar of any cyclist or lover of nature and the great outdoors. It is not just one of the best kept secrets in cycling 'centuries,' it is a heartwarming experience and celebrates a wonderful cause. In the world of charities SOS Outreach is making a big difference, and after 17 years I believe it can become a bigger charity creating an even bigger difference. The support they receive is appreciated in the greatest possible way.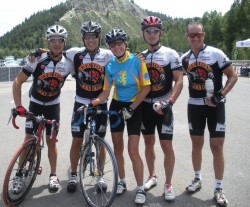 As founder Arn Menconi always says, "Spread the Love." Those words are now included in SOS Outreach's logo—and we at Take The Magic Step, could not agree more. What could be better for our future than children playing outdoors, being healthy—and learning at the same time! I share their love of playful exercise.
You can find out more about SOS Outreach at their Web site, www.SOSOutreach.org.
And I hope you, too, enjoy a magical summer with lots of fun outdoor activities!

© Copyright 2010-2022 by Uta Pippig. All Rights Reserved.
More Insights
October 13, 2020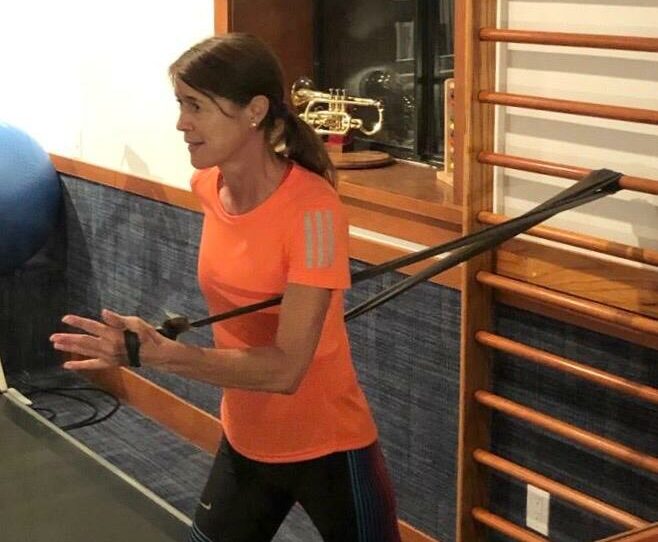 June 29, 2018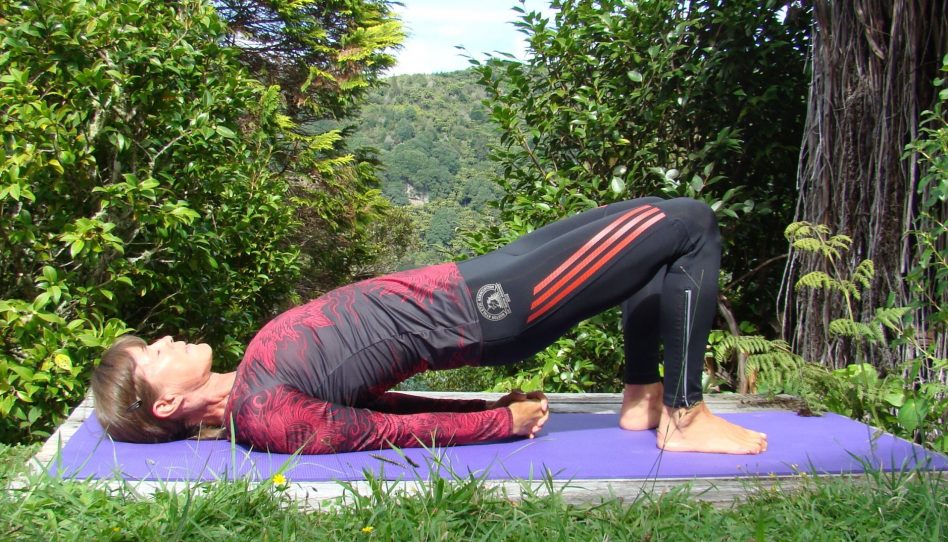 May 15, 2018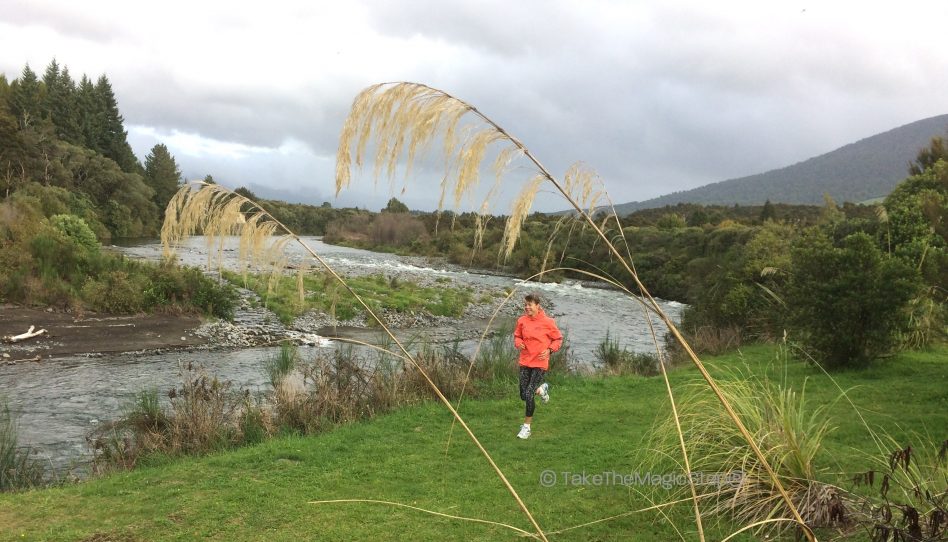 October 7, 2015