A Magical Marathon Weekend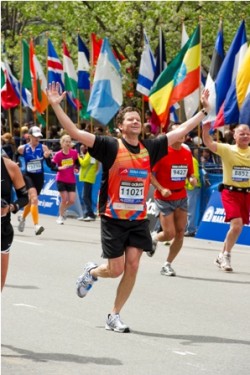 Can you still remember the exuberance and happiness you felt during last week's Boston Marathon? The many different completed runs and all the wonderful finishes? So many faces like yours shining with excitement—not just thrilled with your own marathon result, but also with the tremendous accomplishments of your fellow marathoners? Your joy even helped to carry along those who bravely struggled to achieve their desired result on Marathon Monday and needed encouragement along the way.
Within the sounds of your footsteps during your next preparation for another running celebration or a different sporting event, these memories might echo. They may even allow you to go further and add more meaning to each step—a testimonial to what marathon magic is all about. Those difficult 26.2 miles are a challenge beyond measure for some, a competition to achieve a certain time for others, and for many a way to prove they have the fortitude that will never let them give up.
Not only the knowledgeable New England sports fans and the thousands of spectators lining the home stretch will remember the happy face of young Robert K. Cheruiyot crossing the finish line. For you marathon experts: he ran his race in negative splits, meaning he covered the second half of the marathon distance faster than the first half. That amazing feat helped him to lower the course record by more than a minute as he broke the tape in a memorable 2:05:52. The 21-year-old champion handled the challenging Boston course with determination, respect, and excellence—and now makes us wonder: how fast might he run next?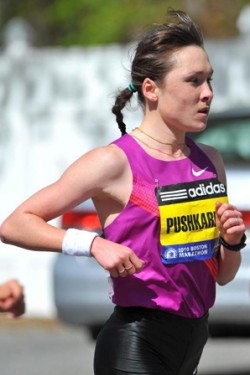 We will remember another close finish in the women's elite competition: Tatyana Pushkareva never gave up in her pursuit of closing the gap on Teyba Erkesso, who herself stunned us with a gutsy performance, bravely holding her lead for the last seven miles of the race. Teyba held off a charging Tatyana, and, then visibly exhausted, lost her way in the final meters before veering back on course and crossing the tape victorious. It was a breathtaking performance by the two women who led about 9,772 female participants from Hopkinton to downtown Boston—a record number of female finishers in this historic event.
Runners from 78 different countries finished the Boston Marathon, giving the race a huge international 'presence.' Our hearts go out to those 300-500 marathoners from Europe whose dreams of a Boston celebration were dashed by nature's volcanic catastrophe in Iceland. There is also another group of marathoners I would like to mention: The 1,350 runners who participated for 24 charities. They ran with so much determination and courage, after not just enduring the hard training for the marathon, but simultaneously raising funds as well. Each runner had to raise more than $3,000 in donations. For many, it was their first marathon; others had never experienced anything like the hilly Boston Marathon course. Congratulation to all of YOU!
The "elite race" and the "people's race" went on side by side and seamlessly once again due to the tireless efforts of the Boston Athletic Association ("B.A.A.") and John Hancock. This year marked the 25th anniversary of this unique collaboration, with John Hancock, the noted financial service company, as the primary sponsor. I remember coming to the Boston Marathon 20 years ago after the fall of the Berlin Wall in November 1989—my first visit to America and my first marathon run in freedom—and I too benefited from their tremendous role as host for the thousands of runners who come to Boston on Patriots Day each year. Our gratitude and deep thanks AND hats off to the visionaries: president Jim Boyle of John Hancock, B.A.A. executive director Guy Morse and race director Dave McGillivray, and all their caring teams as well as all the volunteers. Together they truly have made the Boston Marathon one of the leading sporting events in the world. (Yes, we understand that you had all the work while we spectators and runners had all the fun!)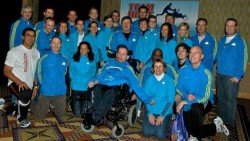 Maybe you had a chance to watch and cheer on Dick and Rick Hoyt along the marathon course and happily crossing the finish line of their 1025th sporting event! For the third year in a row they assembled a team of most dedicated runners and fundraisers for the Hoyt Foundation, and I was delighted and honored to join them once again on their journey of marathon preparation. Coaching this wonderful team was pure fun and almost secondary to the care and support they showed each other, culminating in a joyous run on Marathon Monday. After this remarkable father-son team crossed the finish line, it was so moving to see fellow marathon finishers pat Dick's shoulder with a, 'Thank you Dick and Rick for giving us hope.'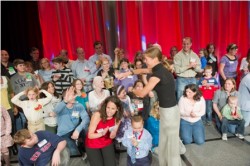 When I look back to this magical marathon weekend in Boston, I also remember the children who are bravely battling cancer and their running partners of the Dana-Farber Marathon Challenge ("DFMC"). I met the team at the pasta party on marathon eve, and high fives—as well as last-minute marathon tips by head coach Jack Fultz, winner of the Boston Marathon in 1976—promised a great race for all the runners the next day. According to Jan Ross, director of the DFMC, 559 runners signed up for this year's challenge, and the team is well on its way to achieving their goal of raising funds of $4.4 million for the Dana-Farber Cancer Institute.
This trip to Boston will also linger in my memories because it was the first time since 2001 that I had the chance to run again on the "historic roads of the city." As I coached the runners of Team Hoyt during the past months I was so inspired by their will power and training attitude, that I put on my "sneakers" for some nice runs that let me feel the teams' footsteps.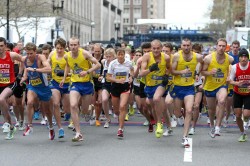 And so I ended up preparing for the B.A.A. 5K, which took place Sunday morning. Most of my past Boston races have been marathons, and it's funny to remember how steep the hill on Hereford Street felt after almost 26 miles—and how small it felt on Sunday after only 2.5 miles into the 5K! I also was fooled by my old racing strategy thinking. At the corner of Hereford and Boylston Street, I used to tell myself 'two more minutes to the finish.' This year I humbly added half a minute for the same distance 🙂 from Hereford to the finish—and I guessed about right!
It was so nice just being out there on the beautiful 5K course running through Boston's history with the magnolias coming into bloom and catching sight of the Old South Church. What a wonderful way to enjoy a Sunday morning with my friends, and fellow runners in such a thrilling atmosphere.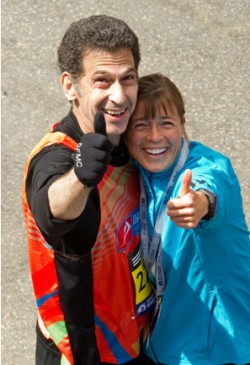 Thumbs-up to all of you who have participated in Boston or in one of the many exciting running events this spring! All of us here at Take The Magic Step wish you well-deserved rest and recovery! Although I heard that many of you might be off to new running endeavors, some might still struggle with the post marathon blues. The following article "After the Marathon: A Guide to Quick Recovery" might be useful in helping you find some ideas to recover as quickly as possible.
This Marathon in Boston had all of our feet floating above the pavement… and some runners are already counting the days to the 115th running of the marathon in 2011!
I hope you can run on happy trails, train well, and good luck for all your future running or fitness endeavors.
Keep Running!

© Copyright 2010-2022 by Uta Pippig. All Rights Reserved.
More Insights
October 13, 2020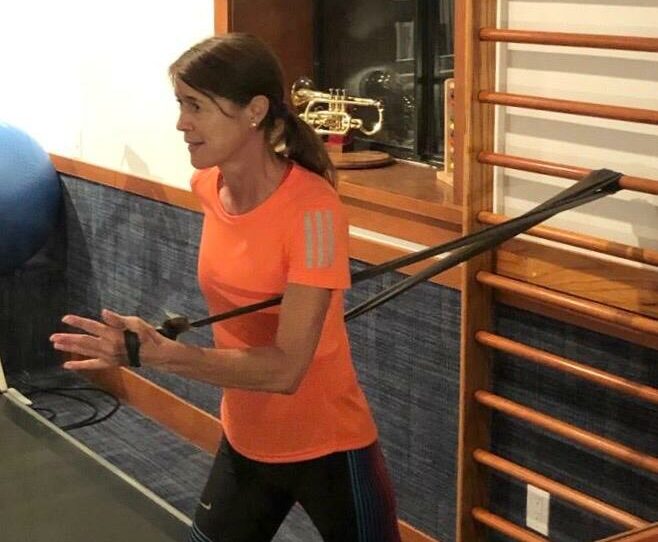 June 29, 2018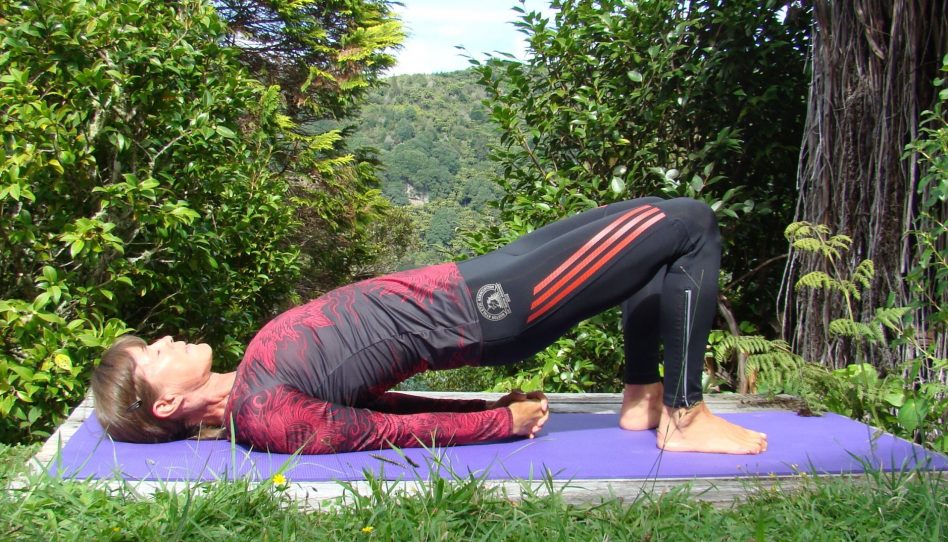 May 15, 2018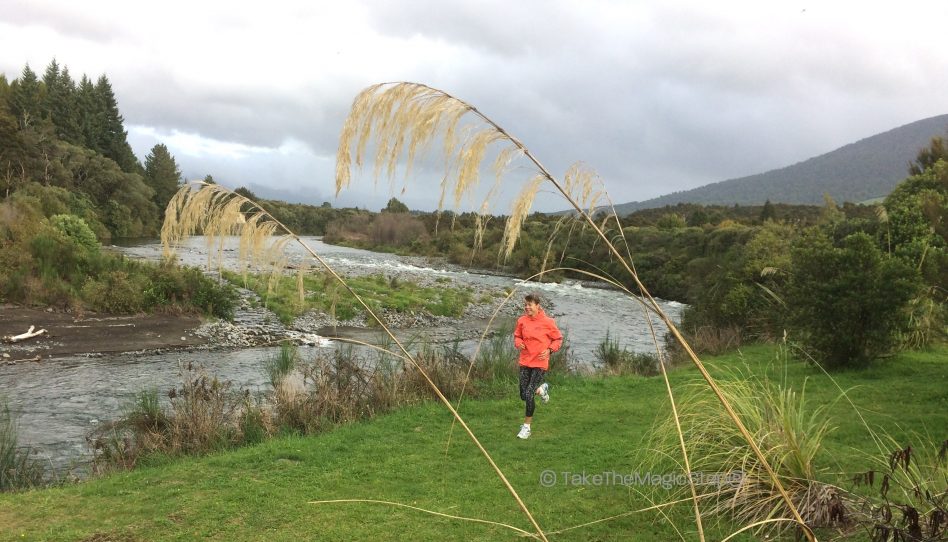 October 7, 2015