There are No Unathletic Children!
The story of a four-year-old boy in India who has been running distances of up to 60 kilometers has led to a lot of discussions, including among the Take The Magic Step® team. We spoke to Dr. Henning Ohlert about appropriate exercise for young children, as well as about some strategies for parents to deal with this issue.
Dr. Ohlert, 46, is a lecturer of training science at the University of Potsdam. He was a professional athlete for ten years, and as a 23-year-old ran the 800 meters in 1:45.9. He is working on a long-term study of motor skills and development of ten-year-old children.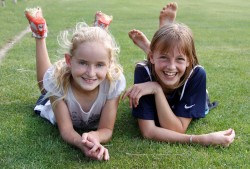 How much exercise can a child cope with?
Over the years, our attitude towards children's capabilities has changed tremendously. Basically, you could say that children are "little champions of endurance." The big advantage of children is that they stop what they are doing automatically when they feel that they are getting tired and reach their physical limits. If children are tired out during playing, they simply take a break, and once they have recovered, they get active again. I think that you cannot do anything wrong with children-you just cannot challenge them physically in the wrong way. They know how to adjust themselves, and will utter their disapproval when it gets too much for them. And this disapproval should be respected.
What you have to watch out for with children, however, is problems with their thermoregulation; that is, the loss of body warmth during physical activity. Children get red faces when they are playing, bouncing around or playing sports. The body warmth which develops causes fast panting while breathing. The reason for this is that their perspiration system with does not function as that of an adult yet. That's why you have to be careful to prevent children from overheating. In general, however, children have quite a sensitive feeling for the right proportion of activity and rest. It is highly dangerous, though, what is demanded of the little boy in India.
How can parents tell what and how much they can expect and ask from their children?
I believe you can ask more from children than most parents would think. You can judge by certain subjective criteria if a physical activity is enough: the color of the skin (for example, if the paleness of the skin is extreme), the frequency of the breath, the heart rate as well as the quality of movements. You will realize pretty quickly that movements seem to become uncontrolled and the way children fall changes. These are clear indications for the necessity of a break.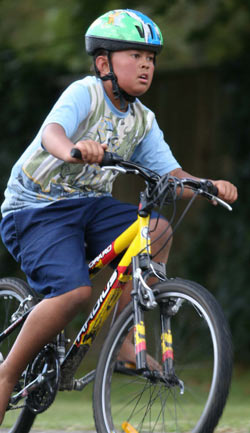 At what age should children start to train on a regular basis?
In order to answer this question, you would have to define the term "systemically organized training" first. I think that until a child has reached the age of eight, we shouldn't call it training. There is nothing wrong with daily exercise or physical activities. Children should be active in various non-specific ways and thereby gain a broad range of experiences. This is the best prerequisite for successful involvement in sports later on.
Is there such a thing as unathletic children?
In my opinion, there is no such thing as unsporty kids. At times someone gets called "unathletic" just because he is judged by certain skills and abilities. It is just normal, however, that you are not able to do things which you have never done or practiced before. Often you get also judged by your family background. But just because your parents consider themselves unathletic, it does not necessarily have to mean that the son or daughter is as well. Every child is athletic. The question is only if she is athletic enough to become a champion.
Don't children have a natural urge to move?
Absolutely. Unfortunately, this urge is lost throughout the ontogenetic development. At puberty, this urge to move decreases. This is when young athletes often lose interest in their sport and don't show up for training anymore.
Should parents try to intervene?
It would not be good if the enthusiasm for the sport got completely lost. It is normal and should be tolerated that there are phases of less motivation. You should still try to talk to your child, his or her coach and friends about the situation, options and possible wasted opportunities.
Children tend to change their enthusiasm for different things quite quickly. Today they are playing tennis, tomorrow they want to become a professional swimmer, the day after tomorrow a famous basketball player. Sometimes they are not sure at all. Should children do several kinds of sport or should they better concentrate on one?
I strongly recommend that children experience a rather broad range of physical activities. I assume that not every child should be trained to become a Davis Cup player. Instead, most children will just want to play tennis for fun, or they just want to go inline skating, running or play soccer. I am a great supporter of children practicing a variety of sports.
Is it naive to believe that children will be grateful one day if parents put some pressure on them and force them to keep up a certain sport, hoping that they will be successful and the sport turns out to be the right one for the child?
This wish or hope might be honorable, but children think differently. Children think very emotionally, and are not as rational as adults are. The reasons why children give up on something are not easily understood. A little bit of pressure might not be wrong. It is a great achievement, however, if children discover themselves what they like.
Should parents tell their children which expectations they have regarding their sporting performance?
Parents' expectations should not put too much negative pressure on the children. There is a lot of evidence in pedagogy that children fail just because their parents were asking too much of them. Children often act paralyzed if they are put under too much pressure. Then they are often criticized for failing mentally, but no one realizes how much pressure has been put on them: "You have to do this, you have to do that!"
Parents have to learn to judge their children's mental condition and figure out how they can teach them ambition and determination. As a matter of fact, a runner participates in a race to get to the finish line among the best and not far behind the first ones. Consequently, you can, of course, tell your children that sport is often about being better and faster than others. This should be done sensibly, however, and without any pressure. It is nearly impossible to get children's enthusiasm back if you have put them off doing sports once and if sports have become a trauma for them. This is proven by scientific research. The next chance you get to convince them of doing sports again is when they have grown up and when stress at work and an unhealthy diet have caused health problems and the cardiologist tells them, "You have to get moving, you have to exercise!"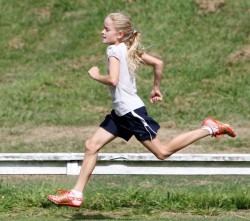 On the other hand, children are often highly motivated when their parents watch them at training or competitions.
It is obvious that children are extremely motivated when they realize that their parents fully support what they are doing. At some stage, however, their own motivation will become so high that they don't need their mother's or father's support anymore. But even professional athletes are more motivated when their parents are in the stadium or along the race course, no matter if in tennis, soccer or running. The question is just how parents react to their children's failure. It is important that you find out together-maybe even with the coach-where mistakes might have been made and how you could adapt the training. Children have to feel that you support them and don't give up on them.
What should parents do if their child suddenly, after two years, does not like judo anymore and would rather want to do athletics or tennis? Should parents demand that their children continue doing what they have started to do and not to give up on something just because it is no fun at the time?
I don't find it too bad to change from one kind of sport to the other. You should have a conversation and clarify why they don't like the sport they used to do anymore. There are certainly understandable reasons for it. And if they are not understandable, you still should not act against your child's wish.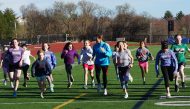 What should parents do if they recognize sporting talent in their child, but are not sure if they want to support it?
If someone thinks his child has got talent in some area which is illustrated by being better at something than other children of the same age, I would recommend approaching a sporting club close by and asking if there are facilities to support this talent specifically. I don't find it very good to place children in "talent factories" far away from home where they waste a lot of time traveling to and from the place. Children should be able to pursue their training without many hassles. If they further develop and prove their talent, there are more opportunities of support in young adulthood, such as elite sporting schools or scholarships.
And vice versa: How are mothers and fathers to act if children desperately want to become professional athletes, but just seem to lack the talent?
I would still give the child the same chances, as eventually the "moment of truth" will show if the child is as good as she thinks she is. In cases of constant failure, however, you should be honest with your child, and tell him that another kind of sport might be more suitable for him. There are a lot of children who change to another kind of sport after the advice of a friend or parents and who have become really successful at it. Children who are motivated and ambitious should initially do what they prefer and should try things out.
If parents for some reason think that they should apply sanctions against their child – maybe because of bad marks at school – are prohibiting going to training and doing sports reasonable disciplinary measures?
I find prohibiting sports as punishment pedagogically not wise. Children have a natural urge to move and to play in order to cope with stress and emotions, and you cannot just switch this behavioral pattern off. If they are aggressive at school, they will be aggressive at sports, too. But particularly here, those negative emotions can be turned around into positive ones-through the pure movement, through the contact with the coach, through the group dynamics in team sports where bonding and camaraderie are crucial.
Updated May 30, 2021
© Copyright 2006-2022 by Take The Magic Step®. All Rights Reserved.
Article Archive