Keeping A Cool Focus: Just A Few More Days Until Your Marathon Celebration
Dear Friends,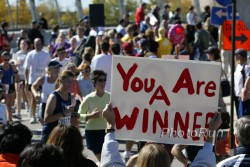 "Are we there yet?" …"Is this marathon finally happening after all your months of training?" …"Are you sure you want to do this?" …"You must be nervous—you are, aren't you…"
No one could blame you for getting more nervous as your well-meaning friends ply you with questions like those during the final days leading up to your marathon.
What You Can Do!
Please understand these are THE moments when you need to change the subject of your conversation—immediately!
…or think of some other way of diverting them: Maybe you can respond instead by telling them about why you like your bib number, the race uniform you have decided on, or your special "speedy" marathon shoes. Or, you can just laughingly brush aside the questions by inviting your friends to a fun spaghetti dinner two evenings before the marathon. Perhaps even change the subject by encouraging your anxious friends to help by looking up the weather conditions for race day—even though you know the forecast can easily change up to the time of the start!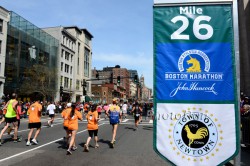 But whatever you do, try to stay calm by keeping what I like to call a "Cool Focus." It means channeling your energy, keeping your concentration, and simply enjoying these final days of easy running, proper recovery, and race preparation. By doing this, you won't become too nervous and you will have a greater chance to reach your full potential during your eagerly-anticipated 26.2 miles.
There are many ways to stay calm yet still enjoy the excitement without losing energy by getting too crazy about all the details of the Big Day. Of course, your mental preparation very much depends on who you are and how you usually deal with the nerves and pressure of events like this.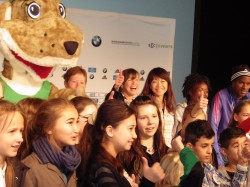 Many of us enjoy the exuberant atmosphere of pre-race events like the marathon expo or interesting and fun last-minute motivational talks. Others like to hang out with friends—carefully chosen because they are kind enough not to ask strange questions—and forget about the length of the marathon for a while. They may enjoy watching movies, going to a ball game, or hanging out with their family for a fun and relaxing BBQ.
Review Your Race Strategy
Some—and I am part of this group—like to take the opportunity to review their race strategy one more time, discuss a few key points of different scenarios on race day, or explore where to find the best encouragement along the marathon course. The more familiar I became with my strategy and the logistics of race morning—i.e., what to expect at the starting line and, to a lesser extent, at the finish line—the calmer I would get. It worked even to the point that I understood how the marathon plan can be seen as a two-fold approach. First, it is a long run which I was confident I could safely cover for the first 15 to 18 miles. So, I would calm myself down even more by telling myself that I was well-prepared to run my average goal pace until more than two thirds of the race—when the challenging part of those 26.2 miles would begin.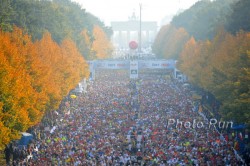 It is natural to be a little nervous, especially if you are a first-time marathoner. But please, resist any pressure to doubt yourself. Try to keep that "Cool Focus." Enjoy the fact that your tapering is going well and that these final days of easier running and building up your "running shape" can be a fun process right up until the very last moment before your marathon. And, even if you might be dealing with minor health or training issues, please stay calm and take these into account when you finalize your race strategy.
I recently updated the article "Two Days Before The Marathon" and I have included some tips that may help you finalize your training, equipment, and nutrition choices. It also might give you some advice for the days leading up to your event.
You can find a few additional pre-race thoughts in my article: "Are You Ready and Well-Prepared for Your Race Day?" This column includes tips on how to manage your race so your body and mind will perform the best it possibly can on Marathon Day.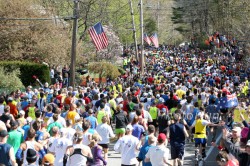 You have prepared well and trained so hard for your marathon. Now you can look forward to rewarding yourself very soon with a wonderful "Day of Celebration." Enjoy visualizing yourself confidently running a great race alongside thousands of other dedicated runners who have been preparing as hard as you have all these months. Picture the throngs of enthusiastic spectators who will be along the course cheering you on.
And I have a special message for my dear Boston Marathon friends: I am looking forward to celebrate together the beauty of our marathon and enjoy a wonderful spring weekend in our city that showed so much courage, strength, and love.
During the countdown to my own marathon races, I always told myself, "Keep a Cool Focus now …nothing shall worry me now." I would sleep well the days before a competition (most of the time ;-)) because my mind was filled with positive thoughts. I was at ease, knowing I was going to have a good run. I hope the same is true for you. As I said, it is natural to feel a little nervous from time to time—but see that as a positive sign. Your mind, just like your body, is getting ready to be topfit for your great adventure!
I hope you will not only have an exciting race, but also one of the most memorable experiences of your life.
I am thinking of you and wishing you a wonderful marathon,

(By the way, "Cool Focus" reminds me of a story where I almost missed the start of an important race, but I will tell you later… ;-))
The author won the Boston Marathon in 1994, '95, '96, the Berlin Marathon in '90, '92, '95, and New York City in '93.
Reading Suggestions:
Updated April 12, 2017
Updated March 2, 2016
Updated April 14, 2015
Posted April 2013
© Copyright 2013-2022 by Uta Pippig. All Rights Reserved.
Article Archive