Why Soccer Players Have to be Good Runners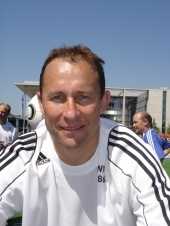 In Germany right now, it is all about soccer. Currently the soccer World Cup is being held in Germany. The 32 teams who are playing at the soccer World Cup are playing on a level higher than ever before. It doesn't matter if the teams come from England, France, USA, Germany, Ghana or Australia – never before has soccer been played with so much speed and running willingness as it is this year. Soccer is a classical team sport, which is exciting, fast and dramatic. Each team consists of eleven players. For each of them the game is a task of coordination, team spirit, skillfulness, speed, and endurance for 90 minutes. Players can influence play in a large number of different styles.
The effective playing time of a 90 minute match is about 60 minutes. During that time it is important to be in good condition because the average distance a player covers in a match ranges between eleven and thirteen kilometers. A soccer player covers two thirds of the total distance walking or trotting, about 25 percent at a moderate intensity, and about ten percent at a high intensity, such as sprinting. On average a soccer player runs only around 200 meters with the ball during a game. Soccer is characterized by alternating, so called acyclic physical strains, especially in duels. Besides conditional and coordinative-technical components it also includes tactical and psychological components. Therefore a soccer player needs good overall fitness and furthermore good endurance and speed. Good physical fitness has a positive impact on how hard you can train. It also strengthens the body so that injuries and illnesses occur less often.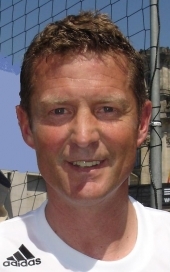 Endurance and fitness are not only important for top soccer players nowadays, but also former soccer champions see the benefits. Former player Karlheinz Förster knows about the impact of endurance in soccer, although the matches he played in were not as fast and intensive as they are today. In his career in the 70's and 80's running played an integral role in their daily workout. Indeed running exercises are a red rag to soccer players. "Without endurance training no player is able to be internationally successful," claimed Förster.
He knows what he is talking about: Karlheinz Förster played for the German national soccer team from 1978 until 1986. He had a total of 81 games and scored two times for the German team. In 1980 he was a member of the winning team in the European Championships with the national team as a sweeper. In 1982 and 1986 they were the runner up in the World Championship. In 1984 his team, again, won the German Championship with his club, the VfB Stuttgart. In 1986 he switched to Olympique Marseille (France), won the French Championship twice (1989 and 1990) and ended his career in 1990. "Already during my career jogging was very important for me," said 47 year-old Förster. "But also after I retired I wanted to stay fit and the best way to do so was to run or to do cycling," said the former soccer pro. Despite physical problems Förster knows how important it is to stay fit. "Unfortunately I have bone problems. I struggle with an ankylosed knee-joint." Never the less, Karlheinz Förster goes running regularly. "I run at least three times a week for half an hour. With that I keep mobile and fit."
Former French national player Jean-Pierre Papin knows, as well, the benefits of his endurance training. Without his good condition and endurance ability he would not have been nominated so often for the L'Équipe Tricolore. Papin, who was nicknamed JéPéPé, played 54 times for the L'Équipe Tricolore between 1986 and 1995 and scored 30 goals. Of course a soccer player has to have very good coordinative and technical abilities too. Particularly his coordinative-technical abilities made Papin, who also played some time for the German club the FC Bavaria Munich, into one of the best goal getters in the 80's and 90's. At the French top club Olympique Marseille, Jean-Pierre Papin was the most successful goal scorer of the French Division 1, five years in as row from 1987 to 1992. He also significantly contributed to four French Championship titles and a national cup victory for Olympique Marseille.
Jean-Pierre Papin remained with the sport of soccer after finishing his career. Until 2006 he coached FC Bassin d'Arcachon in France. In his second career as a soccer coach Papin wants to play a role model for fitness and endurance. "I go out running every other day," says the 42 year-old. Even when he is very busy JéPéPé keeps doing his fitness program. He does not let his busy schedule get in the way. "For me it doesn't matter where I am. I run at the beach, in the woods as well as in the city." One can run everywhere in the world. "I have to go out running because otherwise I don't feel good" says Papin, who played in the Italian Serie A for the AC Milan from 1992 to 1994. "I also love running because doing it you are so independent. You can go out running at any time and in any weather." Good endurance, in particular, aerobic running ability, prevents early exhaustion. In soccer, running is elementary," knows Papin. "Good endurance often can be decisive difference between victory or defeat in a match."
© Copyright 2006-2022 by Take The Magic Step®. All Rights Reserved.
Article Archive