Take Advantage of Safe Running in the Cold Winter Months
With a bit of luck, during the shortest days of the year, we can experience nature in a special magical light. It doesn't matter whether we're walking in the countryside or through illuminated city streets, the feeling is very similar. If we are lucky enough to go for a run just before dark, we might enjoy a wonderful sunset.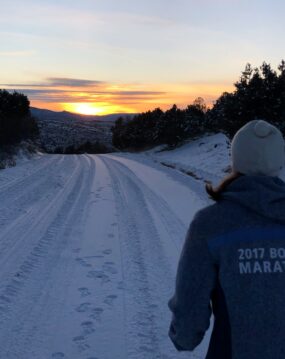 These sunset runs always have a long-lasting effect on me. I can breathe deeper, calm down and even those stubborn freezing temperatures seem to evaporate. However, the impact of temperatures below zero should not be underestimated. In the late afternoon it quickly gets colder and warm training gear is a must in freezing winter weather. So, don't think twice, get out of your own four walls, feel freedom flow through your lungs as you fill them with fresh air. Corona is worrying, yes, but little by little science is finding more answers to the pandemic. Hopefully it will soon be over and then we will be fit and ready for more and new adventures.
Until then we will persevere. Spring will soon arrive and hopefully the return of the big running events not long thereafter. If we pull together now, we will leave this period behind us and enjoy better fitness and faster running. In addition, physical activity is known to strengthen the immune system and increase our happiness. And after the run, a hot shower, a hot bath, or a delicious ginger tea with honey makes the feel-good indicator skyrocket.
Being fit for the holidays is a good plan to help you better enjoy this time of year. Maybe even reduce some weight beforehand and don't overdo it at Christmastime. Wouldn't that be a sensible starting position for making good resolutions at the beginning of the new year? I recommend that running beginners and those who are hesitant to add more exercise due to the corona virus or the cold do, in fact, increase their activity levels now in the run-up and during the holidays. Maybe first go hiking, just put one leg in front of the other, then the most important step has already been taken – "the magic step". There is also an often quoted saying: "There is no such thing as bad weather, only bad clothing."
Choose Your Cold Weather Running Clothes Wisely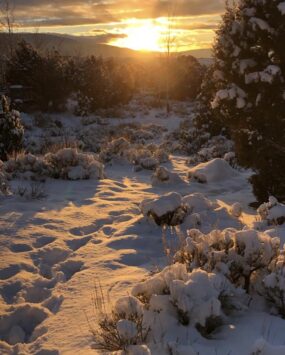 But what does that mean? How can we stay healthy despite high physical stress and climatic challenges with wind, rain, snow, and cold? I think we can do that with some specific "wintry" behaviors. The focus is on functional clothing, from hats to shoes. Beginners with little experience usually dress too warmly. However, profuse sweating can quickly feel uncomfortable and carries the risk that the body will increasingly cool down due to the wet clothing. The solution is called the "onion principle". Instead of a few thick, heavily-lined clothes, layer several thin ones on top of each other. Stay away from any material that will soak, such as cotton or linen, instead choose high-quality functional clothing. There are several moisture-wicking fabrics that work as the primary layer which are woven in such a way that the moisture is released to the outside where it can evaporate. You stay drier and warmer. For the first "shell" wear something that feels pleasant to the skin. For layer two use a normal running shirt, then another, slightly looser fitting and definitely long-sleeved, maybe one size larger, and finally a windproof jacket. And remember — wear a little less clothing than you think you will need. Physical exertion makes you warm after a few minutes. Include a light windbreaker tied around your waist. It does not disturb the running rhythm and gives security. If you find that you have miscalculated the cold, you can put on your windbreaker quickly.
Please also note that the sensation of cold and the relatively low blood flow to the feet, and especially to the hands, can vary greatly from person to person, which is why everyone should find their own tried and tested comfort level for shoes, socks and gloves. On very cold days there is nothing wrong wearing heated gloves. Many athletes, especially cyclists, love neoprene gloves such as those worn by divers and anglers in the cold season. If you want to try it out, use 3 mm material thickness or more. Otherwise, ski gloves are a good choice.
Bodily structures such as joints, peripheral tissue, ligaments and, in runners, the Achilles tendon, are not as well supplied with blood because of the cold and are therefore more prone to injuries. Try making a comparison with two rubber bands. One is placed in the sun, the other in the refrigerator. After an hour, test both for elasticity. The difference is notable. To guard these tissues and ligaments from low temperatures, take a warm pair of old socks and cut off the foot section. Simply pull the remaining "sleeve" of the socks over your ankle and tendon. Joints, connective tissue and skin will be optimally protected. You can buy ankle warmers, but soccer socks are also a good choice.
A performance scarf (or a gator) is also useful. It covers the neck and can be pulled over the ears. Since most of the heat is given off through the head, I always recommend a hat, even if it is made of light material. Headbands aren't really helpful in sub-zero temperatures.
Additional Reading: How to Prevent a Common Cold during Winter Training
Pay attention to your visibility
To be on the safe side in the dark and to protect yourself and other road users, wear clothing with reflective strips and, if necessary, a headlamp. When it comes to shoes, the rule is that the wetter and more slippery the surface, the more stable the shoe model needed. Pay more attention to water-repellent upper material and a good sole profile. In extremely cold weather the conditions should help you decide wisely whether it makes sense to run outside at all. With minus 10 degrees F, arctic wind and black ice, it is better to stay at home, put your bike on the stand and cycle inside.
Immediately after training, have something to drink, put on dry clothes or take a shower straight away. The core body temperature is very high after exercise, the heat is literally radiating, so you cool down quickly.
Which brings us back to nutrition. Despite the cold temperatures, we sweat a lot — physical exercise and more clothing ensure that. In addition, the air is drier so our bodies lose more moisture. So not only drink enough in summer when the weather is hot and humid, but also in the cold season. Maybe more hot drinks with ginger, lemon and honey, homemade turmeric tea, chai and others. As for traditional food for the holidays, I have good news: vegetable soups, all kinds of stews, pumpkin, apples, oranges, tangerines, dark chocolate, spices such as chili, pepper, cinnamon, turmeric – are all super healthy alternatives to turkey and roast. Not to forget nuts and seeds, raw and roasted. Some in my circle of friends even claim that I would eat the birds' food! It is not quite that far yet…
The next day it's back to the fresh air. The colder the weather, the drier. It is therefore advisable to apply cream to your hands and face, especially your lips, before you start exercising. Preferably use a sticky cream and avoid licking your lips, it makes them chapped and cracked. And while we're at it: keep your hands out of your face and wash more often, put on your mask and stay away from people with coughs and runny noses.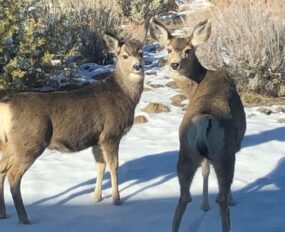 One more word about training. "The athlete is made in winter" is an old runner's saying you've maybe heard. The general basic training with subsequent strength endurance phase is a prerequisite for the success of all subsequent training phases. Runs in mountainous terrain and ideally, if you have the opportunity, cross-country skiing. Latter is the best full-body workout you can imagine. Because of the lack of impact, the sport is gentle on feet and joints. In terms of movement structure, classic cross-country skiing is very similar to running. Cross-country skiers have a lot of strength, a very strong cardiovascular system, excellent lung capacity, high VO2-max values ​​and are always good runners – for all of the reasons mentioned.
Finally, adapt your training to the weather conditions. It is best to stay with intensities in the aerobic range, because the breathability is then lower. Not everyone has a treadmill, which you can use well when it's cold outside, but maybe a bike stand or an ergo bike is available. And don't forget: your pulse rate is increased in colder temperatures because the body works at full speed to maintain its body temperature. It consumes more energy, especially when exercising. So, consider running through the cold season, defying the Corona restrictions in the fresh air, staying fit and healthy. A good plan.
Your winter running girl…

Uta Pippig aka Pippi Langlauf
This article is adapted from my column "Einsteiger ziehen sich meist zu warm an" in the German newspaper "DIE WELT" with permission (you can read the article in the German language and the entire online "WELT" with a small fee to the newspaper).
Reading Suggestions:
© Copyright 2020-2022 Uta Pippig and Take The Magic Step®. All Rights Reserved.
Article Archive