Soccer at the highest level is impossible without Running in Training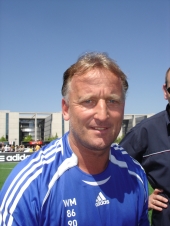 Soccer's World Cup reaches its climax with the final in Germany on Sunday. The tournament has shown that every team needs a high degree of fitness to achieve any level of success in the competition. Just to take the case of the German team, they have already played 600 minutes—that's ten hours of soccer at peak performance—to reach the play-off for third place.
The body loses up to three liters of water during a soccer game. At especially high temperatures and humidity, as in recent weeks at soccer's World Cup, losses can be even more. Therefore, it's important to drink during the game, not only to reduce body temperature, but also to replace important minerals and trace elements. In the knock-out rounds, there were numerous occasions when players could be seen receiving treatment on the pitch for cramps. That goes to show that the better conditioned the players, the more able they are to resist the early onset of fatigue, including cramps, provided they've taken enough liquid.
Stamina training in the preparatory phase should be aerobic, thereby avoiding lactate build-up as much as possible. Strikers often record lower levels of stamina than midfield or defensive players. The World Cup winner Andy Brehme is certainly one former player who sees stamina training as the key to playing 90 minutes with concentration and without fading energy. "When I was a 'pro,' I could see how important fitness was in soccer," says the 45-year-old. A well-trained and conditioned muscle absorbs more energy, which, in turn, means less risk of injury.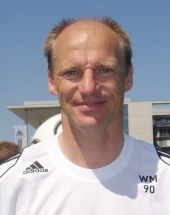 Brehme was a regular on the national team for ten years, from 1984 to 1994, playing 86 times for his country. He scored eight goals, three of them in World Cup semi-finals and finals. He took part in three World Cups (1986, 1990, 1994), the highlight being winning the World Cup in 1990. He is the only player to have converted a penalty that won a World Cup final in regulation or normal time. Before that, he was already a World Cup runner-up in 1986 and, two years after the World Cup title, was runner-up with the German team at the European Championships. He's not the only one to have noticed how fast the games at this World Cup have been—"there's much more attacking in matches these days," he says—and this means much more running than ten years ago.
Brehme retired from professional soccer in 1998. But he stayed in the game after his playing career, and in June 1999 passed the exams for his coaching A-license at the sports university in Hennef, alongside Juergen Klinsman, Andreas Koepke and Joachim Loew, the current coaching triumvirate of the German national team. Medical check-ups have been mandatory for players in the first and second national leagues in Germany since this year. These check-ups include, as well as general medical and orthopedic aspects, a cardiovascular screening (heart and vascular dilation) consisting of both a resting and active ECG, as well as an electrocardiograph test. But it's important not only for the professional players to keep fit and undergo regular checks. "I run at least twice a week for three-quarters of an hour these days," Brehme said after an All-Star game in Berlin. Even if the former manager of 1. FC Kaiserslautern is still traveling a great deal, he nonetheless tries to "keep fit, especially with running."
Soccer is the most popular sport in the world, with more than 200,000 professional and around 240 million amateur players. Good stamina and a high degree of aerobic running ability are particularly important among the professionals. Before the World Cup, players from every one of the 32 teams competing had to undergo a standard medical check-up. The aim was clear: the World Championships should take place with healthy and sufficiently well-trained players to minimize risk on the field of play.
Numerous positive influences are now attributed to running, such as preserving and improving mental ability, positive effects on the immune system, oxygen intake, metabolism and spinal column, as well as basic functions such as adapting to stress and regeneration. Hippocrates, who lived in the 5th century B.C., recommended regular walking, running, riding and gymnastics to his patients.
The longtime soccer professional Hans Pfuegler was a member of the German national team in 1990, which was the last time Germany won the World Cup, beating Argentina in the final. Since that victory in Italy, the German national team hasn't won the world title. Pfuegler played 11 times for the national team from 1987 to 1990, with the World Championships in Italy in 1990 as the highlight. After many years of playing soccer, Pfuegler, now 46, still keeps himself fit following his retirement. "You've simply got to get off your backside and get going," is how he describes it. He goes running at least three times a week, especially in the forest. "The ground is softer and easier on the joints," he says. Sometimes for variety he goes skating, always staying true to his motto, "The main thing is to get moving." He doesn't feel any particular eagerness to run a marathon, at present. "I'll definitely do one at some stage, but right now it's enough to be doing a local 10K race now and again," he says. Until he feels ready for the marathon, he'll continue to have a lot of fun in training—both in running and even a few games of football.
© Copyright 2006-2022 by Take The Magic Step®. All Rights Reserved.
Article Archive