Are You Ready and Well-Prepared for Your Race Day?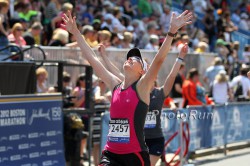 So now all your training is behind you and you are looking forward to rewarding yourself for all those miles of preparation with a successful race—from a 5K to an ultramarathon. Maybe you are only days away from your event and still in the final stages of your "tapering" period, and I hope you are enjoying some shorter and faster workouts and these much-needed easy days of running. Allowing your muscles, body, and mind to recover can help you to get "TOP-FIT" for your race.
I can only imagine how excited you must be getting and I wish you good luck for your event. Maybe some of the following thoughts can be a welcome addition to the plans you have already made for the last few days before your run.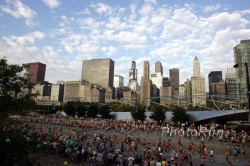 First, please find a link to the updated version of the article, "Two Days Before the Marathon." I have included information on training, equipment, and nutrition, as well as mental preparation such as how to overcome any "butterflies" that might accompany your great adventure. Second, review the following list of tips and decide which ones might be helpful for you. The article and many of these tips also can provide support for those of you who are gearing up for distances between 5K and the half marathon, and even an ultramarathon.
Your excitement and YOUR positive thoughts can work together to help you succeed! You have prepared well and trained so hard for your event. Now I hope you can focus on happy thoughts—particularly on the positive feedback you got from your training. It can be useful to remember an especially good workout that you felt helped you to become stronger and be more confident. Just that one workout can be the key to envisioning how to run well before and even during your race. Maybe the knowledge that your family and friends—and your coach, in case you are working with one—are all supporting you might help put your mind at ease in the days before—and give you wings during your race!
Focus on RELAXED running. I hope you can feel good and confident about yourself and your training. Please run with something in reserve. At no time now should you feel tired while running so close to race day. And during your event, maintaining a proper running style will help you to maintain your average race pace much longer.
It would be best to stay away from trying anything different. Please, now is not the time to experiment with new equipment, a new diet, or a new running style. Your body is accustomed to the way you have been training so stay with your regimen and you will do fine. Keeping to a routine you have tried out before and you believe in can help you to stay injury-free and be at your best.
Allow your body to recover with good sleep. Getting enough sleep will help you to have a fresh mind and to stay focused. A race can be such a mental game. Play it strong! Give yourself the greatest chance to be mentally and physically at your BEST. Among other benefits, adequate sleep will help strengthen your immune system, build and repair muscle tissue, and sharpen your mental focus—all leading to a better performance. By keeping the final days relaxed and without stress, you can help your body achieve optimal mental and physical strength on race day.
You may finalize your race strategy. It will be helpful, if you get a chance, to check out the race course and familiarize yourself with the terrain in advance. The event Websites usually have great course information. As you wait for race day, you might want to plan your strategy for your run, particularly the pace you are hoping to maintain. Take some time to decide on a good strategy for your run based on your training and on your body's current level of fitness. Perhaps you have been dealing with last-minute health and training issues. If so, please take these into account when you finalize your strategy for the days before and the day of your event.It is fun to plan some special meeting points along the course where family and friends can cheer you on. In addition, please make yourself familiar with the logistics of race day. Know what to expect at the starting line and, to a lesser extent, at the finish line. Maybe you have friends who have participated in the event in previous years who can share their experiences of the course and key logistics with you.
When you start your race, please try to stay at a comfortable pace. The excitement of having finally arrived at the starting line after weeks of anticipation might lure you into running too fast. If you run too fast at the start, you will be at risk of expending too much energy in the early stages of the race. It is a frequent and typical mistake many of us runners make. Unfortunately, it often means we are forced by our bodies—whether we like it or not—to slow down dramatically at the end. It is best to run the first half of your race (particularly for a marathon) slightly slower—or at least at the same pace—as the second half. That means running in 'Negative Splits.' Calculate beforehand what your pace needs to be to achieve this goal, then check your mile times in the early stages of the race so you are able to adjust your pace accordingly. Doing this will allow you to run faster and more comfortably as the race goes on.
Try to mentally break the entire distance into segments. This tactic is especially beneficial for the half marathon and the marathon, but you also can use it successfully over shorter distances. Think, for instance, from water station to water station or from mile to mile. It can help you not to feel too overwhelmed at the beginning of your marathon or other race. During the last part of the marathon, you can even concentrate on going from one-half mile to another. This can help you keep your focus and your running form as good as possible. It is an effective mental tool!
I hope you truly can enjoy your run. Do you have the feeling that it is going to be a Day of Celebration? You have invested so much and trained so well for your event. Being able to get to the starting line and have the chance to run the race is an amazing accomplishment!
For many runners, to achieve a quick post-race recovery is as important as the preparation. Other races are coming up and their outcomes, to a large extend, will be determined by how quickly you can recover from your previous race. Here is a link to another updated article you might enjoy checking out: "After the Marathon: A Guide to Quick Recovery." I have broken down different periods that are important to recovering, from the time immediately after your marathon to the first few weeks afterwards. Many of these thoughts, especially those on closer to the race finish, can be used for shorter distances as well.
Finally, if you are traveling to your event, I would highly recommend that you take all of your essential race equipment, including your "speedy" marathon shoes, in your carry-on luggage.
—-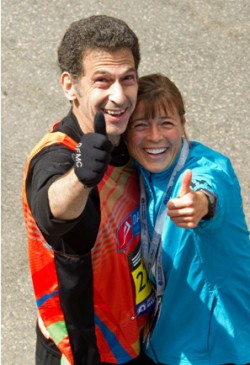 For now, be well and rest well. Before I ran my own events I always told myself, "Nothing can bother me now, nothing can worry me now." I would sleep well the days before a competition because my mind was filled with positive thoughts.
And hopefully, you have all the information you need for a successful race. The Big Day is here and you are ready to take it on!
Whether you come out and support the runners along the beautiful courses and trails, or you are participating in one of the upcoming wonderful organized events, I hope you have been touched by all the excitement running can bring. May it inspire you to run your best race ever.
Keep Running! See You on the Roads and Trails—and maybe during one of your next competitions!

Posted April 14, 2012
Updated April 9, 2013
Posted September 27, 2012
© Copyright 2013-2022 by Uta Pippig. All Rights Reserved.
Article Archive