"Changing your life begins with changing the way you think, since your thoughts create your actions, and your actions create the life you could have."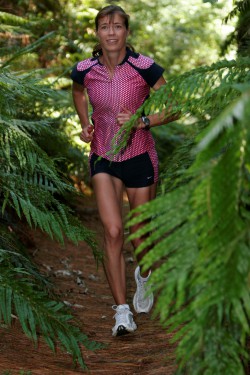 Uta takes her experience, knowledge, and her unique approach to physical and mental fitness, and focuses these on individual clients who would like to achieve a better sense of wellbeing, greater health, and a maximum level of fitness. She does this in a manner which gently helps you tap into your unlimited potential to reach a desired goal, believing that big change can happen one small step at a time. You will learn the possibilities that exist within you, once a decision is made to achieve a goal, such as a personal best in a marathon.
This is accomplished under the umbrella of "Intensity Meets Playfulness™"—making your journey not only productive, but enjoyable. Through this program you receive a rare and profound understanding of the mind of a world champion and how to harness this world-class philosophy to better yourself.
Clients have included:
Accomplished runners and other athletes who wish to achieve personal records, but feel their current training, nutrition regimen, and mental outlook are not quite getting their bodies to reach their maximum potential.
Beginning runners who would like to accomplish a once-in-a-lifetime achievement such as running a marathon.
Men and women desiring one-on-one counseling to help them create healthier, more vibrant and enjoyable day-to-day lives and greater personal wellbeing.
Specifically, this program includes:
Phone and email communications.
Individual meetings, interviews, and running sessions with Uta, if logistically possible.
Study of your running style via personal viewing; and subsequent technique improvement.
Evaluation of your current training and fitness, and of your nutritional routine, followed by a plan tailored to your lifestyle and goals—whether they be to enjoy a life of better wellbeing, to run your first 5K, or to compete in a marathon.
Personally customized programs in yoga, "body core" strength training, and use of sports equipment or whatever is most applicable in the particular dynamic you are seeking.
Help in finding suitable cross-training methods for you (i.e., water running, swimming, biking, cross-country skiing).
The time period for the individual program is no less than four months.
*Please note that Uta is currently available for public speaking engagements and individual coaching.
You may request additional information by calling (561) 329 3533 or by sending an email to
uta@TakeTheMagicStep.com
© Copyright 2012-2022 by Uta Pippig. All Rights Reserved.