Benefits to Employers and Employees:
Lower healthcare costs
Fewer sick days
Higher employee retention
Corporate loyalty
Employee camaraderie
Increased mental awareness
Increased alertness
Increased physical fitness
Less fatigue
Uta's "In-house Group" Corporate Coaching Program / Duration: Three to Four Days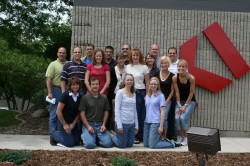 The goal of these motivational and leadership programs is to create an interactive exchange of fitness, health, and inspirational ideas and patterns to increase the productivity of the employees using Uta's own experiences, stories, and methods. The seminars are customized for all group sizes, while the running, stretching, and yoga sessions are best for 15 to 20 people.
The length of Uta's seminar "Running To Freedom™," for example, is usually up to 90 minutes. Most presentations are followed by an open Q&A discussion on various topics from inspiration, goal-setting, and risk-taking up to health, nutrition and cognitive practices and exercises. Uta encourages the participants to play an active role in these rather joyful exchanges of ideas and visions.
Uta often likes to start the first day with her "Running To Freedom" presentation, followed by a running session on the second day, and depending on the need adding either stretching, yoga sessions on the third. She is also available for company lunch and dinner functions during the duration of her stay. Please check at the bottom of the "One Year In-house Program" for contact information and availability.
Uta's "In-house Group" Corporate Coaching Program / Duration: One Year
The primary goal is to increase productivity and cut healthcare costs by improving the health and fitness of employees. Programs are customized for groups of 75-100 employees of the same organization and location to achieve maximum success. The initial duration of the program is one year and includes the following:
Three–four several day visits by Uta Pippig, Dieter Hogen, and members of the Take The Magic Step® team.
At least one seminar open to a large group of employees.
One-on-one interviews with key personnel to provide inspiration, solve problems, answer personal questions, provide recommendations, or individualize parts of the program.
Group and individual exercise advice and programs on topics such as yoga, running and other cardio-vascular activities, "body core" strength training, weight lifting, and sports equipment.
Individualized running sessions with Uta.
Evaluation and recommendations regarding employer fitness and kitchen facilities.
Fitness and nutritional planning and recommendations for client meetings and dinners.
Nutritional evaluations and recommendations for employees (and their families), including assistance in healthier food shopping.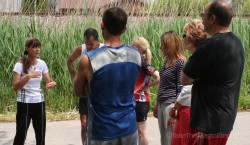 Throughout the year:
Employee email newsletters covering topics such as inspiration, exercise, nutrition, fitness, Yoga for Performance™, yoga for stress management, and health maintenance to be used in conjunction with the program and the Take The Magic Step Website.
Regular email follow-up with employees from the one-on-one interviews to follow their progression and to provide ongoing encouragement and guidance.
Follow-up discussions at company meetings.
*Please note that Uta is currently available for public speaking engagements, individual and group coaching. She will be available to accept longer-term engagements with new corporate clients in early 2019.
You may request additional information by calling (561) 529 3533 or by sending an email to uta@TakeTheMagicStep.com
Fore more go to: Corporate and Case Study
© Copyright 2012-2022 by Uta Pippig. All Rights Reserved.