A Healthy Kitchen: Skinny Dippers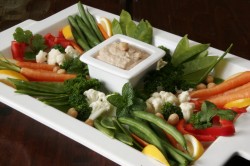 Welcome! I am excited to share with you this first installment of A Healthy Kitchen. It is written as a compliment to all the other savvy advice offered on our Take The Magic Step® Website. Because the food we consume is such an important part of our overall wellness, from brain function to disease prevention, A Healthy Kitchen will include nutrition tips, recipes, eating strategies for weight loss and athletic performance, and most anything else that has to do with good food.
The solution for light, quick meals does not have to come from a package or our supermarket's freezer. Fresher is almost always better! Now that it is spring, seek out your local farmer's market. It is a great place to buy organic products that not only support our bodies, but our communities and the planet, as well. The philosophy we want to share is that healthy food really can satisfy on all levels—look beautiful, nurture our bodies, taste delicious, and fit well into our busy schedules.
The following recipes are some easy, delicious and low-fat dips accompanied by a few skinny dipper suggestions—a nice addition to any bagged lunch or mid-day snack. Next, check out Papaya-Shrimp Salad with Honey-Jalapeno Vinaigrette. With warmer weather ahead, this makes a light, spicy-sweet supper for two or a first course for four.
---
ROASTED RED PEPPER DIP
Red peppers are excellent sources of many essential nutrients. By weight, red peppers have three times as much vitamin C as citrus fruit! They're also a good source of beta-carotene, and offer a decent amount of fiber and vitamin B6.
Drain and pat dry one 11½ –oz jar roasted red peppers. Puree with ¼ cup Mayonnaise (see recipe, below), 2 scallions, cut in chunks and a pinch ofground red pepper. Makes 1¼ cups.
BETTER MAYONNAISE: Put 1 egg yolk (or 1 egg) into a blender. Add 1/8 teaspoon salt and ¼ teaspoon lemon juice; blend well. Gradually, drop by drop at first then faster as you proceed, add ¾ cup olive oil (preferably organic first cold pressed) and 2 tablespoons lemon juice. Season to taste with cayenne or herbs, if desired.
---
MEDITERRANEAN CHICK-PEA DIP
The combined ingredients in this dip create a powerful nutritional profile. Chick-peas are a good source of complex carbohydrates, protein, calcium, magnesium, iron and folic acid. Low fat water-packed tuna is high in protein and rich in omega-3 fatty acids.
Drain one 19-oz can chick-peas (reserve ¼ cup liquid) and a 6 ½-oz can water-packed tuna. Puree with 2 tablespoons freshly squeezed lemon juice, 2 teaspoons dark Oriental sesame oil, 2 cloves garlic and reserved liquid. Makes 3 ¼ cups.
---
SKINNY DIPPERS
Raw veggies such as cucumber slices, sugar snaps, snow peas and endive leaves.
Blanched veggies: Briefly dip (5-10 seconds) into boiling water asparagus, green beans, cauliflower and/or broccoli. Immerse into ice water to stop cooking; drain well.
Corn or flour tortillas (look for the sprouted grain variety), cut in wedges, lightly greased and seasoned (with any herb or spice) and baked until crispy.
---
PAPAYA SHRIMP SALAD WITH HONEY-JALAPENO VINAIGRETTE
Deemed the "food of angels" by Christopher Columbus, papayas are a great source of vitamins C and A, potassium and folate. Garnish with toasted cashews or almonds, if desired. A warm loaf of crusty, whole-grain bread makes a nice accompaniment.
Vinaigrette
¼ cup chopped fresh mint
3 tablespoons honey
1-2 large jalapenos, halved, seeded and minced
2 tablespoons freshly squeezed lime juice
1 tablespoon olive oil
1 teaspoon minced garlic
¼ teaspoon grated lime peel
Salad
1 large papaya (about 12 oz), seeds removed and peeled
1 pound cooked, shelled shrimp, halved lengthwise and deveined
1 bunch scallions, white and some green chopped
1 small red bell pepper, cut in thin strips
¼ cup chopped cilantro
6-8 cups mixed greens
Puree vinaigrette ingredients in a food processor or blender. Season with salt and freshly ground black pepper, to taste.
Cut papaya into bite-size pieces. Place in a large bowl with shrimp, scallions, red bell pepper and cilantro. Pour vinaigrette over papaya mixture and toss gently. Serve over mixed greens.
Enjoy!
Reading Suggestions:
Explore a few thoughts on "Nuts and Seeds"
Updated December 19, 2016
Updated February 8, 2015
Updated October 31, 2011
© Copyright 2006-2022 Take The Magic Step®. All Rights Reserved.
Article Archive