A Healthy Kitchen: A Fruitful Summer
BERRY BERRY COUSCOUS SALAD
BLACKBERRY, SHRIMP AND MANGO SALAD
STRAWBERRIES 'N' CREAM CREPES
Take The Magic Step FAVORITE BLUEBERRY PANCAKES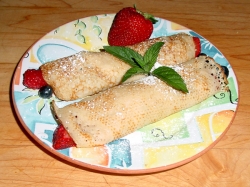 Some people say that the best way to enjoy a piece of fruit is to eat it raw and plain. And they are often right: Few things compare with the pleasures of glossy-ripe blueberries or strawberries, plucked from the plant and popped whole and still warm into your mouth. But fresh fruit is too good—and too good for you—to be eaten only at snack time or for dessert. I invite you to celebrate the berries of this fruitful season by working them into your main meal as well as breakfast and dessert.
The flavor of berries speaks for itself. But that sweetness is just a fragrant disguise for a potent package of vitamins, minerals and other nutrients that are an indispensable part of a sound diet. They tend to be full of antioxidants that may help prevent chronic conditions such as heart disease and some cancers. Low in calories and generally high in vitamins C and A, fruit is also a great source of dietary fiber, especially pectin, a soluble fiber that can help lower glucose or blood-sugar levels as well as cholesterol. To learn more about the nutritional qualities of berries, read our article "Berries: Vibrant Flavors Bursting with Nutrition."
In the case of fruit, more is better. In January 2005, the U.S. government's "Dietary Guidelines for Americans" changed fruit and vegetable recommendations from 5-9 servings to 4-13 servings a day – that is up to 6½ cups of fruits and vegetables daily. This new guideline is supported by the National Fruits and Vegetables Program, part of the Centers for Disease Control and Prevention, which launched a new public health initiative in March 2007, "Fruits & Veggies—More Matters." Most of us, however, get only 2 to 3 servings a day. Nine or more servings of fruits and vegetables may sound like a lot, but simply by moving fruits and vegetables to the center of the plate, it's easy to meet the recommended number of servings without even thinking about it. These original recipes are a luscious way to bring the flavors and health benefits of berries to all segments of your meals. Use the freshest, organic berries you can find for optimal taste and nutrition.
As with all the recipes found in the Take The Magic Step program, try to use as many fresh, organic ingredients as possible.
---
BERRY BERRY COUSCOUS SALAD
Jewel-like raspberries and plump blueberries add brilliant color and nutrition to this light main course or side dish. To make it a more substantial meal, diced seafood, tofu or chicken could be added.
One 10- to 12-ounce package whole-wheat couscous
Raspberry Vinaigrette
¼ cup each raspberry vinegar and rice-wine vinegar
¼ cup crushed raspberries
1 teaspoon granulated sugar
½ teaspoon each salt and freshly ground black pepper
½ teaspoon dry mustard
½ teaspoon pumpkin-pie-spice or a mixture of cinnamon, ginger, cloves and nutmeg
¼ cup each canola and extra-virgin olive oil
1 cup corn kernels, fresh or frozen and thawed
1 cup fresh blueberries
¼ cup each fresh basil and mint leaves, cut in long thin strips
3 tablespoons minced scallions (about 2)
1-2 red Serrano or jalapeno chilies, seeded and diced
8 cups torn Bibb lettuce, washed and dried well
2 tablespoons toasted pine nuts
Soak or cook couscous in lightly salted water according to package directions. Transfer couscous to a large bowl; let stand until cool, about 10 minutes, fluffing often with a fork. Meanwhile, make Raspberry Vinaigrette: In a blender or food processor put vinegars, raspberries, sugar, salt, pepper, mustard and pumpkin-pie-spice. Puree until combined, about 45 seconds. With motor running, drizzle in oil in a slow stream until dressing is emulsified.
Into the couscous stir ½ cup of the vinaigrette, the corn, blueberries, basil and mint, scallions and chilies. Arrange lettuce on a platter; spoon couscous over lettuce. Garnish salad with pine nuts and another drizzle of vinaigrette, if desired (reserve remaining vinaigrette for another use).
Makes 4 to 6 servings.
---
BLACKBERRY, SHRIMP AND MANGO SALAD
Though not a berry per se, mangoes are an excellent source of beta-carotene. An 8-ounce mango provides almost twice the RDA of vitamin A and almost 100 percent of the RDA for vitamin C. This salad is substantial enough to make a light summer meal. Precooked shrimp may be substituted for an even speedier feast.
One 10- to 12-ounce package whole-wheat couscous
Sesame Dressing
⅓ cup rice-wine vinegar
⅓ cup canola or other vegetable oil
2 tablespoons very finely chopped lemongrass or 1 tablespoon grated lemon rind
1 tablespoon brown sugar
1½ teaspoons Asian sesame oil
1 teaspoon dry mustard
1 pound large, raw, wild-caught shrimp, peeled and deveined
1 sweet onion, cut into ¼-inch-thick rings
8 cups mixed baby greens, washed and dried well
1 ripe avocado, pitted, peeled and sliced lengthwise
1 ripe mango, pitted, peeled and cubed
1 pint blackberries, rinsed and dried
Preheat grill or broiler. In a jar with a tight-fitting lid or a small bowl, put vinegar, oil, lemongrass, brown sugar, sesame oil and mustard. Season to taste with salt and freshly ground black pepper, if desired. Shake or whisk vigorously until thoroughly emulsified; set aside.
Brush shrimp and onion slices with a little additional oil and sprinkle with salt and pepper. Thread each shrimp on 2 long skewers (the number of skewers needed will vary depending on their length). One skewer goes through the upper portion and one through the tail, which helps them lie flat and makes for easy turning. Over medium heat, grill or broil shrimp for about 3 minutes per side until golden and no longer opaque in the center. Grill the onions about 4 minutes a side until just beginning to char.
In a bowl toss the greens with about 2 tablespoons of the dressing. Arrange greens on a serving plate. Cover with avocado, fruit, and the grilled shrimp and onion. Drizzle with additional 2 tablespoons dressing and toasted sesame seeds, if desired. Pass the extra dressing.
Makes 4 to 6 servings.
---
STRAWBERRIES 'N' CREAM CREPES
These tender crepes do double duty as a special breakfast/brunch or dessert. Though they look and sound fancy, these can be on the table in about 15 minutes.
Crepes
2 eggs
1½ cups skim milk
¼ teaspoon salt
¼ cup canola oil
1 cup white whole wheat flour* or whole wheat pastry flour
Filling
1 cup low-fat ricotta cheese
3 tablespoons powdered sugar
1 teaspoon grated lemon zest
½ teaspoon cinnamon
1½ cups fresh washed and dried organic sliced strawberries or a mixture of strawberries, blueberries, blackberries and/or raspberries
In a medium bowl, beat eggs until smooth. Add milk, salt, ¼ cup of the oil and the flour and mix well, until the mixture resembles thin pancake batter; set aside. Combine ricotta, sugar, zest, and cinnamon in a medium bowl and mix well. Rinse and dry berries well. Slice strawberries, if using. All other berries can be used whole.
Lightly grease a nonstick sauté or crepe pan with additional oil. Let pan get hot over medium heat. Using a ¼-cup measure, pour a scant ¼ cup of batter into the pan and immediately tilt and gently rotate the pan to coat the entire bottom. Cook until the edges begin to turn brown and the top is firm to the touch, about 1 minute. Loosen edges and flip crepe; cook until underside is golden as well, about 20 seconds more. Remove to a plate and keep warm by covering plate with lid or foil. Repeat for remaining crepes.
Place a crepe on a flat surface. Spread 1 heaping tablespoon filling in center of crepe. Top with 2 tablespoons of berries and roll the crepe up. Repeat for all crepes. Dust with powdered sugar, if desired.
Makes 4 to 6 servings.
*White whole wheat flour is milled from a naturally milder, "sweeter" white winter wheat. It has the same high levels of fiber, nutrients and minerals of traditional whole wheat flour but with a lighter color and milder flavor. A popular brand is King Arthur Flour.
---
Take The Magic Step FAVORITE BLUEBERRY PANCAKES
Although we don't suggest this recipe to be an everyday part of your diet, we do encourage you to treat yourself from time to time. Enjoy Take The Magic Step favorite blueberry pancakes!
When you mix the Dry Ingredients (below) in this recipe you'll have about 2 cups of dry mix. This makes about 4 servings. A great time-saving tip is to mix up 3 to 4times the Dry Ingredients and store it in a Ziploc bag. Then, when you're ready to eat, re-stir the dry ingredients and measure out 2 cups to be mixed with the amounts of Wet Ingredients listed below.
Dry Ingredients
¾ cup whole wheat flour
½ cup organic, unbleached, all-purpose flour (Gold Medal brand can be found in most supermarkets)
⅓ cup cornmeal
6 tablespoons dried powdered buttermilk (cultured buttermilk blend)
1 tablespoon sugar
2 teaspoons baking powder
¾ teaspoon baking soda
¾ teaspoon salt
¼ – ½ teaspoon cinnamon
Also add 1 cup Fresh Blueberries to the batter right before cooking the pancakes.
Wet Ingredients
1½ cups water
2 large eggs
¼ cup canola oil, plus additional for brushing griddle
Blackberry Syrup (optional)*
Dry Ingredients: In a medium-size bowl, whisk together flours, cornmeal, powdered buttermilk, sugar, baking powder and soda, salt and cinnamon in a bowl.
Wet Ingredients: In a 2-cup measure, add water, eggs, and oil and whisk until smooth. Stir into dry ingredients until just combined. Let stand 5 minutes (batter will thicken). If batter is too thick to pour easily (whole wheat flours vary in how much liquid they absorb), thin with additional water, 1 tablespoon at a time. Brush a griddle or large skillet with oil and heat over moderately high heat until hot but not smoking. Reduce heat to moderate. Working in batches of 4, spoon a small ladleful (about 2 tablespoons batter per pancake) onto hot griddle. Cook until bubbles appear on surface, edges are set, and undersides are golden, about 1 minute. Flip pancakes with a metal spatula and cook until undersides are golden and pancakes are cooked through, about 1 minute more. (Lower heat if pancakes brown too much before insides are cooked through.) Transfer pancakes to plates to stay warm and brush griddle with oil between batches. Serve with warm Blackberry Syrup (below), if desired.
Makes 4 to 6 servings.
*Blackberry Syrup
Bring 1 cup pure maple syrup and 2 cups blackberries (8½ oz) to a boil in a 1-quart saucepan over moderate heat, then boil, uncovered, stirring occasionally, 3 minutes. Remove from heat.
Updated February 10, 2015
© Copyright 2006-2022 Take The Magic Step®. All Rights Reserved.
Article Archive