World Champs (Day 8): Tirunesh Dibaba Runs to Historic Double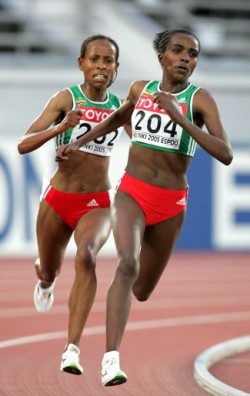 The Ethiopian Tirunesh Dibaba wrote athletics history at the World Championships in Helsinki. She became the first woman ever to win both track long distances in global championships—the Olympics and World Championships. After her 10,000-meter victory on the opening day, she added a gold medal in the 5,000m a week later. Also no male athlete ever made this double in the history of the World Championships.
At the Olympic Games there were five athletes who achieved the double. The last double happened 25 years ago, when the Ethiopian Miruts Yifter won the 5,000m and the 10,000m. Lasse Viren (Finland) even won the double twice. He won two gold medals in the Olympic Games in 1972 and 1976. Vladimir Kuts (UdSSR/1956), Emil Zatopek (Czech Republic/1952 at the Olympic Games in Helsinki) and Hannes Kolehmainen (Finland/1912) were his predecessors.
Now Tirunesh Dibaba has joined this group. She once again showed an impressive final sprint for a victory winning 14:38.59 minutes. That was also a new championships' record. And as in the 10,000m once more three Ethiopians shared all three medals. Meseret Defar (14:39.54) got the silver medal and, like in the 10,000m race, Tirunesh's sister Ejegayehu (14:42.47) took the bronze. The fourth Ethiopian in the race was Meselech Melkamu who finished fourth (14:43.47). Fifth place was for Huina Xing (China/14:43.64).
It was the Chinese Yingjie Sun, who, after a slow beginning, at the 1000m mark (3:02.53) increased the pace. The next kilometer was run in 2:51 minutes. After that it went back to three minutes pace. They reached 4,000m in 11:54.40. With two laps to go eleven runners were in the leading group. Now Huina Xing took up the lead. But the Ethiopians remained on her heels and increased the pace in the last lap—as they had done in the 10,000m.
Tirunesh Dibaba ran the last lap in 58 seconds, and the last 200 meters in 28 seconds. Nevertheless Meseret Defar didn't give up until the last few meters. "I thought it would become a slow race. But with her early pace Yingjie Sun made the championships' record possible," said Tirunesh Dibaba. "My cousin Derartu Tulu was a great inspiration for me." Tulu had won the 10,000m gold medal in the 1992 and 2000 Olympic Games for the Ethiopian team.
Article Archive