World Championships Special: Viktor Röthlin: "If you can dream it, you can do it"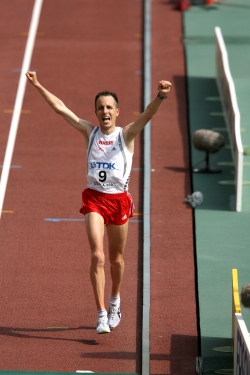 Viktor Röthlin produced a major surprise at the World Championships in Osaka, when he snatched a bronze medal in the marathon on Saturday, clocking 2:17:25 in extreme weather conditions. The 32 year old had already won the silver medal at the European Championships a year ago and had improved his Swiss marathon record to 2:08:20 this spring, when he took the Zurich Marathon. Take The Magic Step® spoke with him after his race in Osaka.
Did you ever thought that it might be possible to win a medal in this race?
Viktor Röthlin: You will probably not believe this, but on my Web page I have written a motto: "If you can dream it, you can do it." I had never had any dreams about Athens before the Olympic marathon, and I did not finish. Last year I had dreamt about winning the silver medal at the European Championships, and last night I had a dream winning bronze here in Osaka. That is what happened. When I had placed second at the Europeans last year, I was in between winner Stefano Baldini and bronze medallist Julio Rey. Both had medaled at World Championships, so I thought that I would have a chance.
How did the race go for you?
Viktor: I knew that I had to keep cool and relaxed. I had to follow the group, because I knew that in contrast to the race in Gothenburg last year, I would not be able to have an influence on how the race would develop. I went with the leading group. I did not run too hard, but made sure that I would always watch them. When I saw some black runners getting pale faces, that gave me some motivation, and I believed that I would have a chance. At the decisive moment I was up there. And when I passed the 40K point, fellow runners from Australia shouted at me that I could still win the bronze, because the ones in front of me did not look good. I gave everything, but probably did not make friends in Japan since I overtook the Japanese to take third place.
How did you prepare for the conditions in Osaka?
Viktor: First, I ran the New York Half Marathon three weeks ago. It was humid there as well. Then I traveled to Kobe, where I trained for two and a half weeks. It is near Osaka, and has the same climate conditions. From training session to training session, I was getting on better with the weather conditions. Today I did not feel the heat for the first 25K. Then, of course, I had to fight. And my head started hurting due to the heat. I did drink quite a lot, but I did not want to take more water because I feared that I would end up with stomach problems.
Where do you normally train?
Viktor: Before I went to New York I did high-altitude training in St. Moritz. I was there with my Kenyan friend Abraham Tandoi, who was also my pacesetter in the Zurich Marathon. In the winter I usually train in Kenya and join the group with [London Marathon winner] Martin Lel. I run between 200 and 230 kilometers per week during training camps.
Who is your coach?
Viktor: I coach myself for many years now. Before that, Robert Haas, who had been my initial coach when I was 13 years old, took care after me.
When will you run your next marathon?
Viktor: I am not yet sure if I will run a marathon next spring. I will do shorter races in the winter. Concerning qualification for Beijing, I expect that it was enough what I have done today. In the future, I also intend to run the big spring and autumn marathons.
© Copyright 2007-2022 by Take The Magic Step®. All Rights Reserved.
Article Archive