WCh-News: Bernard Lagat Takes Unique Double in Osaka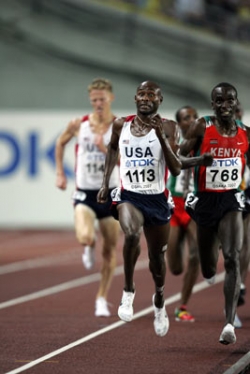 Four days after his emphatic win in the 1500 meters, final Bernard Lagat made athletics history on the final day of the World Championships in Osaka's Nagai Stadium. The 32 year old became the first athlete to take the 5,000m as well as the 1500m in the history of the championships. He prominently joins two of the greatest runners ever, who have achieved this feat at the Olympics: Finland's legend Paavo Nurmi did it in 1924, and Morocco's Hicham El Guerrouj repeated it 80 years later. In a tactical 5,000m, Lagat clocked 13:45.87 minutes and just edged out Kenya's Eliud Kipchoge (13:46.00), while Moses Kipsiro (Uganda/13:46.75) took third.
"Following in the footsteps of these two is fantastic," Lagat said about Nurmi and El Guerrouj. "Being the first to have achieved this at the World Championships really means a lot to me," added Lagat, who won a silver medal in the 1500m at the 2004 Olympics, when he was still running for Kenya. After living in the U.S. since 1997, he was granted American citizenship in 2005.
"When I flew into Kansai airport in Osaka, I could never have imagined that I would leave with two gold medals," said Lagat. "I had no doubts that I would be strong in both events. But I was not sure about the gold medals because of the strong competition. It took my best to win the 1500 meters, and it took my very best to then take the 5,000 meters today. I think the 1500 meters was the more challenging one, because somehow the 5,000 meters was a bonus for me."
The 5,000m final was perfect for Lagat. A slow pace for a long time helped him stay near the front, despite his understandably tired legs during his fifth race in a week. But he also said: "I would have been ready for a faster pace as well." Somehow none of the opponents picked up the pace, although it was obvious that Lagat would only wait to throw in his great kick. "I have worked so often in the past as the pacemaker for others," said Kipchoge. "So this time I simply sat in and waited. Normally no one can beat me when I am kicking in the last lap—but unfortunately, Lagat was there."
After the race, Lagat to revealed that he and Kipchoge used to live almost next door to each other in Kaptel, Kenya "Yes, the winners today are from one small village in Kenya," said Lagat, while posing for photos during the press conference with Kipchoge.
"This success in Osaka will give me a lot of confidence regarding the Olympics next year," said Lagat. "I will prepare very seriously for Beijing, but first will have to qualify. Only after that will I decide if I go for the 1500 meters, the 5,000 meters or maybe both again."
Lagat also noted that he thinks he can improve his 5,000m personal best, which currently stands at 12:59.22 from last year. "I think a time of 12:50 will be possible for me," he said. "But I am not going to run another 5,000 meters this season, so I will go for this next year." In Zurich next Friday, Lagat will run the 3,000m. "There will be no pacemakers, so I will just run and test my ability," said the new double world champion.
© Copyright 2007-2022 by Take The Magic Step®. All Rights Reserved.
Article Archive