World Championships: Kibet Wins Marathon Gold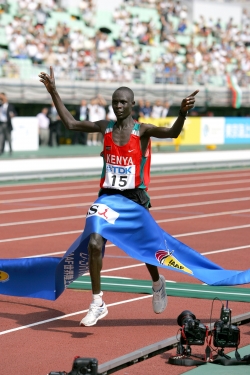 Luke Kibet is the new world marathon champion. The Kenyan, whose biggest triumph had been his victory at the Vienna City Marathon this April, braved what were probably the toughest conditions a world championships marathon has ever seen. The 24 year old clocked 2:15:59 hours and was well ahead of Mubarak Hassan Shami (Qatar/2:17:18). It was the biggest gap for a winner of a world championship race since the meet began in 1983. Kibet's victory was also noteworthy because it was the first Kenyan world championships marathon victory in the men's race since Douglas Wakihuri's, who won in Rome 1987. Switzerland's Viktor Röthlin won bronze in Osaka, finishing in 2:17:25.
The world championship marathons in Athens 1997 and Seville 1999 were probably a bit warmer than in Osaka, but the extreme humidity in Osaka (78% at the start) made things very tough for the athletes—out of 87 starters, 30 dropped out. Some athletes needed medical treatment after crossing the finish line.
With the temperature in the shade already near 80 degrees at the 7:00 am start, the early pace was slow. A lead pack of 30 passed halfway in 68:29. Just before 30K, Kibet took over the lead. "I worked together with William Kiplagat and Mubarak Hassan Shami," said Kibet. Those three, plus Yared Asmerom (Eritrea) and Samson Ramadhani (Tanzania), formed a lead group, with Röthlin a couple of seconds behind. "After 32 kilometers I started to think that I could be able to win this race," said Kibet, who ran his personal best of 2:08:52 two years ago in Enschede. This was then the fastest part of the race. The Kenyan began running just over 3:00 per kilometer, and got away from his rivals. At 35K he already had an advantage of 23 seconds over his former countryman Shami, who has run for Qatar since 2005. Until today, Shami had won all of his five marathon races.
While there was no question that Kibet and Shami would win gold and silver, the race for bronze was a thrilling one. At 40K Kiplagat still had an advantage of 11 seconds over Tsuyoshi Ogata. While the Kenyan was slowing and eventually faded to eighth in 2:19:21, Ogata overtook him, with the Japanese spectators cheering him on. But Ogata couldn't hold third and wound up fifth behind Asmerom (2:17:41). Röthlin, meanwhile, was incredibly strong in the last 2 kilometers and moved from sixth to third. "Some friends from Australia were standing at the 40K mark," he said. "They shouted to me that the runners in front looked tired and that I could still get the bronze. That was very encouraging.
"Only after 26.2 miles the race is decided, and I fought until the very end," said Röthlin, and added, "I guess I didn't make friends here in Japan, since I overtook a Japanese in the battle for bronze." The 32-year-old Swiss already took the silver medal in last year's European Championships and was only beaten by Olympic champion Stefano Baldini on that occasion. He then improved his own national record this spring when he won the Zurich Marathon in 2:08:20.
"I was prepared for weather conditions like that and was feeling good despite the heat," said Kibet, and added: "That wasn't the hardest marathon of my career." The Kenyan, who as many runners of his country is employed by a prison but doesn't have to work there, won the Taipei Marathon the last two years. In April he showed his ability in the heat, when in Vienna he won in unusually warm temperatures in 2:10:07.
© Copyright 2007-2022 by Take The Magic Step®. All Rights Reserved.
Article Archive