WCh-Results: Kenenisa Bekele Defends his 10,000m Title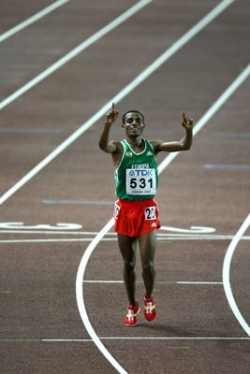 With two laps to go in the 10,000-meter final at the World Championships in Osaka, it looked like the seemingly impossible was about to happen—Kenya's Martin Mathathi had increased the pace, and the defending champion and world record holder Kenenisa Bekele seemed on the verge of getting dropped. The Ethiopian has never lost a 10,000m race since his first one in June 2003. But now he was running a couple of meters behind Mathathi and fellow Ethiopian Sileshi Sihine. Yet somehow, in the last lap, Bekele found new life and another gear, and moved from third to first place. With a time of 27:05.90 minutes, he took his third consecutive world title at the distance. Sihine took second in 27:09.03, as he did in the last Olympics.
Still, Bekele's challengers were closer than usual. Mathathi didn't relinquish the lead until there was less than 200 meters to go. The 21-year-old Mathathi, who lives in Japan and who finished fifth at the World Championships two years ago, came in third with 27:12.17. He secured his medal by bravely increasing the pace after 8,500m. Until then, Zersenay Tadesse of Eritrea had led for most of the race, passing the halfway mark in 13:42.98. He lost contact with the leaders with four laps to go and finished fourth, clocking 27:21.37.
"It is a very special moment for me, because it is very hard to win three times in a row at the World Championships,"said Bekele, who has succumbed to similar weather conditions at the World Cross Country Championships in March, when he dropped out. "The last three laps were hard. I told Sihine that he should stick with the Kenyan because I was tired. In the last lap, I recovered and was able to run faster again," added Kenenisa Bekele, who has not yet decided about a possible 10,000m world record attempt in Brussels on September 14. In a race without any Europeans, American Abdi Abdirahman finished seventh. He ran at the end of the leading group for most of the race, and fell back only in the last two kilometers to finish in 27:56.62. "I felt good at the beginning, but then in the end I started to get blisters, so I couldn't really push," said Abdirahman.
Russian Women Take Steeple
The situation in the women's 3,000m-steeplechase race is somehow comparable to the one in the men's 10,000m, because again the Kenyans are trying to end a dominance. There obviously is a promising future, although they could not win in Osaka. While the Russians confirmed their supremacy by winning gold and silver, the Kenyans followed on the next two places.
Yekaterina Volkova is the new world champion. Two years after taking silver at this meet, she triumphed in a world-class time of 9:06.57 minutes. Second went to her countrywoman Tatyana Petrova in 9:09.19, while Eunice Jepkorir took the bronze. The Kenyan clocked 9:20.09 after running in the leading group of four runners for most of the race. Besides the two Russian medal winners, Russia's world record holder Gulnara Samitova was in this group as well, but in the end she finished only seventh.
"I believe we will beat the Russians one day," said Eunice Jepkorir, who was also referring to the runner who finished right behind her: 19-year-old Kenyan Ruth Nyangau, who ran a world junior record of 9:25.25.
© Copyright 2007-2022 by Take The Magic Step®. All Rights Reserved.
Article Archive