WCh Results: Bekele Makes It Four, Dominguez Triumphs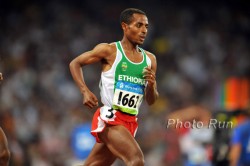 In an amazing feat of running excellence, 27-year-old Kenenisa Bekele won the World Championship 10,000 meters for the fourth time in a row! Only fellow Ethiopian Haile Gebrselassie has won as many champion- ship titles (1993, 1995, 1997, and 1999). Bekele's victories came in 2003, 2005, 2007, and this year in Berlin.
As expected, the pace at the start was incredibly fast. Nicholas Kemboi of Qatar shared the lead with Moses Masai of Kenya until the final lap when Eritrean Zersenay Tadese moved into first position. Bekele ran a smart race and hung back until the 6,500m mark when he made his move which thinned the pack to just him, Masai, eventual seventh-place finisher, Micah Kogo of Kenya, and Tadese. With one lap to go, it came down to Tadese and Bekele. True to form, Bekele made his move and took the lead, breaking the tape in 26:46.31 minutes which was a championship record. Afterwards, Bekele indicated that the race had unfolded as he expected. "I had planned to wait till the final lap and then kick," he explained.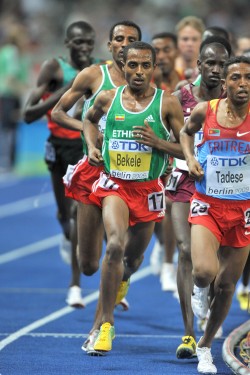 Tadese finished second in 26:50.12, while Masai took third in 26:57.39. In a final dominated by East Africans, two Americans ran extremely well: Dathan Ritzenhein finished sixth in 27:22.28 and Galen Rupp was two places behind in 27:37.99.
The Ethiopians didn't dominate the race from the front as had been the case in 10,000m finals in recent years. "We didn't have any team tactics today. When the race is so fast, you can't run together. If the pace is slower, then you can run as a team, but this time it was every man for himself," Bekele said afterwards.
In the women's 3,000m steeplechase, Spanish runner Marta Dominguez triumphed in the fastest time in the world this year, 9:07.32. Russia's Yuliya Zarudneva (9:08.39) and the Kenyan Micah Cheywa (9:08.57) placed second and third respectively.
Although Dominguez already had the fastest time in the world this season, Russia's Olympic champion and world record holder, Gulnara Galkina was the pre-race favorite since she is the only woman in history ever to have broken the nine-minute barrier for the distance. Galkina ended up placing fourth in 9:11.09 after an exciting race that came down to the last lap.
Germany's Antje Möldner placed ninth overall which was an excellent showing considering the tough field. Her time of 9:18.54 was the second time she'd broken her own German record at these championships. "I am so happy to have broken the record again. I hadn't expected that, I was feeling quite drained after running the heats on Saturday," said an elated Möldner afterwards.
Dominguez's victory was the second gold medal won by a Spanish woman in World Championship history: "This is the greatest win of my life, I hope next year to win again in front of my home fans at the European Championships," Dominguez told the press afterwards. She had twice won silver medals at the World Championships in 2001 and 2003 when she ran the 5,000m.
The semi-finals in the women's 800m event were a bit of a surprise. Olympic champion, Pamela Jelimo, dropped out 200 meters from the finish after she realized she was not going to qualify for the finals. Fellow Kenyan, Janeth Jepkosgei, had some luck after tripping in the preliminary round. Following a protest, the reigning world champion was reinstated and finished third in the semi-final in 1:59.47. Mariya Savinova (Russia/1:59.30), Caster Semenya (South Africa/1:58.66) and Elisa Cusma Piccione (Italy/2:00.62) were the winners of the three semi-finals.
In the men's 1500m semi-finals, Amine Lalou (Morocco/3:36.68) and Asbel Kiprop (Kenya/3:36.24) won their respective races. The defending champion, Bernard Lagat, and the fastest 1500m runner this year, Augustine Choge (Kenya/3:29.47), also qualified for Wednesday's final.
© Copyright 2009-2022 by Take The Magic Step®. All Rights Reserved.
Article Archive