Wilson Kipsang Makes Frankfurt One of the Fastest City Marathons
By Jörg Wenig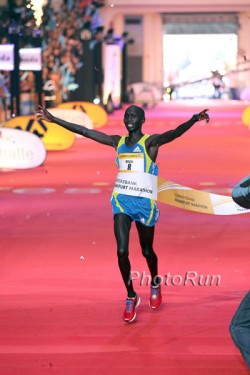 Kenya's Wilson Kipsang won the Commerzbank Frankfurt Marathon, setting a blazing course record of 2:04:57 hours—the tenth-fastest marathon of all time. Only four races worldwide have gone sub 2:05 with Frankfurt now joining Berlin (2:03:59), Rotterdam (2:04:27) and Dubai (2:04:53). Good weather conditions (temperatures of around 50 degrees Fahrenheit and almost no wind) also helped to set the stage for a women's course record: Caroline Kilel triumphed in 2:23:25 to complete the Kenyan double. Over 12,000 runners from 76 countries entered the race.
"That was a perfect day for us. I'd been hoping for a sub 2:06 but had never even considered a time under 2:05," said race director Jo Schindler. A week before, Berlin-based manager and elite race coordinator Christoph Kopp had predicted that a sub-2:05 marathon was possible. Christoph Kopp had brought a group of young athletes to the race, including a number of runners managed by Gerard van de Veen. The Dutch had already represented several winners and course record holders in Frankfurt—such as three-time champion Wilfred Kigen and last year's winner and course record holder, Gilbert Kirwa (2:06:14). Both champions on Sunday came from Gerard van de Veen's management group. There was also good news in Frankfurt for the KIMbia athletes coached by Dieter Hogen. Twenty-three-year-old Ronald Rutto (Kenya) finished seventh in 2:09:17 on his marathon debut, while Allan Kiprono, three years younger than Ronald Rutto, proved to be the race's strongest pacemaker. He took the lead group through to 33 kilometers.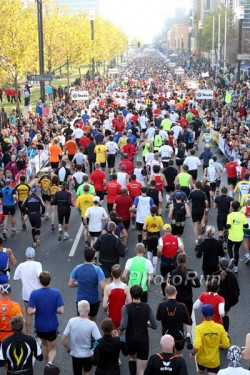 The 29th edition of the Frankfurt Marathon, which will be sponsored by BMW starting next year, produced many noteworthy results. For the first time in the race's history, Germany's oldest city marathon succeeded in making the world's top-ten list of City Marathons. This ranking is calculated according to the average times of the top-ten male finishers. Frankfurt's average of 2:06:53.5—which improved from 2:07:39.6—is now seventh on this list.
A group of more than 20 runners reached halfway in 62:38 minutes—faster than planned. The pace did not slow through 30K (1:29:12). Ethiopia's Tadese Tola was the first to take the lead once the last pacemaker, KIMbia's Allan Kiprono, had dropped out at 33K. Wilson Kipsang stayed with Tadese Tola. The Kenyan then attacked successfully 5 kilometers from the finish. Wilson capitalized on his move, increasing his lead all the way to the finish. His winning time of 2:04:57 makes him the eighth-fastest marathoner of all time. He was also well under the old course record of fellow Kenyan Gilbert Kirwa who ran 2:06:14 last year. "By 35K I knew that I would win and so pushed the pace. Then I realized that I could go under 2:05 if I could maintain that pace," Wilson Kipsang said.
Following the 28-year-old winner across the finish line, Tadese Tola took second in 2:06:31 on his 23rd birthday. The next two runners achieved world-class performances as well: the Kenyan duo of Elias Chelimo ran 2:07:04 and Philip Sanga clocked 2:07:11. The top German finisher was Falk Cierpinski in 31st place with 2:20:43.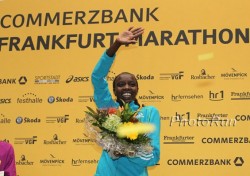 The women's race in Frankfurt also produced impressive results. Caroline Kilel ran 2:23:25 hours for the tenth-fastest time in the world this year. It was quite a surprise that the Kenyan runner was able to keep up with the fast early tempo set by the Ethiopians Dire Tune and Mare Dibaba. The trio reached halfway in 70:59 minutes. In the second half, the pace slowed somewhat and Mare Dibaba dropped back shortly after 35K. The duel between Dire Tune and Caroline Kilel eventually tipped in the Kenyan's favor as Caroline was able to break away at 40K.
"I'm very happy because I've been able to improve my personal best by two minutes and I didn't expect that. After I attacked at 40K, I was sure I was going to win," said Caroline Kilel. Dire Tune of Ethiopia finished runner-up in 2:23:44. Defending champion Agnes Kiprop (Kenya/2:24:07) and Isabellah Andersson (Sweden/2:25:10) both managed to run under the old course record of 2:25:12 as well. The top German finisher was Silke Optekamp with a personal best of 2:39:56 for 12th place.
© Copyright 2010-2022 by Take The Magic Step®. All Rights Reserved.
Article Archive