Wilson Kipsang and Mary Keitany Dominate the London Marathon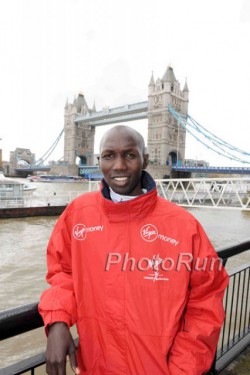 In front of Buckingham Palace, Wilson Kipsang of Kenya crossed the Virgin London Marathon's finish line in a world-class time of two hours, four minutes, and 44 seconds—more than two minutes ahead of fellow countryman Martin Lel (2:06:51) and Ethiopia's Tsegaye Kebede (2:06:52). His impressive performance has certainly qualified Wilson for Kenya's team at the Olympic Games later this summer in the British capital. Just last fall, the 30-year-old won the BMW Frankfurt Marathon in 2:03:42—within four seconds of fellow Kenyan Patrick Makau's world record.
At the women's race in London, Mary Keitany confirmed her standing as one of the Olympic favorites. The 30-year-old from Kenya won in 2:18:37, improving by ten seconds the nearly eleven-year-old African record set by her compatriot, Catherine Ndereba, in Chicago. Mary also moved into the fifth best ranking on the all-time list and leads the world this year. She became the third fastest female marathoner behind Paula Radcliffe—the British athlete who has run faster than Mary three times and still holds the world record of 2:15:25, set in London in 2003—and Liliya Shobukhova (Russia/2:18:20).
World champion Edna Kiplagat, also of Kenya, was the second woman to run a sub-2:20 on Sunday. She crossed the finish line in 2:19:50 and will most likely also be on the Kenyan squad at the Olympics. Third place went to Priscah Jeptoo (2:20:14) who was followed by the BMW Berlin Marathon winner Florence Kiplagat (2:20:57) and Lucy Kabuu (2:23:12)—making it a first-five sweep for the Kenyan women. Aberu Kebede (Ethiopia/2:24:04) took sixth, and Germany's Irina Mikitenko (SC Gelnhausen) repeated last year's performance with a seventh place. Irina, the German marathon record-holder (2:19:19) crossed the finish line in 2:24:53 and was the fastest non-African runner.
On a day that brought cool temperatures, sunshine, and only a little bit of wind, 35,970 runners took part in the race.
The men took off fast right from the start with Wilson Kipsang and the world-record holder Patrick Makau (2:03:38) pushing the pacemakers. For Patrick Makau, unfortunately, the race ended much sooner than expected: he had to drop out at 10 miles with a hamstring injury. And when the pacemakers pulled out shortly before the half-marathon mark, Wilson Kipsang seized the initiative and increased his speed. The ten-runner-strong group soon fell apart.
Wilson ran the first half in 62:12 minutes, with Ethiopia's Bazu Worku the only runner able to keep up with him. Soon after, however, Bazu fell behind while his fellow countryman Feyisa Lilesa caught up to the eventual winner. It looked like it would come down to a duel between the two. But over the next 5K, Abel Kirui (Kenya) closed the gap and was able to join the pair at the front. The trio reached 25K in 1:13:22, which predicted a sub-2:04 finishing time. At the 30K mark, the split time of 1:28:04 was still only slightly off the world-record pace.
After the race, Wilson Kipsang was asked if he had considered himself a favorite for the win. "I knew that I would be strong. But of course I did not know exactly how well the others would run," he replied. "But during the race I became increasingly confident and I noticed that the others would not be able to keep up with my pace." At 33K he put down yet another surge and this time, no one was able to stay with him. Over the final kilometers, while running alone, Wilson's pace slowed somewhat, but he still came within four seconds of Emmanuel Mutai's course record (2:04:40), which was set last year.
It was an impressive performance for Wilson Kipsang who had faced a very strong field—ten runners with sub-2:05:30 personal bests started the race.
Martin Lel of Kenya finished second in 2:06:51, while Tsegaye Kebede of Ethiopia (2:06:52) took third. Adil Annani (2:07:43), Jaouad Gharib (both Morocco/2:07:44), Abel Kirui (2:07:56), and Emmanuel Mutai (both Kenya/2:08:01) placed fourth through sixth respectively.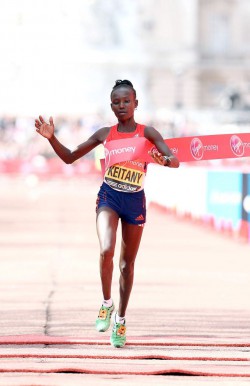 The women's race went out slower than the men's. In the early stages, Constantina Dita of Romania and Irina Mikitenko of Germany ran behind the pacemakers. Constantina, who won Olympic gold in 2008, was the first to fade. The group picked up the pace and Irina started to fall behind as well. A group of about ten runners crossed the half-marathon mark in 70:53.
Ten kilometers later, it was entirely a Kenyan affair with Mary Keitany, Lucy Kabuu, Edna and Florence Kiplagat, as well as Priscah Jeptoo vying for the win. Between the 30 and 35K marks, Edna Kiplagat and Mary Keitany took off and reached 35K together in 1:56:01. This increase of speed put the women on a sub-2:20 finishing pace. Mary Keitany maintained the tempo and was finally able to move ahead of Edna Kiplagat about 6K before the finish. Mary, who won in London last year in 2:19:19, completed the second half of the race in a blazing 67:44 minutes—a time that would have put her seventh in the world this year for the half-marathon distance!
"I knew I could run under 2:19 but to break Catherine's national record is special for me," said Mary. "I'm so delighted to win for the second time in London. We worked together until 35K and then I felt good so I decided to make a break. I was tired but I knew I could finish strongly."
Thousands of charity runners took part in the race, some dressed in costumes like Mickey Mouse, Superman, Dracula, or the famous Big Ben clock tower. They raised an estimated 50 million pounds (approximately $80 million) this year for various causes. Throngs of cheering spectators lined the course and contributed to the race's overall excitement and fun.
The Twelve Fastest Women's Marathons:
| | | | | |
| --- | --- | --- | --- | --- |
|  2:15:25 Hours  |  Paula Radcliffe |  GBR  |  London (GBR) |  04.13.2003  |
|  2:17:18 |  Paula Radcliffe |  GBR |  Chicago (USA) |  10.13.2002 |
|  2:17:42 |  Paula Radcliffe |  GBR |  London (GBR) |  04.17.2005 |
|  2:18:20 |  Liliya Shobukhova |  RUS |  Chicago (USA) |  10.09.2011 |
|  2:18:37 |  Mary Keitany |  KEN |  London (GBR) |  04.22.2012 |
|  2:18:47 |  Catherine Ndereba |  KEN |  Chicago (USA) |  10.07.2001 |
|  2:18:56 |  Paula Radcliffe |  GBR |  London (GBR) |  04.14.2002 |
|  2:18:58 |  Tiki Gelana |  ETH |  Rotterdam (NED)  |  04.15.2012 |
|  2:19:12 |  Mizuki Noguchi |  JPN |  Berlin (GER) |  09.25.2005 |
|  2:19:19 |  Irina Mikitenko |  GER |  Berlin (GER) |  09.28.2008 |
|  2:19:19 |  Mary Keitany |  KEN |  London (GBR) |  04.17.2011 |
|  2:19:26 |  Catherine Ndereba  |  KEN |  Chicago (USA) |  10.13.2002 |
© Copyright 2012-2022 by Take The Magic Step®. All Rights Reserved.
Article Archive