Wilson Kipsang and Mary Keitany Triumph at Windy New York City Marathon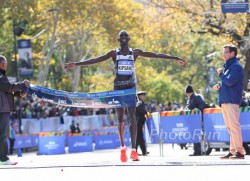 Back in 1970, Fred Lebow, president of the New York Road Runners club, organized that city's first marathon. With just 127 competitors, the inaugural race covered several laps around Central Park. Since then, the TCS New York City Marathon has grown year by year—blossoming into the biggest race of its kind in the world. Today, it hosts over 50,000 participants and offers a course that takes runners through all five of the city's iconic boroughs.
With Frank Sinatra's classic New York, New York echoing in the crisp fall air, Sunday's event kicked off at the start line in front of the scenic Verazzano-Narrows Bridge that stretches from Staten Island to Brooklyn. Lined up at the front of the crowd were top contenders Geoffrey Mutai and Wilson Kipsang on the men's side and Edna Kiplagat and Mary Keitany on the women's side.
And when this year's races came to their thrilling conclusions, there would be an untold host of winners, thanks to the concept of running in order to give back to the community that has taken hold over the years in New York. The marathon, hosted by the New York Road Runners (NYRR), offers an official charity program that allows runners to collect funds for an amazing 300 charities, like Team for Kids that supports NYRR's youth programs. This year, 8,500 men and women from all over the world ran in the name of charity—and raised a staggering $25 million.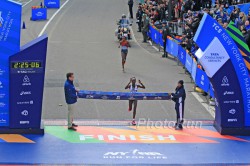 Race-day conditions were less than ideal for the classic 26.2-mile distance, with blustery winds and temperatures barely over 40 degrees Fahrenheit. The wheelchair division competitors were the first to start the race, followed by the elite women runners who found themselves battling crosswinds along the concrete span of the Verazzano-Narrows Bridge. They formed a large group, 16 strong, but it afforded little protection.
The women reached 10 kilometers in 35:01 minutes, a 2:29 pace and a full 7 minutes slower than Margaret Okayo's 2:22:31 course record set in 2003—hardly surprising given the challenging conditions. Bronx resident Buzunesh Deba and Italy's Valeria Straneo traded the lead in the early stages of the race and in spite of persistent winds the pace picked up in subsequent miles, with the leaders coming through the 10-mile mark in Brooklyn in 56:02.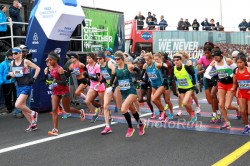 The group thinned to 10 by the 20K mark with marathon debutant Sara Moreira of Portugal hitting 69:46. The half-marathon was reached in 1:13:40, which was slower than in recent years, and soon afterwards one of the pre-race favorites, Edna Kiplagat—the 2010 New York victor and winner of this year's London Marathon—fell behind. By the 20th mile (1:52:06), there were just five women left to compete for the win: Mary Keitany (Kenya), Jemima Jelaga Sumgong (Kenya), Firehiwot Dado (Ethiopia), Jelena Prokopcuka (Latvia), and Rkia El Moukim (Morroco).
Mary and Jemima pushed the pace, separating themselves from the others, and by the time they reached Central Park it came down to a two-woman footrace. The Kenyan runners dueled fiercely in the remaining miles under the shade of trees lining New York City's largest green space. The exciting finale was heralded by a final sprint in the last few meters. It appeared to be Jemima's race, but 32-year-old Mary, a two-time London Marathon champion, suddenly had one more gear in her and was able to pass Jemima for the win. She broke the finish line tape in 2:25:07, and in one of the closest women's finishes in New York City Marathon history Jemima placed second in 2:25:10. Third place went to Sara Moreira, who ran an outstanding debut of 2:26:00. Desiree Linden, 5th in 2:28:11, was the top American. The second-fastest American today was Annie Bersagel, who placed 10th with a time of 2:33:02. You can read more about Annie here on our Website.
Mary Keitany's win on Sunday was impressive given the fact that she missed competing in 2013 in order to give birth to her second child.
"I worked hard for this opportunity," she told reporters afterwards. "I'm happy because I have a victory today, because I know I've been coming to New York two times, and I was in that position. So I'm happy today because it was a good day and I win."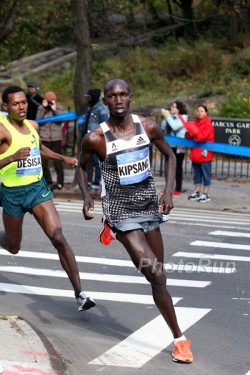 The men's race followed a similar pattern to the women's. An enormous pack of runners stuck together in the opening miles with course-record holder Geoffrey Mutai taking an early lead. But by the time they reached the 10K mark (31:31), it was a single-file line with American Meb Keflezighi, an Olympic silver medalist and winner of the Boston and New York City Marathons, leading the way. A few kilometers later, Wilson Kipsang, a 2:03:23 marathoner and a former world-record holder, reeled in Meb and ran alongside him.
The group of runners reached 8 miles in 40:48 and then came through the half marathon in 1:06:55. By this point Meb had regained the lead, behind him ran Geoffrey Mutai and Wilson Kipsang. In mile 15, Geoffrey and Wilson were ahead of their followers, but as the marathoners arrived on First Avenue, a point in the race where many moves are encouraged by the roar and enthusiasm of the large crowds, Meb was back in the front with 10 runners strung out behind him. However, after the race made its brief entry into the Bronx there were just four men left: Geoffrey Mutai and Wilson Kipsang of Kenya and two Ethiopian contenders, Lelisa Desisa and Gebre Gebremariam.
But, like the women's race, it came down to just two runners once Central Park came into view, with Wilson Kipsang and Lelisa Desisa opening up nearly a 10-second gap on their pursuers. Wilson appeared to be the stronger as they raced each other through the park's winding roads. And in the closing meters where the road climbs just a bit Lelisa began to fade, allowing Wilson to seize the lead and go on to win the race. The 32-year-old's time was 2:10:59, with Lelisa seven seconds behind. Third place went to Gebre Gebremariam of Ethiopia (2:12:13) and to the delight of the crowd, the first American to cross the finish line was Meb Keflezighi who took fourth in 2:13:18.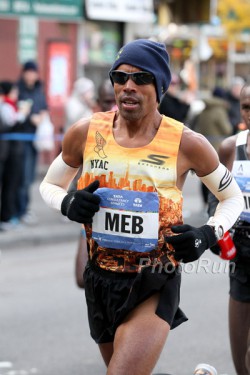 Wilson Kipsang's record on the world-marathon scene is impressive. Over the past 13 months the Kenyan star has won Berlin, London, and now New York. "I love New York!" he tweeted after winning. "Loving my gold medal of the New York City Marathon."
In the wheelchair division Kurt Fearnley of Australia placed first in the men's race in 1:30:55. Tatyana McFadden of the United States was the women's champion (1:42:16).
There were plenty of other inspirational runners with compelling stories taking to the streets of the "Big Apple." Simon Wheatcroft from Doncaster, England, for instance. Simon was born with retinitis pigmentosa, a degenerative eye disease that resulted in the loss of most of his vision. But that has not held him back. In the lead-up to the New York City Marathon, Simon ran 220 miles through four states in nine days—ending with the marathon. "I wasn't a runner before I lost my vision, and I probably never would have started running if I didn't lose it," he told the Daily Beast Website. "It's incredible, the kindness of strangers," he said. "All I have to do to get guides is Tweet, and they show up."
The Results of the New York City Marathon
Men:
| | | | |
| --- | --- | --- | --- |
|  1. |  Wilson Kipsang |  KEN |  2:10:59 Hours |
|  2. |  Lelisa Desisa |  ETH |  2:11:06 |
|  3. |  Gebre Gebremariam |  ETH |  2:12:13 |
|  4. |  Meb Keflezighi |  USA |  2:13:18 |
|  5. |  Stephen Kiprotich |  UGA |  2:13:25 |
|  6. |  Geoffrey Mutai |  KEN |  2:13:44 |
|  7. |  Masato Imai |  JPN |  2:14:36 |
|  8. |  Peter Cheruiyot Kirui |  KEN |  2:14:51 |
|  9. |  Ryan Vail |  USA |  2:15:08 |
|  10. |  Nick Arciniaga |  USA |  2:15:39 |
Women:
| | | | |
| --- | --- | --- | --- |
|  1. |  Mary Keitany |  KEN |  2:25:07 Hours |
|  2. |  Jemma Sumgong |  KEN |  2:25:10 |
|  3. |  Sara Moreira |  POR |  2:26:00 |
|  4. |  Jelena Prokopcuka |  LAT |  2:26:15 |
|  5. |  Desiree Linden |  USA |  2:28:11 |
|  6. |  Rkia El Moukim |  MAR |  2:28:12 |
|  7. |  Firehiwot Dado |  ETH |  2:28:36 |
|  8. |  Valeria Straneo |  ITA |  2:29:24 |
|  9. |  Buzunesh Deba |  ETH |  2:31:40 |
|  10. |  Annie Bersagel |  USA |  2:33:02 |
|  11. |  Deena Kastor |  USA |  2:33:18 |
© Copyright 2014-2022 by Take The Magic Step®. All Rights Reserved.
Article Archive