Wilson Kipsang and Mamitu Daska Set Course Records in Frankfurt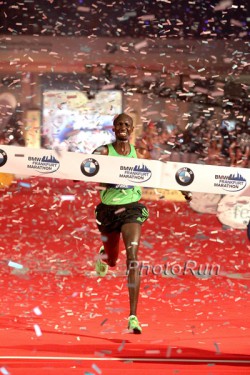 In an amazing performance, Wilson Kipsang of Kenya ran the second fastest official marathon in history on Sunday—winning the 30th edition of the BMW Frankfurt Marathon in two hours, three minutes and 42 seconds. He set a new course record and was just four seconds off Patrick Makau's world record (2:03:38). Kenyan athletes swept the first three places, with Levy Matebo second in 2:05:16 and Albert Matebor third (2:05:25).
Incredibly, 14 runners went under 2:10—an unprecedented event in the history of the sport—and 29 marathoners completed the 26.2-mile distance under 2:15 hours.
Impressive performances were not limited to the men's race. In the women's marathon, Ethiopia's Mamitu Daska clocked 2:21:59 in front of 7,000 cheering spectators at the finish line at Frankfurt's 'Festhalle'—good also for a course record. She won ahead of Kenyan runners Agnes Kiprop (2:23:54) and debutant Flomena Chepchirchir (2:24:21). Mamitu Daska's winning time was the sixth-fastest marathon this year and like the men's field, the women's performances were equally deep with 12 runners finishing under 2:30, while 18 went sub-2:35.
A record 15,210 marathoners started the popular German race, with 25,305 contestants taking part in all the scheduled running events. One example of the race's inclusiveness was the "mini marathon"—a 4.2-kilometer run for 10- to 16-year-olds that is held on parts of the actual marathon course. With more than 3,000 children participating, the "mini marathon" is the largest kids' race in the German state of Hesse.
Race-day conditions at 10 a.m. were near ideal with cloudy skies, temperatures hovering around 54 degrees Fahrenheit, and almost no wind. But an early-morning shower made the streets wet and slippery and caused the elites to exercise caution when making tight turns.
"It's OK," Wilson Kipsang said at the finish, "I'm very happy with the time. The pacemaking was fine, they did a good job. I'll try to do it [break the world record] next year. This has given me even more motivation," Sunday's victory marks the fourth marathon of the 29-year-old's career. Last year, he set a course record at this race (2:04:57). He announced in Frankfurt, "The world record is on the way!"
After crossing the half-marathon mark in 61 minutes and 40 seconds and then going through 25K in 1:13:09, the lead group was on pace to improve Patrick Makau's world record. At that point, there was only one pacemaker remaining: Kenya's Peter Kirui who did a fantastic job assisting Wilson Kipsang. The pace began to slow off a possible record by a few seconds over the next 10K and by then, the pack began to thin. The 2008 champion, Robert Kiprono Cheruiyot of Kenya (who ultimately placed fifth in 2:06:29), as well as Ethiopia's Deriba Merga were among the runners who were unable to stay with the lead group.
The race's decisive move came at the 35K mark, when Wilson Kipsang forced the pace and left behind fellow Kenyans Levy Matebo and Peter Kirui. The pacemaker, Peter Kirui, remained in the race and finished in sixth place (2:06:31).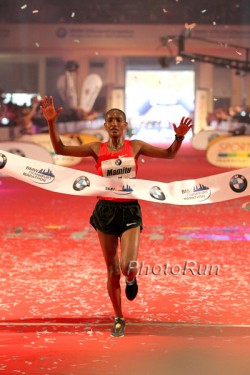 It was all Wilson Kipsang in the final seven kilometers. However, by running alone he was unable to better the five-week-old world record set in Berlin by Patrick Makau.
Wilson, who grew up 50 kilometers from Iten, Kenya and comes from a farming family, discovered his natural talent as a runner when he was in high school.
In the women's marathon the Ethiopian duo of Mamitu Daska and Merima Mohammed began the race at a blistering pace and at first, it looked like they might break 2:20 as they crossed the half in 1:09:46. Like the men's race, the decisive point in the women's event came after the 35K mark when the 28-year-old Mamitu Daska surged ahead of Merima Mohammed. Merima finally settled for fourth overall in 2:24:32.
"It was my goal to run a time of about 2:20 or under," revealed Mamitu Daska afterwards. "Only after 40 kilometers, was I sure I would win the race." Her new course record bettered that of Kenya's Caroline Kilel (set last year in 2:23:25), and her impressive performance makes her a favorite to be included in the Ethiopian Olympic team in London next year.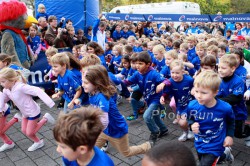 Elite runners and fast times aside, the Frankfurt Marathon plays a huge part in assisting others. The charitable organization Caritas Frankfurt, whose largest division provides aid for children and youth, collaborated once more with the event. Since 2007, with its motto "Gemeinsam mehr bewegen" (engl. "Together we do more"), the partnership has sought to improve the lives of Frankfurt-area children. The initiative has raised €110,000 (approximately $155,600) in the past four years to fund more than 200 projects such as equipping daycare centers with more exercise facilities. The highlight of this initiative was the "Struwwelpeter Run" (engl. Stock-headed Peter Run)—a 420-meter-long race for kids aged 5 to 9 held on Saturday.
© Copyright 2011-2022 by Take The Magic Step®. All Rights Reserved.
Article Archive