Wilfred Kigen Runs Course Record, Melanie Kraus Achieves Sensational Win in Frankfurt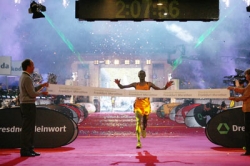 Wilfren Kigen achieved the crowning performance in the history of the men's race in the oldest city marathon in Germany: the 32-year-old Kenyan sped across the finish line of the 26th Dresdner Kleinwort Frankfurt Marathon in the city's festival hall in 2:07:58 hours. It was the first time that anyone had run under 2:08 in Frankfurt, and was the eighth fastest time in the world this year. Kigen improved his own course record by 33 seconds from his time in 2005. Melanie Kraus produced a sensational home victory, taking the race in 2:28:56. A record 18,245 athletes entered the Frankfurt Marathon, of whom 11,483 were runners.
Led by pacemakers, a lead group of 20 reached halfway in 64:03. At 30 kilometers, Hosea Rotich provided a big increase in the tempo, breaking up the lead group. The Kenyan ran the next kilometer in 2:51 minutes. "I knew it was too fast for him and I would come again," said Kigen, who, together with Peter Kiprotich, caught up with Rotich again by 35K. Soon after Kiprotich fell back.
Following a dramatic duel, Kigen broke away from his compatriot Rotich, who finished second in 2:08:11. Two other runners finished under 2:09: Kenyans Sammy Kurgat (2:08:38) and Peter Kiprotich (2:08:49). Altogether six athletes went under 2:10; only in the Amsterdam and London races this year have more runners produced more sub-2:10 results. Before this race, sub-2:11 had been run 14 times in Frankfurt. A further 8 were added to the list just on this one day, evidence of the quality of the men's race.
"That was the hardest of my three Frankfurt wins. I had no idea who was running near me. I've never run against Hosea Rotich before," said Kigen, who became the first man to achieve a hattrick of wins in Frankfurt. While Kenyans filled the first nine places, Germany's Olympic champion Dieter Baumann (5,000m in 1992), raising funds for charity, finished in exactly 2:30:00 to place 37th.
With a brilliant solo performance, Kraus ran to the greatest win of her career, providing the biggest surprise of the day. After 15K she was back in eighth place, only overtaking the leader and favorite Svetlana Zaharova two kilometers from the finish. The Russian, returning to the marathon after having a baby, eventually finished second in 2:29:12, while the Norwegian Melkevik Otterbu surprisingly took third place in the same time. "I wanted to get the Olympic qualifying time," said the 33-year-old winner, who added: "When my coach called out to me at 30 kilometers that I could catch Svetlana, I knew I would do it. Next year I want to run in the Olympics in Beijing and defend my title in Frankfurt."
Sixth was the European champion Ulrike Maisch (Germany) in 2:32:41. That represented a good comeback for her after lengthy problems with a foot injury. "I am almost as happy as a year ago after my win in the European Championships. I think I can build on this. Next spring I would like to run 2:28 in Hamburg," said Maisch.
World Champion Kibet Wins in Portsmouth
Nothing—neither his rivals nor miserable weather—could beat the marathon world champion from Osaka in the English town of Portsmouth. Luke Kibet (Kenya) won the BUPA Great South Run over 10 miles in a speedy 47:31. A Kenyan was also to the fore among the women: Rose Cheruiyot ran 53:44. The race attracted 18,500 participants despite wind and rain. The official starter was David James, the England football goalkeeper.
After 4 miles, a group of four had gone into the lead in the men's race. Kibet broke away from them 4 kilometers from the finish. "All in all, it was a hard race, because the wind blowing in from the sea made it really difficult for me," said Kibet, who also won the Vienna Marathon this year. As he did last year, Spaniard Chema Martinez took second. He finished in 47:50 minutes, two seconds clear of Jonathan Maiyo of Kenya.
Cheruiyot dominated the women's race. The wife of the former 5,000m world champion Ismael Kirui also ran the marathon in Osaka, but failed to finish among the leaders. "I suffered in the heat and humidity of Osaka. But this win shows that I'm on the way back to my best form," said Cheruiyot. Behind her two Britons fought a desperate duel for second place: Hayley Yelling came through to outsprint Mara Yamauchi by just one second in 54:12.
More than 20,000 Finishers at Marine Corps Marathon
Once again, the Marine Corps Marathon in Washington, D.C. had a large field. Out of 21,226 starters, 20,600 runners finished the 32nd edition of the race. Tamrat Ayalew (USA) won the race in 2:22:20, thus denying Mexico's Ruben Garcia a hattrick. Garcia took second in 2:24:20. A debutante won the women's race: Kristen Henehan (USA) clocked 2:51:14 for the win.
© Copyright 2007-2022 by Take The Magic Step®. All Rights Reserved.
Article Archive