WCh Results: Two Medals for Kenya, European Record for France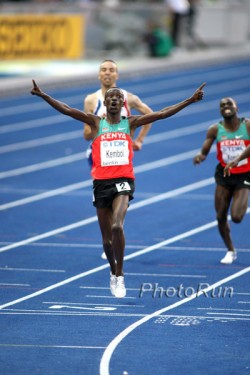 Gold and silver for Kenya, bronze for France—that's how the men's 3,000m steeplechase unfolded at the World Championships in Berlin. For the eighth time in a row the gold medal went to a Kenyan. Twenty-seven-year-old Ezekiel Kemboi set a championship record, winning in 8:00.43 minutes in an exciting sprint finish. Fellow Kenyan Richard Mateelong (8:00.89) came in second and Bob Tahri, who ran a European record of 8:01.18, won the bronze medal. Tahri's third-place showing prevented the Kenyans from winning all three medals as they had done in Osaka two years ago.
The race was a fast one from the start. Five runners broke away from the pack in the second half—all Kenyans except the Frenchman, Tahri. Going into the final lap, it came down to four athletes vying for three medals.
On the final barrier going into the home straight, it looked like a Kenyan sweep, but Paul Koech, undoubtedly fatigued at that point, didn't hurdle the final barrier—neither did Tahri. The Frenchman maintained his momentum, however, and edged past Koech in 8:01.26.
Behind the Ethiopian pair of Yacob Jarso (8:12.13) and Roba Gary (8:12.40) came the fourth Kenyan in the race, the defending champion and 2008 Olympic champion in Beijing, Brimin Kipruto, who placed seventh in 8:12.61.
"I've taken the silver medal at three World Championships; now at last I have won gold," said an elated Kemboi afterwards. When asked about his racing tactics, Kemboi was pleased. "I held back for much of the race and this tactic paid off in the end," he said.
On reflecting on his bronze medal, Tahri admitted, "I knew I would have a chance provided I could stay relaxed for as long as possible." He remains optimistic about his prospects for the future, indicating that his bronze medal at the World Championships was far from signifying the end of his career.
In the women's 1500m qualifying heats, the pre-race favorites lived up to expectations. Maryam Jusuf Jamal (Bahrain), the defending champion, won the first heat in 4:08.76. She is the fastest in the world this season with a blazing 3:56.55. Ethiopia's Gelete Burka won the next heat in 4:07.75. Britain's Lisa Dobriskey, who nearly won a medal in last year's Summer Olympics, took third—good enough to qualify for the next round. Anna Alminova of Russia won the third and final heat in 4:08.13. Kenya's surprise winner of the Olympic title, Nancy Langat, finished in second place, three-hundredths-of-a-second behind Alminova.
© Copyright 2009-2022 by Take The Magic Step®. All Rights Reserved.
Article Archive