WCh Results: Record Kenyan Sweep in the Women's Marathon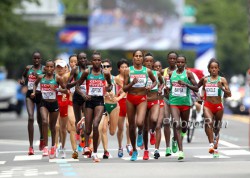 It only took a day for the first upset to occur at the World Championships. In the women's marathon, the first final of the nine-day-long event, Kenya swept the podium. The team's top-three finish was an unprecedented achievement in the history of the global championships. Never before, has a single country won all three medals in either the World Championships or the Olympic Games and that includes the men's marathon.
Edna Kiplagat took the title in two hours, 28 minutes, and 43 seconds. Priscah Jeptoo (2:29:00) and Sharon Cherop (2:29:14) finished second and third respectively. Fourth place went to the Ethiopian Bezunesh Bekele who finished in 2:29:21. The best non-African runner in Daegu was Yukiko Akaba of Japan, who came in fifth with 2:29:35. The Kenyan women won the overall World Team Cup from China and Ethiopia. Top American honors went to Tera Moody who finished 17th overall.
For the eventual winner, Edna Kiplagat, the race was marked by an unfortunate mishap, when Sharon Cherop accidentally tripped her at a fluid station four kilometers from the finish. Despite falling, the 31-year-old picked herself up and ran on to her first marathon title. Going into the race, Edna was the fastest woman in the field. She improved her personal best to a world-class 2:20:46 in London in April. This made her a pre-race favorite.
Demonstrating good tactical awareness in the difficult conditions with temperatures of 77 degrees Fahrenheit and extremely high humidity of more than 80 percent, she held back for much of the race and was in the trail end of the large lead group. The initial pace on a course of three laps in the city center was moderate with a 30-strong leading group going through halfway in 1:16:46.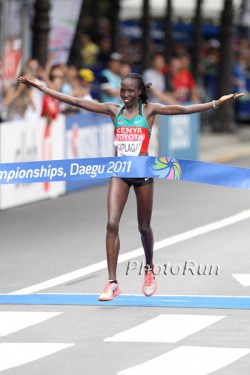 It was ultimately Edna who seized the initiative, breaking up the leading pack by surging to the front. After 33 kilometers it was a footrace between eventual winner Edna, Priscah Jeptoo, Sharon Cherop, and Ethiopia's Aberu Kebede who won the Berlin Marathon last year. Soon, the Kenyans dropped their last Ethiopian rival. Recalling the decisive move after her victory, Edna had this to say: "I thought I would run this race just as I'd done the two previous ones in New York and London. After 32 kilometers I forced the pace."
However, en route to their triple triumph, the Kenyan squad got into each other's way. At the final fluid station, Sharon Cherop suddenly moved to one side to grasp a drink, but in so doing, tripped up Edna who was running behind her. "When it first happened I was worried I might have injured myself but I was all right," explained Edna later. Visibly upset at her mistake and showing true sportsmanship, Sharon Cherop came to a halt and helped her teammate to her feet. Ultimately, Edna ran the second half considerably faster than the first (1:11:57).
Edna is married to the Kenyan runner Gilbert Koech. They have two children and divide their time between homes in Boulder (Colorado) and Iten (Kenya), where a few years ago she was temporarily trained by Uta's former coach Dieter Hogen. Edna plans to use the next few days to get to know South Korea better. "I like learning about foreign cultures. People here are very warm and welcoming." she said.
"This is a great day for us. I hope our teammates will have more success," said third-place finisher, Sharon Cherop. Kenya stands a good chance to win further awards at the championships and may ultimately finish ahead of rival Ethiopia in the overall medal count.
Article Archive