WCh Results: Olympic Champion Stephen Kiprotich Wins Marathon Gold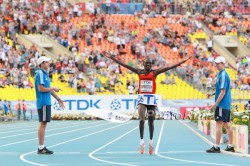 Uganda's Stephen Kiprotich became only the second man in history to add a world marathon championship to an Olympic gold medal when he crossed the finish line in Moscow in two hours, nine minutes, and 51 seconds. The 24-year-old achieved the impressive feat with an unexpected victory in warm conditions over Ethiopian runners Lelisa Desisa (2:10:12) and Tadese Tola, who was third in 2:10:23. The only other runner to score the Worlds and Olympic "double" is Ethiopian Gezahegne Abera, who took gold at the 2000 Summer Olympics in Sydney and then became world champion in Edmonton, Canada the following year. In the Moscow marathon, Tsegaye Kebede of Ethiopia finished fourth in 2:10:47 while the best non-African was Japan's Kentaro Nakamoto who placed fifth in 2:10:50.
For the Kenyan team the race did not go the way they had hoped. After three World Championship victories in succession, no runner from that East African nation was in the top eight. The highest-placing European was Spain's Javier Guerra in 15th position with a time of 2:14:33, two spots behind the top American, Jeff Eggleston (2:14:23).
"I was really well prepared—and now I'm not only the Olympic champion, but also world champion," said Stephen Kiprotich, who is a member of the training group in Kenya managed by Jos Hermens. "Six of my training partners were among my rivals today—that's fantastic."
Weather conditions of 72 degrees Fahrenheit were more favorable than those of the previous week for the women's marathon, with temperatures in the shade about ten degrees lower. Still, the weather was not optimal for a marathon and so the race began at a slower pace. After a 10-kilometer split of 31:22 minutes, a group of 17 marathoners reached the half in 65:12.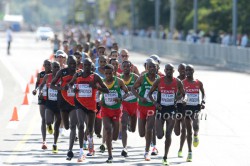 It was not until after the 30K mark—passed in 1:32:35—that the first key move was made among the leaders. Three runners—Peter Some of Kenya, Stephen Kiprotich, and Tadese Tola—surged to the front. They were joined shortly afterwards by Lelisa Desisa, who set the world's best time this year of 2:04:45 with his victory in Dubai in January and won the Boston Marathon just three months later. Tsegaye Kebede, the London Marathon champion, Jackson Kiprop (Uganda), and Kentaro Nakamoto also caught up with them—but not for long. Between 36 and 37K, Stephen Kiprotich, who after his sixth-place showing in the London Marathon in April was not considered to be one of the favorites, began to push the pace, and only the Ethiopians Lelisa Desisa and Tadese Tola were able to stay with him.
Tadese Tola fell behind at 40K, setting up a tense duel between Lelisa Desisa and Stephen Kiprotich. But the Ugandan marathoner proved to have the greater reserves of strength. Perhaps running three marathons in seven months was too much for Lelisa Desisa, who also suffered stomach problems on the morning of the race. "I wasn't feeling well this morning," he said. "During the race my mouth was dry. With 2 kilometers to go, I thought I could compete with [Stephen] Kiprotich, and normally I am a good finisher since I am originally a 10,000m runner, but I wasn't able to change gears, maybe because what happened this morning." He added, "We ended up with silver and bronze, which is not that bad after all."
Stephen Kiprotich, who according to the International Association of Athletics was inspired to take up running in elementary school after watching Ugandan marathoner Francis Musani and others jogging near his home, said afterwards, "I realized that I could win at 40K, then I just kept pushing. I am happy that I could win another medal for my country."
The fourth-place finisher of any race is often disappointed—but not Tsegaye Kebede. His finish just out of the medals still enabled him to keep his top position on the leader board in the 2012-2013 World Marathon Majors Series—the World Championships and the Olympic Marathon results count towards the athletes scores. And he will go into the upcoming fall marathon season as a clear favorite to win the title.
The Results of the Men's Marathon
| | | | |
| --- | --- | --- | --- |
| 1. | Stephen Kiprotich | UGA | 2:09:51 Hours |
| 2. | Lelisa Desisa | ETH | 2:10:12 |
| 3. | Tadese Tola | ETH | 2:10:23 |
| 4. | Tsegaye Kebede | ETH | 2:10:47 |
| 5. | Kentaro Nakamoto | JPN | 2:10:50 |
| 6. | Solonei da Silva | BRA | 2:11:40 |
| 7. | Paulo Roberto Paula | BRA | 2:11:40 |
| 8. | Yemane Tsegay | ETH | 2:11:43 |
| 9. | Peter Some | KEN | 2:11:47 |
| 10. | Jackson Kiprop | UGA | 2:12:12 |
The Long-Distance Track Races: Mo Farah Runs to Double Gold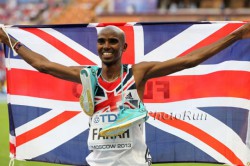 Mo Farah left an indelible mark on the Track and Field World Championships in Moscow, triumphing in both the 5,000 and the 10,000 meters. The popular British star became only the second man in the history of these championships to achieve the elusive long-distance "double"—echoing the feat of Ethiopian world-record holder Kenenisa Bekele, who ran to his double victory in 2009 in Berlin. Mo and Kenenisa are also the only two athletes who have won gold twice at both the Olympic Games and the World Championships. Kenenisa became a double Olympic champion in Beijing 2008, Mo last year in London.
In both finals, Mo proved to be unbeatable in dramatic long sprints to the finish line. He won the 10,000m in 27:21.71 minutes, ahead of Ethiopia's defending world champion Ibrahim Jeilan (27:22.23) and Kenya's Paul Tanui (27:22.61). In fourth was Mo's training partner, Galen Rupp of the United States, in 27:24.39. Mo's victory ended the Ethiopian monopoly of the World Championship 10,000m—the African runners had won the gold medal five times in a row since 2003. The last European world champion for the distance was Alberto Cova (Italy)—30 years ago in Helsinki.
Six days after his 10,000m win, Mo was triumphant again, this time over 5,000m in 13:26.98 minutes. Ethiopia's Hagos Gebrhiwet (13:27.26) grabbed the silver in the final meters ahead of Isiah Koech (Kenya), who was awarded the same time as Hagos.
In the women's races, the eagerly-anticipated duel between Ethiopians Tirunesh Dibaba and Meseret Defar never happened: their national federation ruled that each runner would compete in only one of the races. The result was a gold medal for both women. Tirunesh won the 10,000m in 30:43.35 minutes in front of Gladys Cherono (Kenya/30:45.17) and Belaynesh Oljira (Ethiopia/30:46.98). It was the reigning 10,000m Olympic champion's third World Championship title for this distance, following her victories in 2005 and 2007. Meseret Defar, in turn, showed a similarly solid performance over 5,000m, winning in 14:50.19 minutes, followed across the finish line by Mercy Cherono (Kenya/14:51.22) and Almaz Ayana (Ethiopia/14:51.33).
Article Archive