WCh Results: Ethiopia's Ibrahim Jeilan Surprises in the 10,000m Men's Race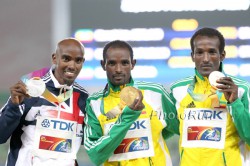 In one of the most dramatic World Championship finals so far, we saw a surprise winner and a silver medalist from Europe—the first in the Worlds 10,000 meters since 1987. In a thrilling finish, Ethiopia's Ibrahim Jeilan narrowly defeated England's Mo Farah, crossing the finish line in 27:13.81 minutes. The Briton ran 27:14.07 after holding off Ibrahim Jeilan untli the home straight. The bronze medal went to Imane Merga (Ethiopia/27:19.14). Unexpectedly, the best Kenyan, Martin Mathahi, finished fifth (27:23.87) behind Zersenay Tadese (Eritrea/27:22.57). There was also an encouraging American performance from Galen Rupp who placed seventh in 27:26.84. Matt Tegenkamp, a member of the KIMbia group, followed in tenth place in 28:41.62.
While Ibrahim Jeilan, an Ethiopian newcomer, ran on to victory, his countryman Kenenisa Bekele had an unhappy comeback. Injury had forced him to take a complete break from racing since January 2010 and his announcement that he would compete in Daegu had been a surprise. Unfortunately, the world-record holder and Olympic champion—who had won the last four 10,000-meter World titles—dropped out after 6,000m after losing contact with the lead group of eight. Before Sunday's race, Kenenisa had run 12 races over 10,000m in his career and had won them all, including twice at the Olympic Games (2004 and 2008). "I wasn't fit but am happy that an Ethiopian has won," Kenenisa said generously after the race.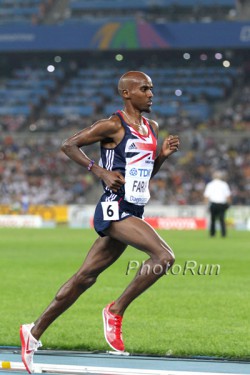 The race's early leaders were Zersenay Tadese (Eritrea) and Sileshi Sihine (Ethiopia). Zersenay Tadese was second at the World Championships in Berlin two years ago and finished fourth this time, while Sileshi Sihine eventually fell back and settled for eighth place. With two laps remaining, the eight-strong group was still intact. Mo Farah then seized the lead with 600m left and increased the pace at the start of the final lap. At that point, he had about a five-meter lead over his Ethiopian followers Ibrahim Jeilan and Imane Merga.
The first to fall back was Imane Merga, but Ibrahim Jeilan didn't allow the gap to widen and, going into the final bend, was able to reduce it stride by stride. He then surged past Mo Farah in the home straight, running to the greatest triumph of his career. Previously, the 22-year-old had achieved two notable victories—both as a junior: In 2006, he won the World Junior 10,000m title and two years later, he triumphed at the World Junior Cross-Country Championships. "I didn't notice that Bekele dropped out. We had all been wanting to help each other, but then a few of us grew tired," recalled Ibrahim. "I knew I could catch Mo Farah over the last 200 meters because I'm a good sprinter over 400 meters."
Mo admitted that Ibrahim had taken him by surprise: "I had no idea who he was and what he could do," he said. "To be honest, 300 meters from the finish, I thought, 'I've done it.' I saw him coming and tried to give everything and stay relaxed. But my legs couldn't do any more, I was almost getting a cramp." With one year to go before the Olympic Games in London the second place is a great confidence-builder for Mo, who will also be running the 5,000m in Daegu. He is the first European to win a medal at a World Championships since Francesco Panetta finished second in Rome in 1987. An Italian was also the last European medalist in the 10,000m at the Olympic Games: Salvatore Antibo was second in Seoul in 1988.
Kenya's Women Take Daegu by Storm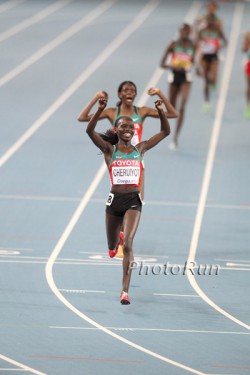 On Saturday, it was the women's turn in the 10,000m. After a triple sweep in the marathon earlier in the day, the Kenyan runners repeated their success in the evening. They dominated the 10,000m, winning all three medals. Vivian Cheruiyot placed first in 30:48.98 ahead of her compatriots Sally Kipyego (30:50.04) and the defending champion, Linet Masai (30:53.59). Kenya even managed to take fourth with Priscah Cherono's 30:56.43.
One country has won all three medals in the women's 10,000m at World Championships twice before: Ethiopia achieved this for the first time in Edmonton in 2001 and then in Helsinki in 2005. However no nation has ever taken the first four places in the women's race before.
Remarkably, throughout the whole race, the Ethiopian competitors never made an attempt to seize the initiative. Meselech Melkamu, currently the best Ethiopian runner, finished fifth in 30:56.55 followed by Shitaye Eshete (with a national record for Bahrain in 31:21.57) and Shalane Flanagan (USA/31:25.57).
"This has been a great day for Kenya—first to win three medals in the marathon and then take the first four places in the 10,000m final," said Vivian Cheruiyot. The Kenyan women had watched the marathon in the morning and been inspired by the triple triumph of their fellow countrywomen. "That was great and it was a big motivation for us. We said to each other, 'we can do the same as they did,'" Vivian recalled. That evening, the track runners set the bar even higher, taking the top-four spots for the 25-lap event. Never before in the history of the global championships had such a feat been achieved in either the men's or women's race. On the first day of the World Championships in South Korea, the Kenyan women had won six out of a possible six distance medals.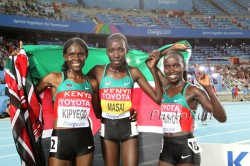 "It was a great feeling when I looked around at the finish and saw them all crossing the line behind me and knew that we'd taken the first four places," said Vivian. "We are very proud of our run and this fantastic first day for Kenya." Despite coming in third, defending champion Linet Masai was still pleased to have taken bronze. "I wanted us to win all the medals, so when. Meselech Melkamu was still there on the last lap, I was happy I was able to get ahead of her," she remembered.
"I think this start will be very good for Kenya in terms of the races to come—we will be winning more medals," Vivian Cheruiyot predicted. She stands a good chance of a second triumph as she goes into the 5,000m as the defending champion. "Now I will have a rest, then do a little jogging and run in the heats on Tuesday," she said.
© Copyright 2011-2022 by Take The Magic Step®. All Rights Reserved.
Article Archive