WCh-Results: Catherine Ndereba Wins Marathon for Second Time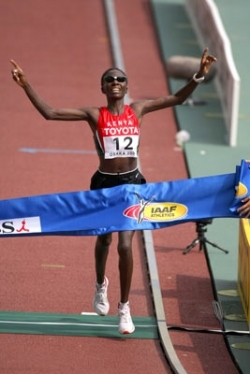 Kenyan Catherine Ndereba has become world marathon champion for the second time since 2003. The 35-year-old runner, who has also won silver at the Olympics and the 2005 World Championships, won in Osaka in a time of 2:30:37 hours. She defeated Chinese Chunxiu Zhou, who was on top of the world rankings with her time of 2:20:38 following her triumph in London in April.
On the final day of the World Championships, Reiko Tosa at last fulfilled the medal hopes of her fellow Japanese, who thronged the streets in the hundreds of thousands at 7:00 am. In temperatures near 90 degrees and humidity rising to 74 percent, Tosa ran 2:30:55; her bronze was the only medal won by the host nation. The best European was Lidia Simon (Romania) in fifth in 2:31:26 while Mara Yamauchi of Britain, married to a Japanese, was ninth in 2:32:55.
Although the temperature wasn't as high as for the men's marathon eight days earlier, the humidity probably made for the toughest World Championship marathon ever. "I was frying," said Ndereba. "If I could have run naked, I would have."
A leading group of 27 reached halfway in 1:16:33. The lead group subsequently stayed intact for a long time. At 35 kilometers (2:06:11), eight runners were together at the front. "I hadn't reckoned that so many runners would be up at the front in these extreme conditions at this late stage in the race. I wasn't sure if I was going to win the marathon," explained Ndereba, who is the second fastest female marathoner of all time with 2:18:47.
Yet soon after there were only four: Ndereba, Zhou, Tosa and the Chinese Xiaolin Zhu, who finished fourth in 2:31:21. At first it appeared as if the Japanese was out of the race for medals. At 39 kilometers she fell back, but came back into contention at 40K. As Ndereba picked up the pace and went clear, Tosa again dropped back into fourth place. But the World Championship runner-up in 2001 and Olympic fifth-placer in 2004 ran herself into the ground. "It was fortunate for me that these World Championships were taking place in Japan because the spectators inspired me to win the medal," said the 31-year-old.
Lagat Wins 5,000m, Unprecedented Double
Bernard Lagat achieved a double win unprecedented in World Championship history on the final day of the championships in Osaka. After his triumph in the 1500m on Wednesday, the American, who ran for Kenya until 2004, won the 5,000m final. He caught the Kenyan Eliud Kipchoge (13:46.00), the 2003 champion, with his kick down the home straight and won in 13:45.87 minutes. Third was Moses Kipsiro (Uganda, 13:46.75). Equally surprising was that this meant there was no Ethiopian on the podium. The brother of Kenenisa Bekele, Tariku, had to settle for fifth in 13:47.33.
Only a hair's breadth prevented there being two medalists for the U.S. KIMbia's Matt Tegenkamp finished a mere .03 seconds behind Kipsiro in fourth; another three more meters, and he would have beaten the runner from Uganda, since Tegenkamp was finishing faster.
The way the race went was perfect for Lagat—very slow for a long while, enabling him to use his finishing speed. "I could not have dreamed of winning two golds here and am very proud to have achieved this historic performance," Lagat said.
Yego Wins 800
A fast finish also decided the men's 800m. After a very slow opening lap, the Canadian Gary Reed led a tactical race into the finishing straight. He looked as if he was going to win, but over the last few meters Kenyan Alfred Yego, who had made a big impression in the semi-finals, overtook him. Only 20, this was his first appearance in a major final and he won gold in 1:47.09—the slowest winning time in a global championship since the 1956 Olympics! Silver went to Reed in 1:47.10. The bronze went to the Olympic champion Yuri Borzakovskiy (Russia, 1:47.39). "I didn't really know how I should run tactically, but in the end everything went right," Yego said.
Jamal Beats Russia's Favorite in 1500
There was something of a surprise in the women's 1500m final. Rather than the favorite, Yelena Soboleva of Russia, becoming world champion, it was Maryam Jamal for Bahrain. The 22 year old raised the tempo on the final lap, and Soboleva just couldn't get past her. The Russian was waiting for her rival to run out of steam, but it never happened. Jamal, becoming the first female athlete from Bahrain to win a World Championship medal, finished in a speedy 3:58.75 ahead of Soboleva (3:58.99). Third was the Ukrainian Iryna Lishchynska (4:00.69).
Defar Takes 5,000
The women's world record holder at 5,000m is now also the world champion: Meseret Defar produced a devastating finish win gold in the 5,000m. In June the 23-year-old Ethiopian had taken a big slice off the world record with 14:16.63 in Oslo, but in the Nagai stadium a time of 14:57.91 in a tactical race was enough. In 2005 Defar was beaten to the gold in a last lap sprint by her compatriot Tirunesh Dibaba. That was never going to happen in Osaka, since Dibaba had decided not to run the shorter distance after her win in the 10,000m.
"I was 100 per cent confident I would win," said Defar, who left her attack until the final lap. She then went into the lead and gave her rivals no chance over the last 200 meters. Kenyans took the next three places, showing by this performance that they are narrowing the gap between themselves and the previously dominant Ethiopians. The 23-year-old Vivian Cheruiyot was second in 14:58.50 over Priscah Chepleting (14:59.21) and Sylvia Kibet (14:59.26). "That's a great success for us, we know that, but next time we'll do even better," said Cheruiyot. Turkey's Elvan Abeylegesse, who was born in Ethiopia, was fifth in 15:00.88, while Jo Pavey (Great Britain, 15:04.77) finished ninth.
Article Archive