WCh Results: Abel Kirui Wins Marathon Gold for Kenya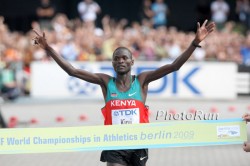 When newly crowned world marathon champion Abel Kirui crossed the finish line at the Brandenburg Gate, he still had energy left for a victory jig. The 27-year-old Kenyan celebrated the crowning achievement of his marathon career in the very spot where it began three years ago when he ran 2:17:47 hours in the Berlin Marathon.
Indeed, it wasn't long before Kirui emerged as a world-class marathoner. Not only has he won gold at the World Championships, but he has also set a new championship record: 2:06:54. The previous championship best was 2:08:31 held by Jaouad Gharib of Morocco who set it in Paris in 2003.
This was only the third time that a Kenyan man has become world champion in the marathon. Douglas Wakiihuri first won in Rome in 1987. It was a long wait till 2007 when Luke Kibet broke the tape in Osaka. The race on Saturday morning was also the first time that the nation, whose runners have dominated the big city marathons more than any other, won two medals at the World Championships. Emmanuel Mutai ran 2:07:48—good for a silver medal and narrowly beating Ethiopian Tsegay Kebede (2:08:35) who took bronze. Kebede also won a bronze medal at the Beijing Olympics last year.
Kenya's marathon runners continue to improve in both quality and quantity since they were able to dominate a world championship race without having their best runners on the start line. The former world record holder from Kenya, Paul Tergat, had once named four Kenyans whom he expected to break Haile Gebrselassie's (Ethiopia) world record of 2:03:59: Sammy Wanjiru, Martin Lel, James Kwambai and Duncan Kibet.
None of them ran in Berlin on Saturday.
Instead of racing at the world championships, these Kenyan superstars opted to prepare to chase records in large-city marathons this fall. One such example is Duncan Kibet who has announced he will be running against Haile Gebrselassie in Berlin on September 20. Gebrselassie is another example of someone who decided against running a mid-summer marathon.
The Vienna Marathon in April seems to be the key starting point for future world champions. Luke Kibet won there in 2007 and the Kenyan staged a surprising triumph at the World Championships in Osaka only a few months later. In 2008, the winner of the Vienna City Marathon was Abel Kirui. He achieved his first marathon victory in similarly warm conditions to Berlin on Saturday (close to 68 degrees Fahrenheit in the shade), winning Vienna in a course record of 2:07:38.
Racing in Berlin has become a positive experience for Kirui. In 2007, he was second, running 2:06:51 behind Gebrselassie. This spring, he improved his best to 2:05:04 by finishing third in Rotterdam. "Berlin is my town. I love Berlin and coming here to run. When I arrived, I felt very confident," said Abel Kirui afterwards.
During the race, the decisive moment came with 5 kilometers to go when Kirui surged ahead of fellow Kenyan Emmanuel Mutai, his last remaining challenger. The pre-race favorite Deriba Merga of Ethiopia dropped out in the closing stages, and the Kenyan Robert Kipkoech Cheruiyot had fallen away from the lead pack. "It was an exciting, tough race for me, fast but also tactical. It wasn't easy to keep calm and wait for the right moment to attack," Kirui recalled.
Abel Kirui's wife had high standards for him after his first marathon win in Vienna in 2008. At the time, "she asked why I hadn't run faster. But when I told her what the temperature was, she relaxed and understood," Kirui explained. After his second victory in the marathon, which has brought both a gold medal and a World Championship record, he's most likely made his wife into a true believer and a proud partner!
© Copyright 2009-2022 by Take The Magic Step®. All Rights Reserved.
Article Archive