WCh News: Kenenisa Bekele Brings Gold Back to Ethiopia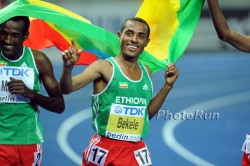 Running with passion and strength, Kenenisa Bekele restored the Ethiopian team's excellence in the long distance events. Two days after Kenyan Linet Masai shocked the Ethiopians with her gutsy surprise gold medal in the women's 10,000 meter, Bekele won the men's race. "I am glad I won this race for Ethiopia. It is not easy to compete for your country at such an important championship," he explained.
As often when Kenenisa Bekele has won a big race, there is something that makes his achievement extra-special. This time he not only improved his own world championship record in Berlin from 26:49.57 (Paris 2003) to 26:46.31 minutes but he also equaled his great fellow countryman Haile Gebrselassie by winning four consecutive world championships titles over 10,000m. Haile took the title in 1993, 1995, 1997 and 1999, while Bekele won in Paris in 2003, in Helsinki in 2005, in Osaka in 2007 and now, 2009, in Berlin.
In two years, when the world championships will take place in Daegu (Korea), Bekele might even surpass Haile Gebrselassie with a fifth title. "To top Haile has always been a special challenge for me. I have to wait and see, though, what will happen until then. I have to stay fit and healthy." His manager, Jos Hermens (who happens to also manage Gebrselassie), confirmed what he had already said years ago: "Oh yes, if there is a chance to get ahead of Haile, Kenenisa is always exceptionally motivated."
The next chance for this will come soon, on Sunday at the 5,000m final. Until today, no runner in the history of the World Championships has been able to win both the 5,000m as well as the 10,000m final. Haile Gebrselassie just barely missed the second gold at his first world championships in Stuttgart in 1993. Following his triumph over 10,000m, Gebrselassie won silver at the shorter distance behind the Kenyan Ismael Kirui. After that the Ethiopian superstar never entered another 5,000m race at a global championship.
Bekele also had a go at the double victory at his first world championship in Paris in 2003. After winning the 10,000m he then came in third at the 5,000m behind the Kenyan winner Eliud Kipchoge and the Moroccan Hicham El Guerrouj. A year ago at the Olympics in Beijing, however, he did achieve the double victory.
The possibility of a unique double victory at a world championship seems to tempt Bekele especially since, as Ethiopian journalists have reported, he initially had only wanted to run the 10,000m in Berlin. "Yes, winning the double would be an important success for me," the world-record holder at both distances said. "But I have not taken any final decision yet," he added on Monday night. When asked whether this was the best opportunity to achieve the double victory, he explained: "It's never easy to win a gold medal at the 5,000m—even though it might look like it."
Chances are we will see more of Kenenisa Bekele at these world championships. First of all, however, the Ethiopian wants to see more of the championships himself. "I watched the 100m and I loved them! Usain Bolt's result is exceptional!" Asked about his own personal best at the 100m, he answered: "I'm sitting at 11.0 seconds." After the official press conference, Bekele was seen chatting in a relaxed manner in the darkness outside the media tent. His English has become much better than in the past. "I don't learn English at home but since I speak it regularly, it has been improving."
The race on Monday was Bekele's first over 10,000m this year. After fracturing his foot last November he had to abstain from the indoor and the cross season and had to modify his preparation for the world championships. Nevertheless he was able to continue his unique streak of success at the 10,000m. Never in his career has Bekele lost a 25-lap race. In Berlin it was the twelfth time since the spring of 2003 that he has remained unbeaten.
© Copyright 2009-2022 by Take The Magic Step®. All Rights Reserved.
Article Archive