Wanjiru Breaks Gebrselassie's Half Marathon World Record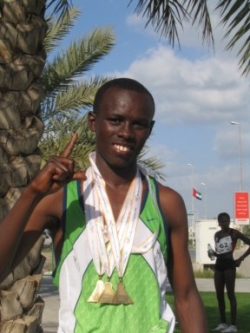 Sammy Wanjiru of Kenya broke the world half marathon record with a scintillating display of front-running in the Ras Al Khaimah International Half Marathon in the United Arab Emirates. Wanjiru, just 20 years old, clocked 58:53, and in the process retrieved the world record, taken from him by Ethiopian great Haile Gebrselassie, who ran 58:55 in Phoenix, Arizona a year ago. Then officially a junior, Wanjiru had set the previous record one year earlier, with 59:16 in Rotterdam. When Gebrselassie set his world record, he was paced in what became a solo run, whereas Wanjiru dismantled one of the best fields ever assembled, thanks to the record overall prize money of $155,000 on offer in Ras Al Khaimah.
Wanjiru set about his task with a will, shooting to the front of a field of around 15 men who hurtled through five kilometers in 13:27. That was slightly downhill, whereas the second 5K of the out-and-back course was slightly uphill. That was covered in 14:20, for an outrageous 10K split of 27:47, which would do credit to a track runner. By this time, the contenders were down to four, with Wanjiru heading fellow Kenyans Patrick Makau and Francis Kibiwott, and Deriba Merga of Ethiopia. Kibiwott dropped away first, and the most serious threat to Wanjiru came when Merga took the lead with just two kilometers to run. But it was a ploy to try to slow the pace, which brought a rapid response from Makau and Wanjiru, the latter saying afterwards, "I thought I could win from about 15K; the others seemed to be tiring. I knew the Ethiopian was bluffing when he took the lead." Wanjiru and Makau soon dropped Merga, and then Wanjiru stretched away by himself, and with just over three minutes for the last kilometer and 97 meters, making up the half marathon distance, he sprinted home to victory and the world record.
Makau was second in 59:13, the third fastest time in history, and Merga was third in 59:43. "I'm very happy to get my world record back after Haile broke it last year," said Wanjiru. Contacted by telephone in Addis Ababa by Getaneh Tedessa, one of his management company, Gebrselassie promised a quick response, "as soon as I can find another half marathon." That will probably have to wait until after Gebrselassie runs the London Marathon in April, against another top-class field, including marathon world record holder Paul Tergat, who was at the finish line as (non-competing) guest of honor, picking up a check from the Crown Prince of Ras Al Khaimah for the Paul Tergat Foundation.
The women's race was a more sedate affair, with a group of a dozen running together until around 16K. That was whittled down to a half dozen by the last kilometer, and eventual winner Berhane Adere sprinted away in the last 600 meters. The former world 10,000m champion from Ethiopia won in 70:58, ahead of colleagues Teyiba Erkesse, second in 71:02, and Bizunesh Bekele, third in 71:06. But the day belonged to Wanjiru. His winning check, like that for Adere, was $20,000. But with one of the objects of the race being to put Ras Al Khaimah on the map, the man most responsible for the development of one of the smaller of the Emirates, the Crown Prince, Sheikh Saud Bin Saqr Al Qasimi, showed his appreciation of Wanjiru's geography lesson by giving the young Kenyan an impromptu $5,000 bonus.
© Copyright 2007-2022 by Take The Magic Step®. All Rights Reserved.
Article Archive