"Uta is a great inspiration"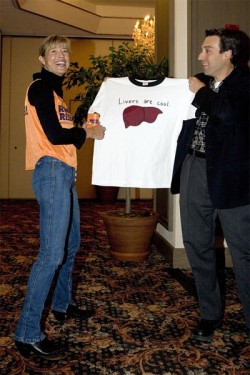 During a meeting of the American Liver Foundation in Boston, Uta helped in promoting the charity project. Afterwards, Barry N. Chait, the director of the foundation, and Wendy Lennon, the Executive Director, gave the following interview:
What do you think of Uta joining your charity project at the American Liver Foundation?
Barry Chait: It is wonderful to have Uta Pippig on our charity project! It is great to have someone with so much knowledge and inspiration as a team member who can help us. Uta gave us all such a great boost and with just six weeks left for training, she made people feel they were on the right course for Boston and inspired them to try to raise more money.
How did people react when Uta was presented on Wednesday evening?
Barry: It was amazing. And Uta said afterwards what a great atmosphere it was and what a warm welcome. After her presentation, she gave each team member a hug. She is not a celebrity; she is a person who cares about people. She is a person who makes you feel at home. Uta takes an interest in you. When you look at her, you know she cares.
Wendy Lennon: 215 people are going to run the Boston Marathon for the American Liver Foundation, and about 80 people were at the meeting with Uta. They are coming from all sorts of social backgrounds. They are moms and dads, a leadership from the Boston Athletic association, and a leadership from the American Liver Foundation of sports directors. They will all help to raise money for this project, and Uta motivated them to feel good about it and to feel that what everyone is working on is very important. To see Uta talking with them was a very special moment. She is so selfless. After the meeting she stayed for over 45 minutes and talked to the people and wasn't in a hurry at all. Uta is a really caring person.
What do you think of her performance in Boston?
Barry: It was more than we could have expected. Some people are good, and some are lousy. But she won the marathon that night for us. Uta is a very personal speaker. Afterwards, everybody said that from start to finish we hadn't had a meeting like that in years. Uta is someone who wants to give something back to society for the benefit of others.
Wendy: Uta was addressing the group and wanted to help them raise more money for our target. She gave them the motivation to raise more money. I really can't tell you how motivating and inspiring it was for the runners. She said what she does is her job, but I think to inspire people who are raising funds is more than just doing a job. It is caring about and helping people.
What do you expect in terms of cooperation with Uta in the future?
Barry: We would love for her to come back and the door is open for Uta. She is so humble and the great thing about runners is that they compete more for themselves, rather than to beat others.
Wendy: I also just want to say that we would love for her to come back, and help us motivate people to raise money for the American Liver Foundation. Uta exemplifies health and well-being—that is one of the aims of the American Liver Foundation. We are very proud of having her in our family and would love to continue to work with Uta.
© Copyright 2005-2022 by Take The Magic Step®. All Rights Reserved.
Article Archive