Unrest in Kenya Affects Running Stars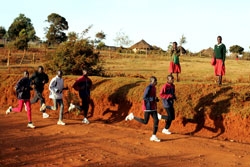 The unrest in Kenya following the disputed presidential election of Mwai Kibaki has also affected its country's running stars. An Olympic competitor beaten to death, a world champion injured and a world junior cross country champion unable to make the journey to a race in Europe – those are only three ramifications of the violence and chaos holding sway in the western part of the country. It is precisely in this area of the Rift Valley, which includes the city of Eldoret and the town of Iten, where the majority of Kenya's world-class runners train.
In Eldoret, at least 30 people died when a church in which they had taken refuge was set on fire. Shortly before that Lucas Sang was beaten to death nearby. In 1988 he was a member of the Kenyan 4 x 400m Olympic squad. Later Sang switched to the 800m, but the competition there was so strong that he eventually became a pacemaker. On retirement from sport he became a farmer in Eldoret.
"Lucas was walking home in Kumumu when he was attacked," was what a shocked Moses Tanui – former world champion at 10,000m and Sang's business partner – told the French news agency AFP.
"I'm concerned for my runners," says the German manager Volker Wagner, who looks after the interests of a number of world-class Kenyan athletes. Groups of his runners regularly stay near Detmold, Germany, but right now all of them are in Kenya. Among them is the women's former world record holder for the marathon, Tegla Loroupe. The runner told her manager on the phone: "Training is too dangerous for me right now. It's getting steadily worse here." Loroupe lives in Kapenguria, about one-and-a-half hours from Eldoret, near the Ugandan border. "In the meantime," Wagner explains, "she doesn't even dare to go into town. Someone has given her a phone card so she can stay in touch with the outside world."
In the meantime, United Nations staff have been in touch with Wagner, as the U.N. is considering flying personnel out of Kenya for their safety. Loroupe is a U.N. ambassador for sport and highly involved in a number of projects.
For many runners training is clearly no long possible. Among Wagner's group is also Abel Kirui, who was second in the Berlin Marathon in 2:06:51. "At present Abel is only training early in the morning. After that it's too dangerous for him," reports Wagner.
Among the many injured in the unrest is one of Kenya's newest running stars: Luke Kibet. The world marathon champion in Osaka, who also won the Vienna Marathon last year, suffered a head wound that required hospital treatment. There are conflicting reports as to how Kibet sustained the injury. One version describes him getting hit on the head by a stone or iron bar, another from an attack with a machete. It's also not clear whether this happened while he was at work. Kibet is an employee of the Prison Service. Many Kenyan runners are employed by the State – whether in the Prisons or Armed Forces or the Post Office. This consequently puts them in a difficult situation.
Kibet has had to withdraw from the half marathon he'd planned to do at Egmond in the Netherlands because of his head injury. It was also by no means certain that he would have been able to travel to the Netherlands. The 24-year-old is supposed to run the London Marathon on April 13.
The women's world junior cross country champion, Linet Masai, failed in her recent attempt to leave Kenya for a race in Belfast. The 18-year-old had no chance of traveling from Eldoret to Nairobi. According to her manager in London, Ricky Simms, "She couldn't get on a flight. People were queuing all night, and Linet couldn't even reach the airport terminal in Eldoret. The airport only had planes with seating for 25 people in operation, and yesterday there were 800 people who wanted to leave Eldoret. Government employees and members of the Armed Forces had priority. Linet tried again at 3:00 in the morning, but again, no chance."
The situation in Iten, a favorite venue for altitude training, is also very serious. Tom Ratcliffe, manager of the many KIMbia runners who train there, says, "I have spoken with most of the guys, and they are fine and staying close to home. Ben Maiyo was in Iten last week and told me he was running early in the morning along the main road, as he did not want to venture out into the farms." In addition to KIMbia's camp, the town 30 kilometers from Eldoret is also home to Lornah Kiplagat's training center. Kiplagat's husband, Pieter Langerhorst, told the Association of International Sports Journalists, "The situation here is just incredible." He and Kiplagat, who is slated to run the Dubai Marathon on January 18, have had sleepless nights. Kiplagat has been training just once a day, at 5:30 a.m. A group of European runners staying at Kiplagat's camp were able to get to the Eldoret airport only with a heavily armed police escort. Langerhorst also said that they'd had no choice but to give food to a group of fighters. "Otherwise, they would have attacked us to get food," he explained. According to Wagner, several houses in Iten have been set on fire.
Various cross country races, including some in Eldoret, have already been canceled. Some Kenyan runners were able to run in international races over the weekend only because they've been based by their managers outside Kenya for the moment. That's how Edwin Cheruiyot Soi was able to win the prestigious San Giorgio su Legnano cross country race near Milan on Saturday. "This win is for Kenya," said Soi, whose family is safe in Kenya.
Article Archive