Ulrike Maisch Sensationally Wins European Marathon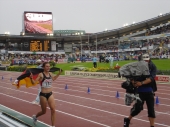 German Athletics has a female counterpart of Jan Fitschen: Four days after the totally unexpected 10,000 meter triumph by Fitschen, Ulrike Maisch was the surprise winner today in the marathon at the European Championships in Gothenburg, Sweden. Maisch ran 2:30:01 hours, a personal best, to finish well ahead of Olivera Jevtic (Serbia/2:30:27) and Russian Irina Permitina (2:30:53).
The 29-year-old runner accomplished a novelty in Germany's athletics history—never before had a female German marathon runner won a gold medal at an international championship. Among men, the only German runner to win championship marathon gold was Waldemar Cierpinski, who won the Olympic marathon in 1976 and 1980 while representing the German Democratic Republic.
"My goal was to be among the top eight. I have never thought about winning a medal. That was totally utopian. I still can't believe it," said Maisch after her victory. She came to Gothenburg with a personal best of 2:31:21, and was ranked 17th on the start list. Her biggest success besides her victory at the Bonn Marathon in 2002 was finishing eighth place at the European Championships in Munich four years ago.
"I knew that the European Championships would be the only chance for a good result. The Asians and Africans are unbeatable at World Championships or Olympic Games. It was the chance and I took it," said Maisch. Additionally, the marathon in Gothenburg didn't have a strong field. Of Europe's top ten marathoners, only three competed in Gothenburg. The others prefer running at the lucrative fall marathons like Berlin, Chicago or New York. The British marathon world record holder, Paula Radcliffe, is not running any marathon this year because she is pregnant. But that doesn't detract from Maisch's achievement; after all, she beat competitors who were thought to be stronger.
"This race was made for me," said Maisch, who had been preparing in Switzerland at high altitude. "The pace in the beginning of the race was slow, and the course was hilly—both were good for me." Favorites such as Italian Bruna Genovese, who finished fifth, and eventual silver medalist Olivera Jevtic led in windy conditions much of the way, and therefore tired in the end. In contrast, Maisch ran in the middle of the big leading group and saved energy. The lead group passed halfway in 1:16:44. At this stage two other Germans, Claudia Dreher (11th in 2:33:53) and the silver medalist from Munich 2002, Luminita Zaituc, were running in the group as well. While Zaituc had to pull out because of stomach problems, Susanne Hahn finished fourteenth in 2:36:17 and contributed to the bronze medal for the team.
As Russians Alevtina Biktimirova, winner of the Frankfurt marathon, and Irina Permitina increased the pace together with Jevtic shortly after 25 kilometers, Maisch did not follow. "I knew that the pace would be too fast for me. Instead I was running consistently my own race," she said. At 35K, Maisch was fourth, 41 seconds behind the leading trio. But the leaders miscalculated. One after the other they ran into problems, and their advantage dwindled. "When I was third, I thought that I have a medal now, because I knew that nobody would be able to overtake me. Then I suddenly saw the leader and thought that I would have a chance," Maisch said. Shortly after 40K she overtook Permitina as well and won gold.
The former track runner Maisch came to the marathon six years ago. Without proper marathon preparations, she ran her first marathon in Berlin, finishing 18th in 2:40:34. "My coach told me afterwards that despite the lack of training, I was running so good that I should continue to run the marathon," said Maisch, who studies Spanish, French and educational science. For her preparations for the European Championships, she took a term off from university. This investment paid off.
© Copyright 2006-2022 by Take The Magic Step®. All Rights Reserved.
Article Archive