Thousands of Women Runners and a Great Atmosphere in Berlin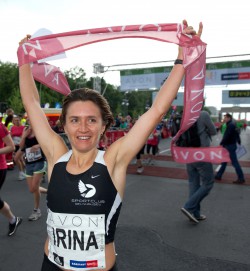 One day in May every year, Berlin's beautiful Tiergarten Park transforms itself into a welcoming place for thousands of women and girl runners when the German capital hosts the Avon Running Berlin Women's Race. Starting with just 645 participants in 1984, the run has grown by leaps and bounds—until on Saturday, under sunny skies with cool temperatures, a record 18,561 women took part. The events range from a 400-meter children's race to 5K and 10K running, walking, and Nordic walking competitions. Along the course, thousands of cheering spectators, some pounding on drums, encouraged the women and helped contribute to the race's exciting atmosphere.
Katherine Switzer, a pioneer in the women's running movement, was the official starter of the 10K in the Tiergarten. She became famous when she ran the 1967 Boston Marathon—five years before female runners were legally allowed to take part. Katherine has come to Berlin for many years to promote and support the race.
Irina Mikitenko won the 10K for the fourth time—adding to her triumphs in 2006, 2008, and 2011—crossing the Finish Line in 33 minutes and 19 seconds. The 39-year-old was able to establish a commanding lead over fellow German Katharina Heinig (35:37). The 22-year-old second place finisher had run the Hannover Marathon just six days earlier and achieved a new personal best (2:39:03) in spite of stomach problems. Third place in the 10K went to Poland's Paulina Lodarek (36:50).
Irina, a two-time World Marathon Majors champion, was able to leave her followers behind from the start. She ran alone for the rest of the distance and covered the course a minute faster than she did last year.
"It was fun to again run in this fantastic atmosphere. The spectators as well as my fellow runners were cheering," said Irina afterwards. "I always like coming back to Berlin. Today was really a motivation for my training in the next few weeks."—a reference to her preparations for the upcoming Olympic Marathon on August 5 in London. She is about to head to St. Moritz, Switzerland for her first three-week high-altitude training session.
Happily, Irina, the German marathon record holder (2:19:19), was able to celebrate two victories on Saturday: Before her 10K win, her six-year-old daughter placed first in the 400m children's run.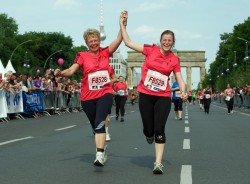 Competitive racing aside, the runners took to the streets of Berlin to celebrate fitness and health. "There were people who clapped and drummed everywhere—that was really great!" said nine-year old Sofia, who participated in the 5K race together with some of her classmates. "Next year, I will for sure do it again!"
In addition to promoting women's running, the organizers also seek to raise awareness for breast cancer. One Euro from every entry fee (Avon, then doubles that amount) was donated to the Berlin Cancer Society in their fight against breast cancer. Besides runners, "Sponsored Walk Teams" made their way to the Finish Line. These groups were supported with donations from family, friends, or colleagues for every kilometer they walked. Last year, over €40,000 (approximately 51,696 US-Dollars) were raised in total by all of the event efforts—money that helps support those afflicted by breast cancer who are in need of financial or social assistance.
Kathrin Lehmann, who has been battling the disease, had this to say on the SCC-Events Website before the race: "It is my heartfelt wish to take part again this year." She also commented touchingly about her involvement at the 2011 event: "The Avon Running Women's Run and the Sponsored Walk were an opportunity to express my gratitude and to make support through the Berlin Cancer Society possible for women afflicted by this disease."
Article Archive