Thousands of Runners Race to Ring in 2012
With a series of exciting road races worldwide, running enthusiasts celebrated the last day of the year—proving that no other day offers more racing opportunities than December 31. Take The Magic Step® has compiled a summary of selected events for you.
Bolzano: A Four-Time Win for Edwin Soi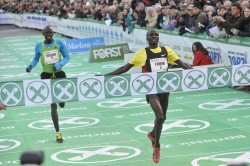 With 15,000 spectators cheering him on, Kenya's Edwin Soi, the 2008 Olympic bronze medalist, won the prestigious BOclassic 10K in South Tyrol, Italy, on Saturday ahead of fellow countryman Wilson Kiprop and Ethiopia's Imane Merga. And in the women's competition, Vivian Cheruiyot, also of Kenya, repeated her success of last year.
Their victories marked the 19th and 20th wins for Kenyan athletes in the 37-year history of the BOclassic—and they have now achieved the double in the men's and women's division a total of five times.
The exciting men's race was not decided until the closing meters. The world half-marathon champion Wilson Kiprop led nearly the entire way, but was caught by Edwin Soi at the end. Edwin finished in 28 minutes and 17 seconds—the fastest winning time since 1998. Wilson Kiprop clocked 28:18 for second place, which was a personal best for him. It was the fourth success in South Tyrol for the 25-year-old Edwin, who needs only one more victory to draw level, in the number of wins, with Bolzano record-holder Serhiy Lebid (Ukraine). This year, Serhiy Lebid, the nine-time European cross-country champion, crossed the finish line in 29:20 and placed seventh. Last year's winner and world cross-country champion Imane Merga of Ethiopia was able to stay with the two Kenyan runners for half of the race, but eventually took third place in 28:57. Fourth place went to Abdelaziz El Idrissi of Morocco (28:59), while Abdelhatif Meftah of France rounded out fifth in 29:02.
"The BOclassic is definitely my run. I am so happy about my victory," said Edwin Soi, who's looking ahead to the 5,000m at this year's Olympic Games. "This was the best possible start for 2012, which will be a decisive one for me." He added, "I was quite confident before the run because I have defeated [Imane] Merga recently. I really want to become record holder of this event. But I'm only 25 so I still have time to catch up with [Serhiy] Lebid."
In the women's race, it was hardly an easy win for 5,000m world champion Vivian Cheruiyot, with 20-year-old Ethiopian junior Asfera Godfay being able to stay with her all the way to the finish line. The race was a slow one—Vivian's 16:03 winning time was nearly half a minute over the course record, which belongs to the German Kathrin Ullrich and dates back to 1991. Asfera ended up taking second in 16:04. Third place went to hometown favorite Silvia Weissteiner of Italy, who crossed the finish line in 16:14. Fourth place also went to an Italian (Fatna Maraoiu/16:27), while Ana Dias (Portugal/16:29) rounded out fifth place.
The BOclassic, which takes the participants through the historic Bolzano city center, also offers a youth cup—part of the organizers' mission to promote young talent and encourage Southern Tyrol children to run.
Madrid: A Successful New Year's Eve Comeback for Tirunesh Dibaba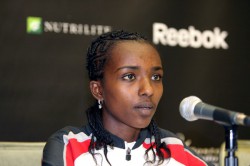 Nearly a year and a half since her last race—a 5,000m victory at the London Diamond League Meeting in August of 2010—Ethiopia's Tirunesh Dibaba returned to running in fine form. The double Olympic gold medalist (5,000m and 10,000m) was victorious at the Spanish capital's New Year's Eve 10K in an impressive 31 minutes and 30 seconds. Tirunesh edged out fellow Ethiopian Gelete Burka, who led for most of the race, during the final meters and the finish was so close they were awarded the same time. Tirunesh had been sidelined due to injury and so her Madrid victory was an especially poignant comeback for her. Great Britain's Susan Partridge (32:44) took third place. Fourth place went to Marta Dominguez of Spain in 32:49.
"Today was my first competition for so long, so I have to be satisfied," said Tirunesh. "I'm now fully recovered from injuries, my trainings are going well and I look forward to defending my two Olympic golds in London next summer."
The men's race was a surprise, with 17-year-old Hagos Gebrehiwot of Ethiopia proving victorious. The talented youngster had never competed outside of Ethiopia before, yet was able to narrowly defeat the pre-race favorite, Teklemariam Medhin of Eritrea. Both runners were awarded the same finishing time (27:57). Third place went to Spain's Ayad Lamdassem (28:10), while his compatriot Chema Martinez was fourth in 28:34.
The Madrid race is the largest of its kind in the world, and this year more than 38,000 runners lined up at the start.
São Paulo: Tariku Bekele und Priscah Jeptoo Prove Victorious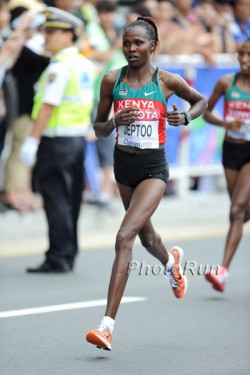 With Brazil's São Silvestre 15K chock full of world-class talent, Tariku Bekele of Ethiopia and Kenya's Priscah Jeptoo took the honors in the 87th version of the event with Priscah setting a new event record of 48:48 in spite of rainy conditions on the new course. Tariku Bekele, the younger brother of multiple Olympic champion and world-record holder Kenenisa Bekele, won the men's division in 43:35 minutes.
In the fiercely contested men's race, the
24-year-old took the lead at about the halfway mark. "The rain didn't bother me. I was able to put my plan in place," said Tariku to the International Association of Athletics Federations (iaaf.org) afterwards. "All the training I'm putting in for the World Indoor Championships along with Kenenisa also helped me. I'm hoping this victory will be a good motivation for both of us." Tariku is focusing on the World Indoor Championships in Istanbul, Turkey in March.
Three Kenyan runners came in behind Tariku Bekele: Mark Korir finished second in 43:58, while marathon aces Matthew Kisorio (44:12) and Martin Lel (44:28) placed third and fourth respectively. Fifth place went to Najin El Qady of Morocco in 44:32.
The women's event was decided near the 5K mark when Priscah Jeptoo surged past Ethiopia's Ayelew Wude. The duel between the world-class African athletes continued, however, until the home straight. Priscah, the marathon silver medalist at last year's World Championships in South Korea, had the stronger finishing kick and was able to stay four seconds ahead of Ayelew. Her winning time of 48:48 made her the first woman in the history of the Corrida Internacional de São Silvestre to go under the 50-minute barrier. The previous course record belongs to Alice Timbilil (50:19).
Ayelew Wude, who won the 2008 edition of the race, crossed the finish line in 48:52. Third place went to Kenya's Eunice Kirwa in 50:58, while Nadia Ejjafini of Italy was fourth in 51:19.
Peuerbach: Leonard Komon Wins, Irina Mikitenko Third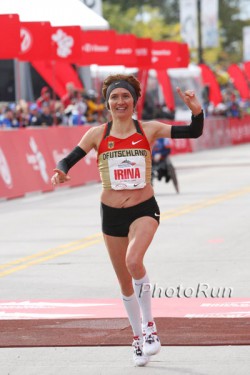 The traditional New Year's Eve runs in the Austrian town of Peuerbach ended in triumph for Kenya's Leonard Komon and Ethiopia's Asmera Bekele Workeba.
Leonard Komon, the 10K world-record holder on the roads, won the 6.8K men's race in 18:51, edging out fellow Kenyan and training partner Josphat Bett who took second in 18:58. Third and fourth place went to Yehwalaeshet Zewdie-Miliyon (Ethiopia/18:59) and Zelalem Regasa (Ethiopia/19:22) respectively. Just a second afterwards, Austria's Günther Weidlinger crossed the finish line for fifth place.
In the women's 5K race, Asmera Bekele Workeba and fellow Ethiopian Fikre Kifle Alem finished after a thrilling duel ahead of the 39-year-old German marathoner Irina Mikitenko. Asmera got the victory in 16:24, with Fikre being awarded the same time. Irina ran 16:31, while Andrea Mayr of Austria placed fourth in 16:46.
Irina, who stayed with the leaders until the final 300 meters, later summed up the joy of New Year's Eve racing: "A year without a New Year's Eve run just isn't possible," she said. "These races are always on my schedule. They always have a really nice atmosphere and an excellent vibe. This is how it was today in Peuerbach."
After her closing event at the 'International Raiffeisen Silvesterlauf in Peuerbach,' Irina Mikitento remains optimistic about her 2012 showing. "The big goal, the Olympic Marathon in London, is getting closer and closer—but there is a lot of training work still left to do," she said. Irina also plans to run in the Virgin London Marathon on April 22.
© Copyright 2012-2022 by Take The Magic Step®. All Rights Reserved.
Article Archive