The Formula 1 of Road Running
The BAA Boston Marathon, Flora London Marathon, real,- Berlin-Marathon, LaSalle Bank Chicago Marathon and the ING New York City Marathon have officially launched the World Marathon Majors (WMM) on Monday. They also presented the idea of a new series to promote the sport of marathon—the World Marathon Major Series (WMM Series) at press conferences held in Boston and London on 23rd January. Participating in this interview were the race directors of the BAA Boston Marathon (Guy Morse), the Flora London Marathon (Dave Bedford), the real,- Berlin-Marathon (Mark Milde), the LaSalle Bank Chicago Marathon (Carey Pinkowski) and the ING New York City Marathon (Mary Wittenberg). Additionally elite marathon runners Paul Tergat (Kenya), who is the holder of the world record of 2:04:55 run in Berlin in 2003, and US marathon star Meb Keflezighi, winner of the silver medal at the Olympic Games marathon in Athens 2004, joined the interview.
What brings you together? And what are possible criteria for other marathons to join WMM?
Dave Bedford: "One thing that brings us together is we're all very serious about our business. This is what we do. As well as our marathons, we organize other events throughout the year. We believe that we are the people that represent the top echelon of marathon running. We believe that this is the most exciting thing that's happened in our sport of marathon running for some time. But I think what brings us together as a group is the fact that we are a series of mass participation races. As well as being mass participation, we are male and female clearly. We have significant elite men's and women's fields. Yes, perhaps we have history, and not everyone has history. Boston is 109 years old, we're 25 years old. That doesn't mean to say that someone who is one or two or three years old can't join. What we do have, we have spectators on the course, more than five million across our field. We have a 250 million TV audience in 150 countries. Between us we have 300,000 applicants, 150,000 participants, and most of us also run significant charity programs. I would say that if we were going to invite someone to join World Marathon Majors, we would be seeking people who see life the way we do and recognize that we are major cities with major races, with major press and TV interest. Yes, of course, we would invite someone that met that criteria as soon as they were there."
Guy Morse: "We're in a very important moment in our history, both in terms of our events independently and also as a sport. We take great pride in announcing the WMM and the WMM Series. We think it's just the first in many steps that are going to benefit our sport. But like this very series that we've now announced, we're approaching this very cautiously, very methodically. Any criteria that we develop will be developed over time in the future. We're not looking to do anything that's going to cause us harm either individually or for the elite athletes or for the sport. So whatever conditions we set up for future involvement are very much going to be the result of hard work on all of our parts over time and also feedback over this first series date."
Mark Milde: "We are excited to be a part of this group and working together with these I would say formal five individual marathons who will stay individual, of course, but maybe experience some new opportunities in the way of how we're working together. Berlin will be the third stage in the 2006 season, and we're looking forward to it. The WMM series will be the Formula 1 of road running."
Carey Pinkowski: "Well, we've always had a great relationship with the four other events, obviously. We've operated independently and had success independently. But I think collectively not only with the series but in other areas, the race experience, operations, all the things that add to our success, I think this will create a flow of information and support and obviously improve the performances of the events and create some other opportunities for other events to observe what we do. I think the group collectively has a lot of strengths, and I think we can improve in many different areas. It's a sharing of experience and operational schemes and marketing schemes, all of the many facets that go into our events. For us, with the LaSalle Bank Chicago Marathon, it's an honor to be involved with these organizers, events and other great cities. We've had a great relationship and we've been colleagues and friends, and I think collectively we'll be doing some wonderful things in the future."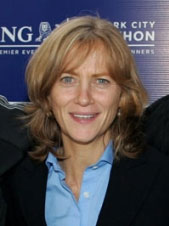 Mary Wittenberg: "Our races are to our sport what Wimbledon and the Australian, U.S., and French Opens are to tennis, and what the Masters, U.S., and British Opens and PGA Champions hip are to golf. Each race has the history, the tradition, the honor roll of legendary champions, and a special place in the eyes of all to make them stand apart from the other events."
What do the athletes think about that?
Paul Tergat: "Especially from the athlete's side, marathon is always a very tough competition. We had been really waiting for this thing to take off for some time. When I came into the marathon, I realized it was a very different and a difficult competition. We have never had a series similar to what we have had in cross country where we had a cross challenge. But when it comes to road racing and the marathon, it was a very different thing altogether. Now it has come up through the initiative of the directors of the races in London, Berlin, Boston, Chicago and New York. This has given us an opportunity now to focus more, especially at the top level. Again, we have realized that we are competing for a mission. We also have the opportunity in terms of the points. If you win the Olympics or World Championships, it counts also, can also add to points to qualify for these prestigious competition and prizes."
Meb Keflezighi: "I'm definitely excited to be here, to be the first kickoff of the Boston Marathon of the World Marathon Majors. For an athlete, it's something to look forward to and to be competitive and to bring the best athletes in the world with the five major marathons. I think it's a great opportunity, a great idea. I'm definitely excited. I'm pretty sure Paul is excited, and the rest of the other competitors as well."
What makes the new WMM Series attractive? Does it make the competition the most important aspect of this series as opposed to fast times?
Dave Bedford: "I think it's fair to say that the unique thing about this collaboration is that each of the races within it, including the World and the Olympic Games, are all able within the competition to show their own personality. I think that the one thing that we're trying to achieve here is the promotion of our sport and not just assuming that everyone knows automatically what's going to happen beforehand. This is about allowing the individual racers to have their own soul, their own personality, but all of those different spirits to come together and achieve a great success within this series. Of course, with all such competitions, we need to have something to hang this by. We are a professional sport. We are a sport that requires our champions to train hard, work hard and run hard. We see them as professionals in the way that any other professional sport would do so. We announced today an initial prize fund of $1 million. This prize fund will be split $500,000 to the top man in our competition, $500,000 to our top woman."
Mary Wittenberg: "Listen, there's a million dollars more in the sport today than there was yesterday. I think we'll look back at this moment, January 23rd, as a time and a day that helped shape the destiny of the future of our sport. The marathon is as compelling as it is because it's as grueling as it is. Our athletes are like prize fighters. The wear and the tear on their bodies is so significant after each race, and the competition is so stiff, that the reality of running two and certainly more than three, it's very unlikely that an athlete can perform well against the competition and their body can hold together. If you look back many years, it holds out that this should work well. We're doing all we can to continue to encourage high level preparation and smart running among our marathoners."
Dave Bedford: "It may well be that athletes run more races than we want, for example, if all of the races but one has gone, and there are two people on equal scores, it may just be that one of those people decides to have one more crack perhaps to hopefully get that extra set of points. With such a new concept as this, I think we have to wait and see how it beds down. This is about working with the way the sport is and not changing it significantly."
Paul Tergat: "The most important thing is: when we are planning our races, we don't plan in three months, so we always have at least six months so you are not able to know exactly what competition. So I want to assure you that we will be able to see a lot of top athletes, the top runners who love to compete in this series, trying to come in and more excitingly we'll all want to win, especially when it comes to a competition like this. Everybody will be coming in to make sure they will compete. There will be a lot of talent."
Meb Keflezighi: "In terms of the racing, like Paul said, you definitely have to plan which marathon you're going to run. Usually we never know who is in it or who is not. We definitely want to see the best in the world. That's the whole point. We have five major marathons. They're not all at the same time or all in the spring or fall. It's just your preparation for which you want to pick your race on. For example, you know I was the 39th guy going into the Olympics, but you believe and you work hard in what you're doing and the results will take care of itself. That's what marathon is. It's not who's going to be there or who's not. You just be prepared as much as you can and let that race begin."
About TV coverage—wouldn't it be an option to go for a worldwide television contract?
Dave Bedford: "One of the benefits of our races getting together is that we can probably work towards answering what is clearly a sensible situation as far as TV coverage is concerned. The one difference that this is making, instead of being individual races in our own marketplace where we bump into people at marathon exhibitions, restaurants and bars, we now have a far more formal relationship with each other, and dealing with the television coverage issues is something that we are better able to do jointly rather than singly. We have invited AMS, who are the IAAF's marketing partners, to seek a sponsor for us for this competition, a sponsor that will add quality, strength, support and of course finance."
How do you think will this elevate the sport of marathon running in the big picture of competition with other sports?
Mary Wittenberg: "This component of working together is athlete driven. Sports around the world are athlete driven. We think our athletes are among the greatest athletes in the world. The more recognition to our great athletes, the better it is. Right now our athletes strive to win our individual races. They strive to break records. This gives them the opportunity to strive to be the world's greatest marathoner and win the series. We hope what results are that the fans and the media are watching our leader board and they become familiar with the names of our top athletes competing in these races in a way that our sport will benefit in the way other sports have with the dominance of top athletes and rivalries among top athletes."
Can you talk a little bit more about the IAAF's incentive to participate and your discussions with them?
Dave Bedford: "I've been heavily involved over the two years involving the IAAF in the discussions. We would not attempt to develop the series without the support of the IAAF. We believe that it is absolutely right that we recognize the World Championships, Olympic Games as a major part of our sport. And equally it is absolutely right that the IAAF recognize that we are competing at a level equal in standard to those. They have been incredibly supportive all the way through. They understand the concept. They have advised us and suggested adjustments to our thinking as we've gone through this deliberation period that brings us to today."
How is the WMM being funded right now?
Mark Milde: "Well, at the moment we have a one million US dollar prize. Every race would pay an equal share. But of course we hope with a sponsor getting involved there might be even more money to distribute to the athletes. Our aim would be to pay $1 million to each runner, male and female, every year."
What is the intention of this WMM Series? Do you want to establish it for a longer period of time?
Guy Morse: "As our relationship grows and as the series grows, we just see an incredible amount of excitement building over time, certainly these first two years. But our intent is that this is a long term project that will benefit not only the elite athletes and our own collective and individual sports, but also the sport as a whole. We expect areas to benefit including greater competition, of course, at the start, also greater support from sponsors yet to be named as we move forward. Looking at all of the logistics of our events that are common to all of us, whether it's timing and scoring, or our medical care and feeding of the athletes, various promotions of our sport, of which this is just the first step that we announced today, and also athlete development, both at Meb and Paul's level, but also at the very beginning levels of our youth. We are already beginning to talk about ways to collaborate at the very early ages to help with the fitness of our next generation of athletes. So all of these things are part and parcel to this announcement, and we'll look forward to working on all of those initiatives in the months and years ahead."
What does your working together look like? Is it democratic or as kind of hierarchical?
Dave Bedford: "There is a hierarchy. It normally is based on who buys the beers first in the pub (laughter). Every single decision we have made has been made on the basis of one vote per event, in the same way as even within a group of five people there will be different races that have different strengths than others, but that none of that is important. What is important, we are funding this initiative as equal partners. We make our decisions as equal partners. We have not yet made one decision leading to this position that has not been unanimous. I think I can tell everybody that I'm delighted with the working arrangements within this group."
Posted January 27, 2006
© Copyright 2006-2015 by Take The Magic Step®. All Rights Reserved.
Article Archive