Tens of Thousands Celebrate the New Year with a Run
Around the world, New Year's Eve is a time to enjoy the company of friends and watch fireworks. But these days running is playing an increasingly large role in the festivities. In fact, more races are held on December 31 around the globe than on any other day of the year. Take The Magic Step® invites you to share in the action as we bring you this round up of some of the world's biggest New Year's Eve runs.
Bolzano: Imane Merga and Sylvia Kibet Win with Sprint Finishes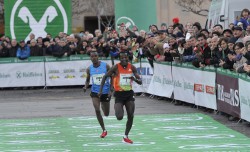 It took a sprint finish for the second time in three years for Ethiopia's world cross-country champion Imane Merga to win the New Year's Eve 10K in Bolzano, Italy. Imane triumphed by just four tenths of a second, coming across the finish line in 29 minutes and 12.3 seconds to defeat fellow countryman Muktar Edris. Serhiv Lebid, the nine-time European cross-country champion, was a surprise third. At the age of 37, Serhiy clocked 29:30.3. In the women's 5K, Sylvia Kibet won for the second time since 2007. The Kenyan athlete finished in 16:21.1, a fraction ahead of her Ethiopian rivals Afera Godfay (16:22.7) and Worknesh Degefa (16:24.2).
It was a thrilling duel between two world champions as the experienced world cross-country winner Imane Merga had the better of the 5,000m world junior champion Muktar Edris. The Ethiopian pair broke clear on the sixth of eight laps of the 10K race. Imane Merga made a long kick for home from 300m out and just managed to cross the finish line ahead of his rival in 29:12.3. It was Imane's second success in the BOclassic—he won in 2010, also in a sprint, against Mo Farah of Britain. Olympic bronze medalist Thomas Longosiwa of Kenya—one of the big favorites going into the race—had to drop out on the second lap due to illness. This meant that for the first time since 2006, no Kenyan runner stood on the Bolzano podium.
Ukraine's Serhiy Lebid received a hero's welcome when he took third in 29:31, passing Kenya's Silas Kipruto in the last 500 meters. The 37-year-old, who holds a record five Bolzano wins, achieved his ninth podium place and his first since 2008. He celebrated the last of his victories in the Southern Tyrol back in 2004. Scott Bauhs of the USA was fourth in 29:33 with the same time as Silas Kipruto. Stefano La Roas of Italy followed three seconds later in sixth place.
"I am so happy that I was able to win the race after last year's third place. It is great to give 'Bozen's' audience my New Year's wishes as winner," said Imane Merga.
Following his strong performance Serhiy Lebid said: "It is clear that [my] third place came quite surprisingly, but after two, three rounds I realized that I was in a great form. I think that today I am as fit as I should have been three weeks ago for the European Cross-Country Championship. It is great to be on the podium in Bolzano, mainly because my last victory was already eight years ago. Both Ethiopians were out of reach."
The women's 5K race was entirely an African affair. By the halfway point, Sylvia Kibet and the Ethiopian pair of Afera Godfay and Worknesh Degefa had broken clear from the rest of the field, and Sylvia Kibet's experience paid off when it came down to a sprint finish. The 28-year-old double world silver medalist at 5,000m won in 16:21, her second victory in Bolzano since 2007. Afera Godfay came in just a second behind, defeating relatively unknown Worknesh Degefa (16:24). The local favorite, Silvia Weissteiner, was fourth in 16:41.
"I couldn't have closed the old year better and I couldn't begin the New Year better," said Sylvia. "It is always a matter of prestige to win in Bolzano. Today it was warmer than it was during my victory five years ago. Nevertheless, it was not easy at all. Both of the Ethiopians were strong, but on the finishing line I could play out my strength and wait for the right moment."
São Paulo: Edwin Kipsang and Maurine Kipchumba Succeed in Brazil
It was a Kenyan triumph in São Paulo, Brazil, where the "Corrida Internacional de São Silvestre" is the oldest New Year's Eve race in the world. The 88th edition had around 25,000 participants, with Edwin Kipsang leading the way in the elite 15K. He clocked 44:05, nine seconds clear of fellow Kenyan Joseh Aperumoi. Third place runner Mark Korir completed the Kenyan podium sweep in 44:20. Next to finish was the Brazilian Giovani dos Santos in 44:50 minutes.
Afterwards, Edwin Kipsang spoke to the International Athletics Association (IAAF), saying "It was a tough race, with plenty of hills, which are not my forte; I was able to set a strong pace and to put on a strong finish, where I won the event."
Maurine Kipchumba, also of Kenya, won the women's event by nearly 150 meters in 51:42, achieving her first victory in São Paulo at her third attempt. In the 2009 New Year's Eve race she was ninth. A year later, she took tenth. Following her across the finish line were Jackline Sakilu of Tanzania (52:11), Rumokol Chepkanan of Kenya (52:50), and Fekede Negede of Ethiopia (53:36).
Peuerbach: Leonard Komon Improves Course Record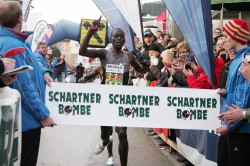 The top performance of this dramatic day came from Leonard Komon at the New Year's Eve race in Peuerbach, Austria. The Kenyan world-record holder for 10K set a course record of 18:32 for the 6.8K distance. After the first two laps in cool-but-sunny weather a duel developed between the reigning European 10,000m champion Polat Kemboi Arikan of Turkey and Leonard Komon. Then Geoffrey Kirui (Kenya), the world junior bronze medalist at 10,000m, came up to join the leading pair. After a thrilling sprint to the line, Leonard Komon edged ahead of Geoffrey Kirui. It was so close that both runners were given the same time of 18:32, improving the old course record by 14 seconds.
Polat Kemboi Arikan was third in 19:05 ahead of Amos Mitei of Kenya (19:10). Behind them, Andreas Vojta (19:30) won in a sprint finish against Cornelius Kangogo (19:31) to take fifth and claim honors as the leading Austrian. Seventh place went to another Austrian home favorite, Günther Weidlinger (19:36), who has made an impressive comeback since being injured in the Olympic Marathon.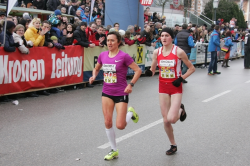 In the women's 5.1K race, the 40-year-old German marathon-record holder Irina Mikitenko and 19-year-old Serb Amela Terzic, the European junior 3,000m champion in 2011, raced head-to-head for four of the five laps. Amela Terzic (16:03) crossed the finish line four seconds in front. Serbia's Sonja Stolic followed in third place with a time of 16:33. Christiane Danner of Germany was fourth in 16:46, while the Austrian marathon-record holder, Andrea Mayr, placed fifth (16:46).
"I'm very happy with my race because I was half a minute faster than a year ago," said Irina, who was third in Peuerbach in 2012. "I felt good and could force the pace. I just didn't have the finishing kick at the end. This run gives me confidence for training for the marathon."
Madrid: Tariku Bekele and Gelete Burka Prevail
Ethiopia's runners were right up front in Madrid—with the man who won in São Paulo last year proving victorious again in chilly temperatures in the "San Silvestre Vallecana": Tariku Bekele, younger brother of the Ethiopian multi-world record holder, Kenenisa Bekele, took charge near the end to win the 10K event in 28:29. The Ethiopian-born Ayad Ladmassem of Spain held Tariku Bekele stride-for-stride until the closing stages, where the course turned uphill. He finished second in 28:45. It was a strong performance by the 25-year-old Tariku following a hamstring injury in the autumn. Spaniards Roberto Alaiz (29:08) and Manuel Penas (29:21) were next across the line.
Gelete Burka upset the field to win the women's race. The 26-year-old Ethiopian broke away from her rivals and ran from the front to take the victory in 30:59. Kenya's 2009 World 10,000m Champion, Linet Masai, was second in 32:13. Behind them came Spain's Diana Martin (32:32) and Teresa Urbina (33:46).
© Copyright 2013-2022 by Take The Magic Step®. All Rights Reserved.
Article Archive