Team KIMbia Shines at the 33rd Annual Bellin Run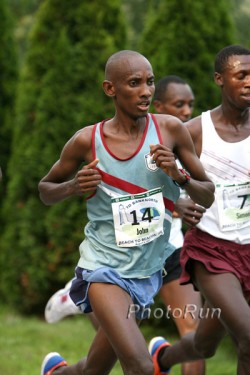 KIMbia's John Yuda of Tanzania has had a fantastic summer. Last month, he won the Lilac Bloomsday 12-kilometer race in Spokane, Washington. And on Saturday, Yuda won the fourth-largest timed 10K in the United States: the 33rd annual Bellin Run in Green Bay, Wisconsin in 28:05 minutes. Other members of Team KIMbia also ran incredibly well. Defending champion John Korir, who had previously been struggling with an injury, placed second in 30:13. American Brian Sell of Hansons-Brooks Distance Team placed third in 30:15. It was Yuda's race from the beginning. Running completely unchallenged, Yuda took off at the start and never looked back. By the 3-mile mark, he had built up a quarter-mile lead over Korir and Sell. Yuda's winning time was the third-fastest in the history of the race!
The women's race was much more contested—coming down to a sprint finish in the home stretch between last year's second-place finisher in the 2008 U.S. Olympic Marathon Trials, Magdalena Lewy Boulet, and KIMbia's Millicent Gathoni. Lewy Boulet won the duel in 33:14 in one of the most closely contested races in history. Gathoni finished two seconds later. Third place went to KIMbia's Jane Gakunyi in 33:40.
In the 50-54 year-old age group, 1984 Olympic Gold medalist in the marathon and three-time Bellin champion, Joan Benoit Samuelson broke a 20-year-old age group record previously held by Wava Mosbrocker (41:28) placing fifth in 36:13. Take The Magic Step's Uta Pippig and fellow marathon legend Billy Rodgers also joined in the spirited run, which benefits the Bellin College of Nursing.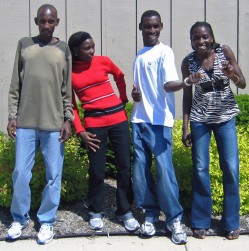 A record 16,746 people registered for the race which was held in warmer temperatures. For the first time in the race's history, the pre-and post-race festivities were held in Astor Park which was a nice, accommodating change of venue for the runners.
Another inspirational event held in conjunction with the 10K was the Kid's Run and Fun race which took place at Astor Park on Friday night. A total of 837 youngsters participated in the event which varied from a quarter-mile to a half-mile depending on age. All in all, everyone from the organizers, to the sponsors, to the participants enjoyed a fantastic day of running and fitness awareness in Green Bay.


Article Archive