Team Hoyt Overcame an On-Course Challenge to Reach the Finish Line in Boston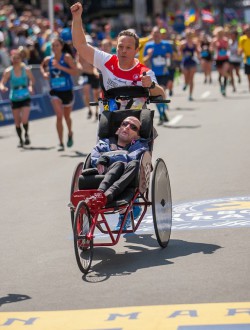 To an enormous roar that echoed all the way down Boylston Street, Team Hoyt, with Bryan Lyons pushing Rick Hoyt's racing chair for the second year, crossed the finish line of the 120th Boston Marathon exactly two seconds under five hours.
Ahead and behind them were the Team's 39 combined charity and qualified runners—sent off with Runner's Hugs by Uta at their pasta dinner two days before the marathon.
They came together from all over America and Canada to run 26.2 miles, raise more than $175,000 …and push Team Hoyt's total of money raised since 2006 above a staggering $1.25 million.
The Legacy of Team Hoyt
Team Hoyt was born of the legendary courage and love that made the dream of Dick and Rick Hoyt possible, as the father pushed son Rick—wheelchair-bound since being born 54 years ago with cerebral palsy—in 32 Boston Marathons. And if any evidence was needed that its unique teamwork continues on after the "retirement" of Dick at 74 and the handing of the reins to Bryan Lyons, it was amply demonstrated this year.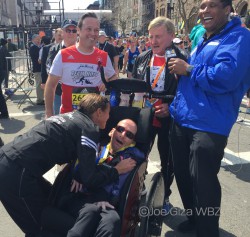 When Bryan, a 46-year-old dentist from Methuen, Mass., pushed off at the start line in Hopkinton, Rick was riding in a brand new running chair—lighter, more comfortable, and, they hoped, faster. The previous weekend they had noticed an odd noise coming from the right wheel, but it hadn't stopped them completing a 12-mile training run on the Marathon course, and it seemed to be gone now.
Then, at Framingham, between eight and nine miles, they crossed bumpy railroad tracks—and Bryan realized to his alarm that the right wheel had been jolted 2½ inches off its place on the axle. "If it had slipped an inch more we would have lost it," he said ruefully.
For the next ten miles he had to stop and make adjustments to the wayward wheel just about every time the chair hit a bump. "I let Rick know what the problem was and we were both determined to get through it," said Bryan. "But I had to work on the wheel at least every tenth of a mile, sometimes every fifty yards." A dreaded non-finish suddenly seemed a real possibility.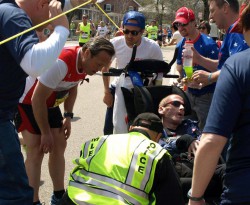 That's when the "team" in Team Hoyt kicked in.
Team runner and coach Varinka Barbini Ensminger caught up with Bryan and Rick—once again working on the wheel—at 17.5 miles. Bryan explained their predicament—and asked her to relay an S.O.S. when she got to the Team aid station at the 20-mile mark. By the time Bryan and Rick arrived there, the rescue had been set in motion.
Team manager Kathy Boyer had managed to contact Mike DiDonato, the builder of the chair—and they had him waiting on the phone. Peabody police officer Joseph Coup, on duty at 20 miles, produced a full tool kit from his cruiser—and following DiDonato's intricate instructions relayed on the phone, Team Hoyt's emergency "mechanics," who had been running the Marathon minutes earlier, managed to lock the errant wheel onto its axle.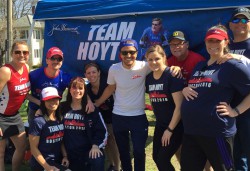 Six miles later, Bryan and Rick were at the top of Boylston Street. Pulling to a halt, Bryan wiped the sweat from both their faces "so we looked presentable for all the cameras we knew were waiting."
A half mile more and they crossed the finish line to the congratulations of Dick Hoyt and Uta, who had completed her own marathon ahead of them.
What's next? The amazing duo has set their sights on an Ironman!
This triathlon would involve Bryan swimming 2.4-ocean miles towing Rick in a rubber raft, riding 112 miles on the bike with Rick in a chair mounted in front of the handlebars over the front wheel—then pushing him in his racing chair 26.2 miles.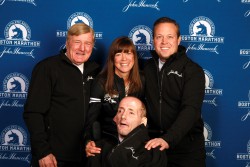 It is actually a feat that is in the family: In 1989, Rick and his Dad became the first wheelchair team in the world to complete the famous Ironman Triathlon in Kona, Hawaii—they did it in 14 hours and 26 minutes. Their second Kona finish came in 1999, and nine years later they were inducted into the Ironman Hall of Fame.
Now, says Dick, "Rick would love to do it again with Bryan." Bryan, who has run four Ironman races solo and has already done two "halfs" with Rick, says, "That's our goal. Nothing would make me happier than to be able to do it as a tribute to Dick."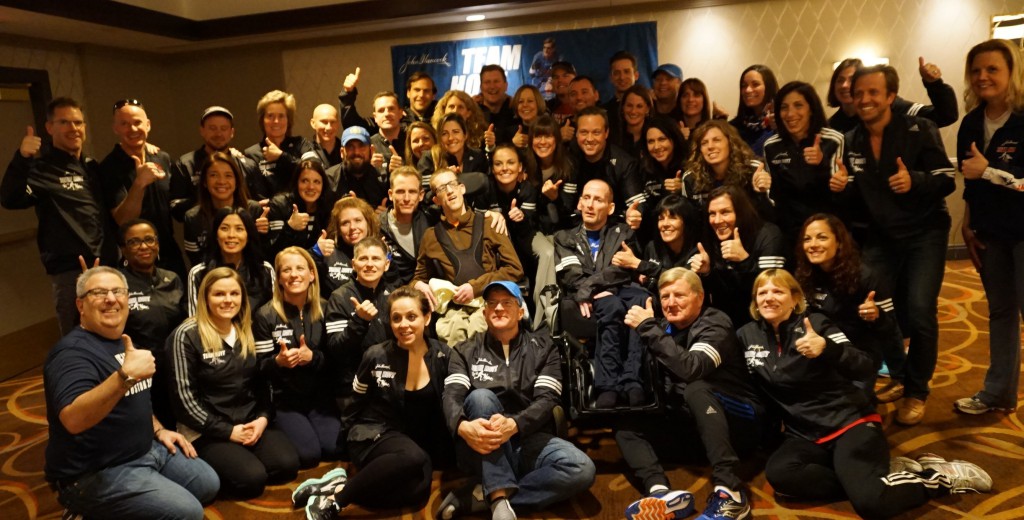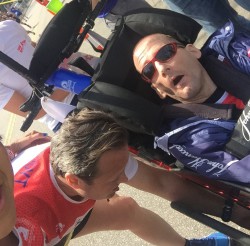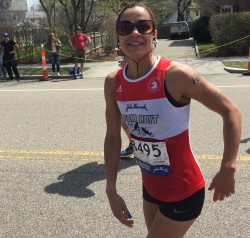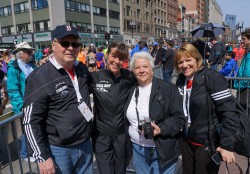 © Copyright 2016-2022 by Take The Magic Step®. All Rights Reserved.
Article Archive