Surprise Upset in Snowy Edinburgh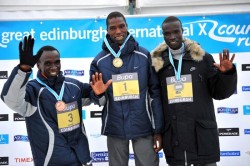 The extreme winter conditions in Europe took their toll on running. The traditional Egmond Half Marathon in the Netherlands, where part of the course runs along the beach, had to be called off at the last minute since the organizers could not guarantee the runners' safety. In contrast, the Bupa Great Edinburgh Cross Country run was held as planned. This cross-country race in Scotland (Great Britain) had one of the strongest fields of the season. The race, held in icy conditions, produced a surprise: Kenenisa Bekele (Ethiopia), the world's best cross-country runner for many years and the clear favorite, ended up placing fourth.
Bekele had won the Edinburgh race three times in the past (2006-2008) but on this occasion a trio of Kenyans outran him. Joseph Ebuya came through to win on the tough 9-kilometer course in Edinburgh's Holyrood Park in 28:41 minutes.
Ebuya's life story is amazing. Too poor to go to school, he was forced to stay home and work on his family's farm. Seeing such Kenyan greats as John Kibowen, Benjamin Limo, and Charles Kamathi in training, Joseph Ebuya decided to try his hand at running in 2003. Lacking training shoes and decent workout gear, Ebuya completed his first run in leather shoes and jeans. With his income from running, Ebuya bought land for his family at home in Kenya. "I want to change their lives," he was quoted in an IAAF report from 2008.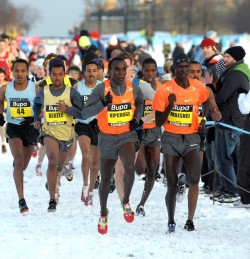 Finishing just two seconds behind Joseph Ebuya was Titus Mbishei. Third place went to the 2003 World 5,000-meter champion, Eliud Kipchoge, in 29:04. Bekele's fourth-place time was 29:17. Showing true sportsmanship, Bekele acknowledged the podium finishers. "The Kenyans have truly beaten me today," he said.
Saturday's race was only the third time in his career that Kenenisa Bekele had been beaten in a cross-country race. "I arrived as early as Thursday because I wanted to visit the Olympic site in London. I would usually only arrive the day before the race so I missed a couple of training sessions," explained the Ethiopian following his first competition since September 2009.
In the women's race, Ethiopia's double Olympic champion at the 5,000m and 10,000m events, Tirunesh Dibaba, ran at the front unopposed, crossing the line in 21:37. Last year's world 5,000m champion Vivian Cheruiyot came in second, ten seconds behind Dibaba (21:47). Third place went to Kalkidan Gezahegn (Ethiopia) in 21:48. Two British runners took fourth and fifth places with identical times: the European Cross Country champion Hayley Yelling finished in 21:51 just ahead of rising star Steph Twell.
© Copyright 2010-2022 by Take The Magic Step®. All Rights Reserved.
Article Archive