Superb Success for Charity Running in London and Chicago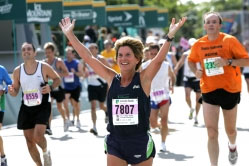 Two of the world's greatest marathon events recently announced the amounts raised for charity during their races in 2006. In London and Chicago, $90 million were collected for charities. That impressive figure shows the value these events have besides producing superb races for the elite and fun runners.
As a fundraising event, there is no other marathon in the world that comes close to the Flora London Marathon. More than 41.5 million pounds ($81 million) were raised for charity by runners in this year's event. This brings the total amount raised for charity by runners since the race began in 1981 to 315 mil-lion pounds ($614 million). Seventy-five percent of runners in this year's London Marathon raised money for charity. Race director David Bedford said, "We are of course very proud to announce this amazing amount—running for charity is a key aspect of the Flora London Marathon. It's not only the runners themselves who add color and excitement to the day, it's the charity support teams themselves who do so much to make the day as successful as it is for both the runners and charitable causes alike." More than 96,000 applications were received for the 2007 edition of the London Marathon, which will take place on Sunday, April 22.
The 2006 LaSalle Bank Chicago Marathon charity program broke its records, as the 60 affiliated charities combined to generate more than $9.2 million through the race for their causes. With a record 5,000 individuals out of 40,000 runners participating in the October 22 marathon on behalf of a charity partner, the program surpassed 2005's results of $6.3 million by 30 percent.
"Developing a program where charities can utilize our event as a conduit for fundraising has been a focus of ours for the last five years, and the results have exceeded our greatest expectations," said Chicago Marathon chairman Mark Nystuen. "While it has already been a tremendous success, we see great things in store for this program and its growth will continue to be a priority of the marathon in the years ahead."
Since the formalization of the charity program in 2002, it has generated $27.5 million for a variety of causes. Among the 60 programs affiliated with the 2006 Chicago Marathon are organizations that support disease research, educational programs and the development of healthy communities in Africa.
Posted December 26, 2006
© Copyright 2006-2015 by Take The Magic Step®. All Rights Reserved.
Article Archive