Stefano Baldini Takes Second European Marathon Gold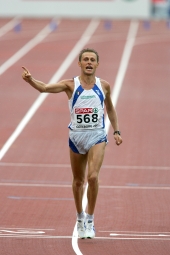 Compared to the sensational marathon triumph of Ulrike Maisch in the women's European Championships marathon, there was little surprise in the men's marathon race for gold one day later. The heavy favorite, Italian Stefano Baldini, won in 2:11:32 hours. The 35-year-old was also the European champion in 1998, and is the reigning Olympic champion in the event. The silver medalist, however, was a surprise, with Switzerland's Viktor Röthlin placing second in 2:11:50 ahead of Spaniard Julio Rey (2:12:37).
"Everything was perfect for me on that day. It wasn't easy to run with the head wind, and the course wasn't easy as well," said Baldini. The Italian, who has opened a running shop where his Olympic gold medal is shown, is already thinking about the 2008 Olympic Games in Beijing. "Step by step, I am planning for the Olympics 2008, because I want to defend my title there. This victory today was an important success for my career," said Baldini.
His victory today was almost an easy one for him. Although the men's race had a better-quality field than the women's the day before, the European Championships still doesn't have the depth of an Olympic or World Championships. In addition, the fall marathons such as Berlin, Chicago and New York will have better fields because they will feature African runners.
"I will decide later together with my coach if I will run a fall marathon," said Baldini, who was subsequently offered a spot in the New York City Marathon on November 5.
The lead pack passed halfway in 65:44 minutes. The Portuguese, Italians and Spaniards ruled the scene in the lead—just Röthlin and the Finnish titleholder Janne Holmen, who finished seventh in 2:13:10, were not from these countries of the 11-man front group.
"As the pace slowed down a bit, I attacked at the 40-kilometer mark," said Baldini. "I haven't lost a gold medal here, but won a silver," said Röthlin about the biggest success of his career. "It is unbelievable—I dreamt about winning silver the night before."
© Copyright 2006-2022 by Take The Magic Step®. All Rights Reserved.
Article Archive