Start of the WMM: 110th BAA Boston-Marathon Announces Elite Field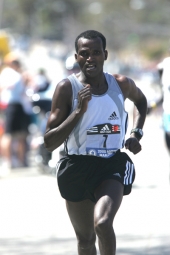 John Hancock Financial Services today announced its elite team of 31 marathon runners from 13 countries, including American Olympic silver medalist Meb Keflezighi, defending champion Hailu Negussie from Ethiopia, and past champions Timothy Cherigat and Robert Kipkoech Cheruiyot of Kenya. The race is set for Monday, April 17, 2006. This will be John Hancock's 21st year as principal sponsor of the event. It was ten years ago that Uta won the BAA Boston Marathon for the third time in a row. Therefore she will be in Boston as a guest of honor.
Leading the field is defending champion Negussie who will face 2005 runner-up Wilson Onsare of Kenya and two of the fastest men in the world last year: Benjamin Maiyo, who was second in Chicago and Los Angeles, and Patrick Ivuti, a two-time World Cross Country silver medalist. Other challengers include 2004 and 2003 Boston champions Timothy Cherigat and Robert Kipkoech Cheruiyot.
Two American Olympians: 2004 silver medalist Meb Keflezighi and Alan Culpepper, who finished fourth last year, will lead a strong U.S. contingent that includes rising stars Brian Sell and Clint Verran. Sell and Verran recently led Team USA to fourth place at the 2005 World Marathon Cup, the highest finish ever for the Americans.
Other top men's runners include 2:06 hours marathoners Tesfaye Tola of Ethiopia and 2005 Seoul winner William Kiplagat of Kenya. Tanzanian John Yuda, a two-time World Half Marathon bronze medalist, also expects a top finish, as does John Korir of Kenya, the number one ranked road racer in the world in 2005 who makes his much anticipated debut in Boston. Additional talent from Ethiopia, the Netherlands, Kenya, and Colombia complete the elite field.
On the women's side, Olympian and two-time Boston runner-up Elfenesh Alemu faces one of the most competitive fields in recent years. Eight of her challengers have re-established their personal best times in 2005. Leading the charge is Jelena Prokopcuka of Latvia and Ethiopia's Derartu Tulu. Prokopcuka comes in with a national record and wins at both the 2005 New York City and 2005 Osaka Marathons. Tulu, who is the most accomplished female athlete from her country, recently set a personal best at the 2005 World Championships. Tulu has competed in the past four Olympic Games, earning two gold medals and one bronze in the 10,000 meters.
Three Olympic marathoners who will test the leading trio are World Championship silver medalist Reiko Tosa of Japan, Olivera Jevtic the national record holder from Serbia and Montenegro, and 2004 Tokyo winner Bruna Genovese from Italy. All three women finished in the top ten at the 2004 Olympics and both Jevtic and Genovese have experience on the difficult Boston course.
Close on their heels will be Lithuanian national record holder Zivile Balciunaite and upcoming talents Rita Jeptoo of Kenya, Japan's Kiyoko Shimahara, 2005 Honolulu champion Olesya Nurgalieva from Russia, 23 year-old 2005 Frankfurt winner Alevtina Biktimirova from Russia, and 2005 Amsterdam winner Kutre Dulecha of Ethiopia. Dulecha is a two-time World Champion and the African record holder in the indoor 1500 meters. Top Canadian Tina Connelly is also in the race.
110th B.A.A. Boston Marathon John Hancock's 2006 Elite Field
Men's Open Field Personal Best
Wilson Onsare, Kenya, 2:06:47 (Paris, 2003)
William Kiplagat, Kenya, 2:06:50 (Amsterdam, 1999)
Tesfaye Tola, Ethiopia, 2:06:57 (Amsterdam, 1999)
Benjamin Maiyo, Kenya, 2:07:09 (Chicago, 2005)
Patrick Ivuti, Kenya, 2:07:46 (Chicago, 2005)
Julius Ruto, Kenya, 2:08:10 (Paris, 1999)
Hailu Negussie, Ethiopia, 2:08:16 (Hofu, 2002)
Robert Kipkoech Cheruiyot, Kenya, 2:08:59 (Milan, 2002)
Timothy Cherigat, Kenya, 2:09:34 (San Sebastian, 2002)
Alan Culpepper, United States, 2:09:41 (Chicago, 2002)
Mebrahtom Keflezighi, United States, 2:09:53 (New York, 2004)
John Yuda, Tanzania, 2:10:13 (London, 2004)
Luc Krotwaar, Netherlands, 2:10:13 (Fukuoka, 2003)
Alirio Carrasco, Colombia, 2:12:09 (Chicago, 2003)
Brian Sell, United States, 2:13:22 (Chicago, 2004)
Clint Verran, United States, 2:14:17 (Chicago, 2002)
John Korir, Kenya, Debut
Deriba Merga, Ethiopia, Debut
Women's Open Field Personal Best
Reiko Tosa, Japan, 2:22:46 (London, 2002)
Jelena Prokopcuka, Latvia, 2:22:56 (Osaka, 2005) NR
Derartu Tulu, Ethiopia, 2:23:30 (Helsinki, 2005)
Rita Jeptoo, Kenya, 2:24:22 (Helsinki, 2005)
Elfenesh Alemu, Ethiopia, 2:24:29 (London, 2001)
Alevtina Biktimirova, Russia, 2:25:12 (Frankfurt, 2005)
Zivile Balciunaite, Lithuania, 2:25:15 (Tokyo, 2005) NR
Olivera Jevtic, Serbia and Montenegro, 2:25:23 (Rotterdam, 2003) NR
Bruna Genovese, Italy, 2:25:35 (Tokyo, 2001)
Kiyoko Shimahara, Japan, 2:26:14 (Hokkaido, 2005)
Olesya Nurgalieva, Russia, 2:29:35 (New York, 2005)
Kutre Dulecha, Ethiopia, 2:30:06 (Amsterdam, 2005)
Tina Connelly, Canada, 2:34:43 (Sacramento, 2003)
NR = National Record
Find the latest news and information about the Boston Marathon at www.bostonmarathon.org.
Article Archive