Shoe Problems Can't Stop Eliud Kipchoge in Berlin, While Gladys Cherono Breaks the 2:20 Barrier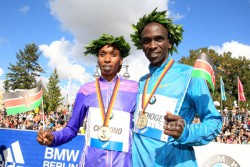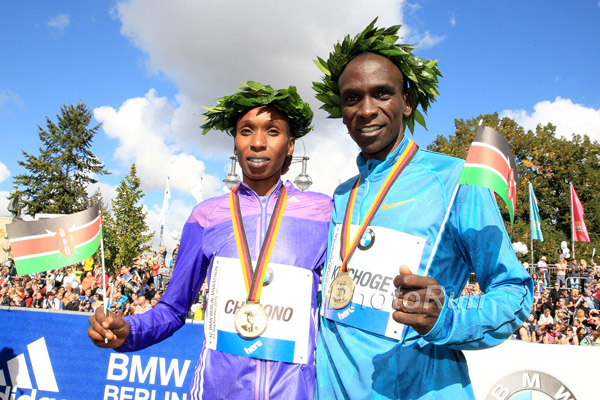 Kenya's Eliud Kipchoge and Gladys Cherono ran to victory in the Berlin Marathon—with both recording stunning, world's best-of-the-year times that set a high bar for an eagerly-awaited fall marathon season. Eliud, 30, crossed the finish line in front of the historic Brandenburg Gate in two hours and four minutes, improving his own personal best by five seconds. And he did it despite a shoe problem that saw him lose his insoles along the way. Second place in the 42nd BMW Berlin Marathon went to Eliud Kiptanui, also of Kenya, in 2:05:22, with Ethiopia's Feyisa Lilesa third in 2:06:57.
The 32-year-old Gladys Cherono, who was running only her second marathon, shattered the elusive 2:20 barrier with her comfortable 2:19:25 win. Ethiopians Aberu Kebede (2:20:48) and Meseret Hailu (2:24:33) were second and third respectively.
Past and Present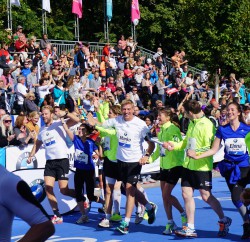 In perfect weather, a total of 41,224 runners from 131 countries took part in Sunday's event that serves as one of the Abbott World Marathon Majors Series races. They were sent on their way by Uta, honored, with Mayor Michael Müller, as official starter for the race—25 years after her win in the historic 1990 Reunification Marathon soon after the fall of the Berlin Wall.
The Marathon crowned a weekend of running in Germany's capital. The Bambini Run, with 1,600 excited young participants, took place on a grassy field at the Tempelhof Airport on Saturday, and 10,031 students ran the 4.2195K mini Marathon on Potsdamer Street in the heart of the city. Uta was there, too, to cheer on the youngsters who came out to celebrate wellness.
After her starter duties were done, Uta laced up her running shoes and joined the RTL charity marathon relay team with its motto "We help children." She began her segment at the marathon's 35K mark and ran to the finish, accompanying and encouraging fellow runners along the way. Afterwards she said, "The warmth and enthusiasm of the crowds were simply incredible. It was so good to be back on a course that means so much to me."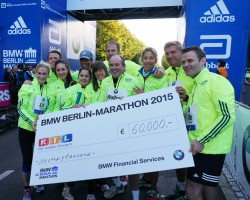 Hundreds of thousands of spectators lined Berlin's streets to cheer on the marathoners, who enjoyed fantastic views of the German capital along the 26.2-mile route—from the Victory Column, to the Reichstag, to the Kaiser Wilhelm Memorial Church.
The men's race was a gripping contest from the start, with a six-man group taking the early lead. Among them were runners with bib numbers 2 to 6: Kenya's Emmanuel Mutai, Eliud Kipchoge, Geoffrey Mutai, and Eliud Kiptanui and the Ethiopian duo of Feyisa Lilesa and Tamirat Tola. In the front was the eventual winner, Eliud Kipchoge, who, despite having shoe problems from the first kilometer on, had set his sights on Dennis Kimetto's 2:02:57 world record.
By the half-marathon mark (61:53), the group was already behind the advertised goal pace of 61:30. But even with the insoles in both shoes coming loose, it was Eliud Kipchoge who improved the tempo after the last pacemaker dropped out at the 29K mark. His move transformed the race's dynamic as he clocked a blazing 2:48 at 32K, and training partner Emmanuel Mutai fell back, eventually finishing fourth in 2:07:46.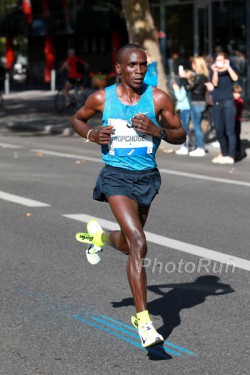 There is little doubt that Eliud could have improved on his nevertheless-magnificent 2:04, and he admitted afterwards, "It wasn't a good day for me in these shoes. I tested them in Kenya but I had problems [with them] from the first kilometer."
"The world record was my aim, but it wasn't to be today. Nevertheless I'm delighted with this win and a personal best. I would love to return to Berlin and improve my time." Two years ago Eliud placed second with a 2:04:05, and his time on Sunday is the ninth-fastest marathon of all time.
The women's race, meanwhile, began with a four-person group that included Gladys Cherono, who ran an impressive 2:20:03 in her marathon debut in Dubai earlier this year. Joining her in the mix at the start was the two-time Berlin champion Aberu Kebede (Ethiopia 2010/2012), as well as Meseret Hailu and Tadelech Bekele (both Ethiopia).
The first duel emerged at the 20K mark between Gladys and Aberu and the leaders crossed the half in 70:15. But with 10K to go, it was Gladys who produced an extra gear and was able to inject a surge that led to her win and the breaking of the 2:20 barrier.
Her 2:19:25 was the third-fastest in Berlin and was just 13 seconds off the 10-year-old record held by Mizuki Noguchi of Japan. "I didn't expect to run so fast and am delighted to win and [with] the way I did it," the Kenyan star said afterwards. Her time on Sunday is the fastest marathon run on a record-certified course since 2012. Also, a Swiss record was set in Berlin: Maja Neuenschwander ran 2:26:49 for sixth.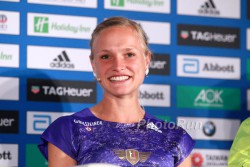 Crowd favorite Anna Hahner (Run2Sky/Gengenbach) was the fastest German runner. Until the half-marathon mark, which she passed in 1:13:12, Anna was on track for a PR (2:26:44), but she slowed and finished 13th in 2:30:19—disappointingly two minutes slower than the 2:28:30 Olympic standard. "Until the half, everything went well," Anna said. "I was sure I could run the standard, but it was tough. The training this year has gone well, but I couldn't translate that shape to today's race."
David Weir of Britain won the men's wheelchair division (1:27:36), while Russia's Nataliya Kocherova (1:50:36) was the fastest woman. Another milestone was celebrated with Heinz Frei taking part in his 30th Berlin Marathon. Vico Merklein of Germany was the winner in the hand cycle division (1:02:32). Christiane Reppe, also from Germany, won the women's wheelchair division in 1:10:12, with both athletes setting new course records.
All in all, it was yet another Berlin Marathon to remember, and afterwards Uta said, "I would like to extend my congratulations to all the finishers—and to the wonderful Berlin marathon organizers from the SCC Berlin, who invited me to the celebrations of the 25th anniversary of the Reunification Marathon: Thank you for a tremendous race weekend." She also lauded the thousands of volunteers "whose efforts and dedication made it a memorable festival for runners."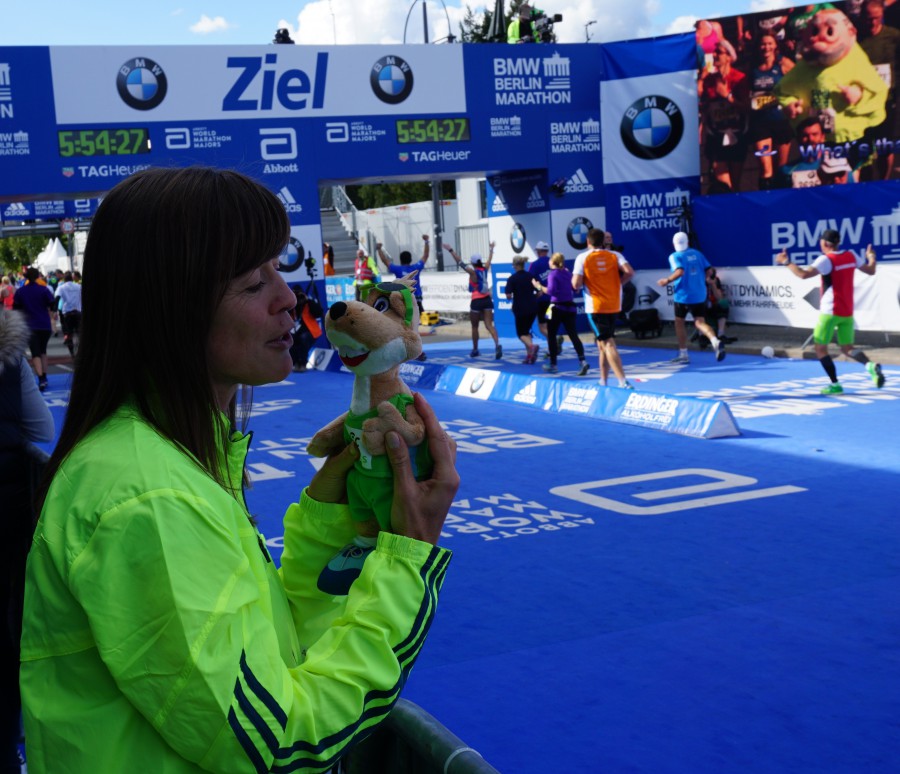 The Top Finishers at the 42nd Berlin Marathon
Men:
| | | | |
| --- | --- | --- | --- |
| 1. | Eliud Kipchoge | KEN | 2:04:00 Hours |
| 2. | Eliud Kiptanui | KEN | 2:05:21 |
| 3. | Feyisa Lilesa | ETH | 2:06:57 |
| 4. | Emmanuel Mutai | KEN | 2:07:46 |
| 5. | Geoffreu Mutai | KEN | 2:09:29 |
| 6. | Reid Coolseat | CAN | 2:10:28 |
| 7. | Koen Naert | BEL | 2:10:31 |
| 8. | Yared Shegumo | POL | 2:10:47 |
| 9. | Koji Gokaya | JPN | 2:10:58 |
| 10. | Scott Overall | GBR | 2:11:24 |
Women:
| | | | |
| --- | --- | --- | --- |
| 1. | Gladys Cherono | KEN | 2:19:25 Hours |
| 2. | Aberu Kebede | ETH | 2:20:48 |
| 3. | Meseret Hailu | ETH | 2:24:33 |
| 4. | Tadelech Bekele | ETH | 2:25:01 |
| 5. | Andrea Deelstra | NED | 2:26:46 |
| 6. | Maja Neuenschwander | SUI | 2:26:49 |
| 7. | Lisa Nemec | CRO | 2:27:57 |
| 8. | Tomomi Tananka | JPN | 2:28:00 |
| 9. | Sonia Samuels | GBR | 2:28:04 |
| 10. | Fate Tola | ETH | 2:28:24 |
Posted September 27, 2015
© Copyright 2015-2022 by Take The Magic Step®. All Rights Reserved.
Article Archive