Sammy Wanjiru: The Tragic Loss of an Exceptional Athlete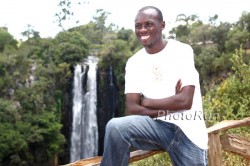 Sammy Wanjiru won gold at the 2008 Beijing Olympic marathon and was considered one of the world's best marathon runners. Everything seemed possible for the 24-year-old Kenyan who had the world at his feet—even Haile Gebrselassie's world record (2:03:59 hours) seemed to be within his reach. Tragically, this is not to be. The running world lost him last Sunday [Editor's note: May 15, 2011]—under circumstances that are not yet fully known—when he passed away at his home in Nyahururu. The entire running fraternity now mourns his loss.
The Rising Kenyan Superstar
Sammy first entered the spotlight in Brussels six years ago as an 18-year-old junior. Competing in the same 10,000-meter race that saw the great Kenenisa Bekele set a world record, Sammy broke the world junior mark with a time of 26:41.75 minutes. Fifteen days later in Rotterdam, Holland, he ran a world record in the half marathon (59:16). In spring of 2007, he improved that mark to 58:33 in The Hague. That December, he made his marathon debut with an incredible 2:06:39 in Fukuoka, Japan—then the third-best marathon debut ever. Four months later, at the 2008 London Marathon, he improved to 2:05:24, finishing a close second. Astonishingly, when Sammy won his Olympic gold medal that summer he was running only his third career marathon.
Thanks to an athletic scholarship, Sammy lived either in Japan or Kenya from 2002 till 2008 and was fluent in English, Swahili, and Japanese. His Japanese coach, Koichi Morishita, who himself won silver at the 1992 Barcelona Olympic marathon, was influential in his Olympic victory. Sammy later joined a training group led by the Italian manager, Dr. Gabriele Rosa.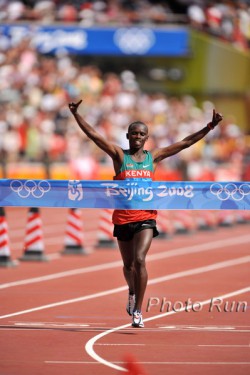 "Our athletes already have won many medals for Kenya but I'm happy to have won this one—it's a great feeling to have made history for Kenya," Sammy explained after he became the first Kenyan runner ever to win Olympic gold in the marathon. Still only 21 and running in warm conditions, his time of 2:06:32 eclipsed the 2:09:21 record set by Carlos Lopes of Portugal at the 1984 Olympics in Los Angeles … three years before Sammy was born! Based on his world records in the half marathon and these fast marathon times, Sammy was confidently expected to become one of best marathoners in the history of Kenya, if not the world.
Sammy went on to win celebrated World Marathon Majors events in London in 2009 (with a course record and personal best of 2:05:10 hours), and Chicago in 2009 and 2010.
But off the roads and tracks, Sammy faced difficult problems in his private life during the last six months of his life. Last December, he was accused of threatening his wife, Tereza Njeri, and of assaulting a security guard. However, both parties involved eventually withdrew their claims, leaving Sammy facing only one charge of possessing an illegal firearm. He was to appear in court regarding this matter next week. Though the charge of owning an illegal gun sounds serious, it is common for Kenyans who make good money—like most top runners do—to possess weapons for self-defense. Attacks on famous athletes happen quite frequently: In the fall of 2008—not long after his Olympic victory—Sammy's family had their house broken into.
The government of Kenya has opened an inquest on Sammy's tragic death in order to determine the exact cause. His Italian manager, Federico Rosa, told the BBC that he talked to Sammy last weekend on the phone and he said that the runner sounded very determined—casting doubts on the rumors that he may have killed himself. Sammy was supposed to participate in last month's London marathon, but he had to withdraw due to injury.
With the tragic loss of Sammy Wanjiru, the world has lost one of the best runners of all time—a man who had yet to realize his full potential.
Samuel Wanjiru's Marathon Races:
| | |
| --- | --- |
|  Fukuoka 2007 |  2:06:39 hours (1.) |
|  London 2008 |  2:05:24 (2.) |
|  Beijing (Olympic Games) 2008 |  2:06:32 (1.) |
|  London 2009 |  2:05:10 (1.) |
|  Chicago 2009 |  2:05:41 (1.) |
|  London 2010 |  dropped out because of injury |
|  Chicago 2010 |  2:06:32 (1.) |
More about Sammy Wanjiru's remarkable success at the 2008 Olympics of Beijing can be found here on our Website.
© Copyright 2011-2022 by Take The Magic Step®. All Rights Reserved.
Article Archive