Ryan Hall Breaks One-hour Barrier and U.S. Half Marathon Record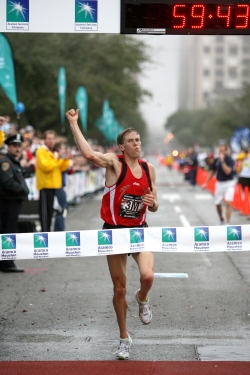 With a 59:43 clocking at the Houston Half Marathon, American Ryan Hall provided the first big surprise of the year in international road running. The 24-year-old Californian broke the U.S. and North American records for 13.1 miles; the old U.S. record, 60:55, was set by Mark Curp 22 years ago in Philadelphia. Until Sunday, joint holders of the North American record were Mexicans Dionicio Cerón and Gérman Silva, with 60:28.
Hall's time is truly world class, as it is less than one minute away from Haile Gebresilasie's world record of 58:55. A high school prodigy, Hall struggled while running at Stanford, but just after his college career clocked 13:16 for 5,000m in 2005. Last fall, he won the U.S. 20K championship, and then placed 11th at the 20K world championships in an American record of 57:54.
On Sunday, Hall's splits included 28:22 for 10K, 42:22 for 15K, 45:33 for 10 miles and 57:06 for 20K. Not surprisingly, behind Hall was a huge gap. The next finishers were his countrymen Fasil Bizuneh (62:20) and Olympic silver medalist Meb Keflezighi (62:22).
KIMbia's Elva Dryer won her half marathon debut, running 1:11:42 to beat fellow 2004 Olympian Kate O'Neill by four seconds. In the accompanying marathons in Houston, the winners were Feyisa Tusse (Morocco/2:11:39) and Dire Tune (Ethiopia/2:26:52).
Ethiopian Gale in Edinburgh: Bekele Wins, No Longer Rules Out World Cross Championships
Once again Kenenisa Bekele beat a world-class field in a stunning manner. In his first race of the year, the 24-year-old superstar ran 28:14 to win an international 9.3K cross country race in Edinburgh. In stormy weather conditions, Bekele simply ran away from the field, beating 20K world champion Zersenay Tadesse of Eritrea by 10 seconds. Eliud Kipchoge, who showed great form at the New Year's Eve race in Madrid, came in more than half a minute later, running 28:51 for third place. American Dathan Ritzenhein placed sixth in his first race since his marathon debut in November.
"That was a good start for me into 2007. I expected such a performance since I trained very well," said Bekele, who has won 26 cross country races in a row. The day before the race, he had confirmed his intention not to start at the World Cross Country Championships this year, but after his impressive victory that is no longer that certain: "Maybe I review my decision when I see a new challenge for me," said Bekele, without telling what this challenge could possibly look like, given his utter domination of the event the last several years.
Sergey Lebid managed a felicitous European Championships revenge at the 4K race in Edinburgh. The Ukrainian, who was beaten by Mo Farah at the continental cross country champs in December, defeated the British runner, a former Somalian, in the final sprint. Lebid won in 12:20, with a winning margin of just one second. Third was Mike Skinner (Great Britain) in 12:25.
In the women's 6.7K, there was another Ethiopian victory. With one kilometer to go, Gelete Burka, last year's 4K World Cross Country champion, ran away and won in 23:25, well ahead of Vivian Cheruiyot (Kenya/23:34) and Australian Benita Johnson, who clocked the same time. "I never ran in such bad weather conditions," said Burka. "The wind almost blew me down."
After Record Times in Dubai Marathon, Organizers Dream of World Record
Askale Magarsa of Ethiopia shattered the event record in the Standard Chartered Dubai Marathon, when she ran away to victory in a personal best time of 2:27:19, while Kenyan William Rotich won a highly competitive men's section, whittling the field down from 20 at halfway, until he finally got away alone in the last three kilometers, to win in 2:09:53. The unusually cool conditions for the Emirate—just over 50 degrees at the 7 a.m. start, rising to just over 60 at the finish—ensured faster times than normal. And the new flat course along the sea, turning at the famous 7-star Burj Al Arab Hotel, also ensured a rapid return.
Even so, Askale's time was extraordinary, given that she ran alone from 11K onwards. At halfway, she was on 2:25:30 pace, and only slipped a little in the second half, bettering her previous record, 2:27:57, which she set in winning Milan three months ago. But she was over six minutes faster than the previous best for the event, 2:33:31, by Alina Ivanova of Russia in 2002. Askale, 23 and from Arsi Province, home to world record holder Kenenisa Bekele, looked as if she might have run faster, given that she started jogging again right after she crossed the line. But maybe she didn't want to embarrass her husband, Debele Tola, who only finished five minutes ahead of her. With Tola interpreting, Askale said she wants to run for Ethiopia in the Bejing Olympics next year, and then think about running sub-2:20. Her youth and attitude suggest that's a distinct possibility.
The new course meant that both times were records, but Rotich's mark has only been beaten once in the eight years of the event, when compatriot Joseph Kahuga ran 2:09:33 in 2003. Benoit Zwierzchlewski of France ensured the pack got off to a flying start. The European record holder (2.06.36), coming back after a lengthy injury set a perfect pace, hitting 3.03 each kilometre up to 19k. Seeing he was forging ahead, he throttled back to 64.35 at halfway. After his win, Rotich said, "The pace was ideal, and this is a good fast course. I think with the right people and pacing, someone could do 2:05 here." Two days before this year's marathon, Dubai Holdings, the national investment company, announced a one million dirhams ($275,000) bonus for a world record in Dubai.
Leaders of World Marathon Majors to Run Boston
In its 22nd year as the major sponsor of the Boston Marathon, John Hancock Financial Services announced the return of two-time champion Robert Kipkoech Cheruiyot of Kenya and last year's runner-up Jelena Prokopcuka of Latvia for the 111th running of the race on April 16. Cheruiyot and Prokopcuka have chosen to compete in Boston to reinforce their commanding lead in the prestigious World Marathon Majors series and move closer to sharing the million-dollar prize awarded at the end of the year. The series brings together the best athletes in the world to compete in Boston, London, Berlin, Chicago and New York. John Hancock also sponsors a significant purse for the top runners at Boston each year.
Both athletes return with outstanding accomplishments. Cheruiyot is the reigning Boston and Chicago Marathon champion, earning the distinction as the only man to have ever won both marathons in the same year. In Boston last year, Cheruiyot claimed the course record in 2:07:14. He also won Boston in 2003 and the Milan City Marathon in 2002. "Boston is always an exciting race to compete in and I'd like to thank John Hancock for welcoming me back to run again against a highly competitive field," said Cheruiyot.
Last year's women's runner-up in Boston and two-time New York City champion, Jelena Prokopcuka, will be racing for the crown after placing second last year and fourth in 2004. Prokopcuka has competed for Latvia in the past three Olympics and is a multiple national record-holder on the track and roads. At the Osaka Marathon in 2005, she secured the win with a national record of 2:22:56. At New York the past two years, she was the undisputed leader despite being challenged by the world's best runners.
"Robert and Jelena are two of the premier marathoners in the world, as evidenced by their current standing atop the World Marathon Majors leaderboard," said Guy Morse, executive director of the Boston Athletic Association, which organizes the marathon. "The constitution of the elite athlete field makes Boston one of the most eagerly anticipated sporting events of the spring. Like the rest of the community, we appreciate John Hancock's ongoing support."
Tergat and Gebrselassie to Meet in London in April
Some of the world's greatest marathon runners will go head-to-head in a battle for the 2007 men's Flora London Marathon title on Sunday April 22. Last year's fastest marathon runner Haile Gebrselassie will take on his great rival and world record holder Paul Tergat of Kenya, plus Italy's Olympic champion Stefano Baldini, Morocco's double world Cchampion Jaouad Gharib, and the reigning London champion Felix Limo of Kenya, in one of the highest quality men's fields ever assembled for a major city marathon. "We are delighted to have such a strong field for the men's elite race again this year," said Flora London Marathon Race Director David Bedford. "The presence of the world record holder, the world and Olympic Champions, our reigning champion and the in-form Haile Gebrselassie will, I am sure, mean we have another hugely exciting race through London's streets."
Gebrselassie will return to London 12 months after finishing a disappointing ninth in the 2006, race but on the back of some highly impressive form in the latter part of last year. The Ethiopian recorded a personal best of 2:05:56 to win the Berlin Marathon in September, making him the fifth fastest of all time, and also won the Fukuoka Marathon in December. Tergat set his world record of 2:04:55 in Berlin in 2003, but was forced to pull out of the London Marathon last year after sustaining an injury just a few days before the race. But these two will certainly not be the only contenders. Limo proved last year that he is a hard man to beat, as he added the London title to previous victories in Rotterdam, Berlin and Chicago, and this year he will aim to become the first man since Mexico's Dionicio Ceron in 1996 to successfully defend the men's London Marathon crown. Fifth last year, Baldini will be full of confidence for his eighth appearance in London after adding the European Championship title to his 2004 Olympic crown last summer, while Gharib will be hoping to improve on finishing second in 2005 before he defends his World Championship title in Osaka in August.
Other significant contenders include: the surprise winner of the 2006 New York Marathon, Marilson Gomes dos Santos of Brazil; the impressive American pair of Olympic silver medallist Meb Keflezighi and former world record holder Khalid Khannouchi; and Kenya's Martin Lel, the 2005 London champion, who lost to Limo last year by just two seconds. The addition of South Africa's Hendrick Ramaala, who was third last year, means that the top five finishers from 2006 return to contest the 2007 race. The British challenge will be led by Jon Brown, who has twice finished fourth at the Olympic Games. Brown was forced to miss last year's race due to injury but returns to the London field hoping to improve on his sixth place finish in 2005. As well as chasing prize money and record bonuses totaling more than $250,000, the competitors in this year's race will also be fighting for points towards the World Marathon Majors series. The other WMM races this year are the Boston Marathon (April 16), the Berlin Marathon (Sept. 30), the Chicago Marathon (Oct. 7), and the New York City Marathon (Nov. 4), plus the IAAF World Championship marathon races in Osaka (Aug. 25 for men and Sept. 2 for women).
© Copyright 2007-2022 by Take The Magic Step®. All Rights Reserved.
Article Archive