Röthlin Wins in Tokyo, Bekele Breaks World Record in Birmingham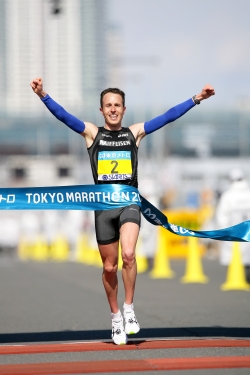 Viktor Röthlin has celebrated the greatest victory of his career in Tokyo. The Swiss won the prestigious Tokyo Marathon in the first-class time of 2:07:23. This meant the 33-year-old improved his own national record of 2:08:20, set last year in Zurich, by almost a minute. For the first time this edition of the Tokyo Marathon was not an elite men's race, but an event for mass participation.
The organizers received around 30,000 entries for the race, which does not at present have an elite women's field. Yet, of course, there was a women's champion: Claudia Dreher (Germany) was a surprise winner in 2:35:35. This put the 36-year-old on the list of champions in a race that has the potential to become one of the World Marathon Majors in the near future.
With temperatures just above freezing but otherwise good conditions, a leading group of about 20 runners reached halfway in 63:39. From then on it was the favorites who encountered problems. Last year's winner, Daniel Njenga (Kenya), who had won the debut of the new-style Tokyo Marathon in freezing rain in 2:09:45 in 2007, was only 13th in 2:14:11. His compatriot Abel Kirui, who was second behind Haile Gebrselassie in Berlin last year in 2:06:51, didn't even finish.
In similar fashion to his sensational run for the bronze medal in the 2007 World Championships in Osaka, Röthlin grew stronger and stronger in the latter stages. The leading trio went through 35K in 1:45:57. After that the Swiss, who finished second in the 2006 European Championships, pushed the pace and dropped first the eventual runner-up Arata Fujiwara (Japan/2:08:40) and then Julius Gitahi. The Kenyan finished third in 2:08:57.
"Incredible – to win the Tokyo Marathon in marathon-mad Japan, I just can't believe it. I can't find the words to express how I feel," explained Röthlin. "I think I'm very much on the right track for Beijing," added the Swiss, who is now a very real medal contender for the Olympics.
The Japanese may have also found their own Viktor Röthlin in Tokyo. The second finisher, Arata Fujiwara, improved his best time by the incredible margin of half an hour! He'd hit the Wall in his marathon debut and finished in 2:38:37. But now his time of 2:08:40 may well have qualified him for the Olympic Games. The third finisher, Julius Gitahi, also made good use of the conditions, improving his previous best was 2:17:26 by more than 8 minutes.
Results, Tokyo Marathon (Elite Men's Race):
| | | |
| --- | --- | --- |
| 1. Viktor Röthlin | SUI | 2:07:23 |
| 2. Arata Fujiwara | JPN | 2:08:40 |
| 3. Julius Gitahi | KEN | 2:08:57 |
| 4. Toshinari Suwa | JPN | 2:09:16 |
| 5. Satoshi Irifune | JPN | 2:09:40 |
| 6. Kurao Umeki | JPN | 2:11:00 |
| 7. Seiji Kobayashi | JPN | 2:11:02 |
| 8. Toshikazu Takatsuka | JPN | 2:11:05 |
| 9. Hiroyuki Horihata | JPN | 2:11:47 |
| 10. Takashi Ota | JPN | 2:12:10 |
Bekele Breaks World Record for 2 Miles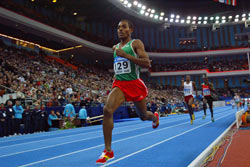 Kenenisa Bekele has set his third world indoor record. In Birmingham, England, the 25-year-old ran 8:04.35 for the rarely run distance of 2 miles. This broke the record of his compatriot Haile Gebrselassie, who ran 8:04.69 at the same meet five years ago. The international governing body of athletics (IAAF) doesn't officially recognize world records for the 2-mile distance, so it is described as a "world best."
However, that does not diminish Bekele's performance because Gebrselassie's time was top-class. "I'm very happy because it wasn't at all easy," said Bekele. The Argentine Javier Carriqueo took the role of pacemaker in the early stage of the race. He took Bekele through 1,000m in 2:29.66. Soon after the 10,000m Olympic champion and world record holder had to make the pace by himself. After 2,000m (5:00.61) he was still on course for a finishing time under 8:00. Bekele lost some momentum in the third kilometer, but Paul Koech was having a strong race behind him. Without the Kenyan's pressure the Ethiopian might have narrowly missed the record.
Koech finished second in 8:06.48 and set a Kenyan record. His compatriot Abraham Chebii was third in 8:13.28. The Briton Mo Farah ran 8:20.95 for sixth place. Bekele had also set his two other world indoor records in Birmingham: he ran 12:49.60 for 5,000m in Birmingham in 2004 and last year ran 4:49.99 for 2,000m. Bekele is likely to run in the World Indoor Championships in Valencia and also the World Cross Country Championships at the end of March.
There was also an Ethiopian victory in the women's 3,000m: Gelete Burka won in the third fastest time in the world this year. She finished in 8:31.94, well in front of Jessica Augusto (Portugal/8:46.29) and Lisa Dobriskey (Great Britain/8:50.42).
Flanagan, Ritzenhein Dominate U.S. Cross Country Championships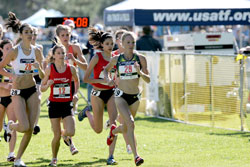 Shalane Flanagan and Dathan Ritzenhein romped to victories at the U.S. Cross Country Championships on Saturday in San Diego. Flanagan utterly destroyed the field, winning the women's 8K through Mission Bay Park by an astounding 70 seconds. Ritzenhein's margin of victory wasn't as great, but his 26-second lead over second place finisher Jorge Torres over the 12K course was still impressive.
Fresh off of altitude training in Mexico, Flanagan took the lead from the start, pulled away decisively on the second 2K loop and never looked back en route to finishing in 25:26. The American record holder for 5,000m (14:44.80) later explained that she continued to press in preparation for the much tougher competition she hopes to face in Europe and at the Olympics this summer. Behind her, Renee Metivier won a three-woman sprint for second, running 26:36 to turn back Emily Brown (26:37) and Katie McGregor (26:38). The top six finishers are eligible to represent the U.S. at next month's World Cross Country Championships in Edinburgh, Scotland.
The men's 12K initially looked like a replay of November's Olympic Marathon Trials, with Ritzenhein tucked behind a pace-pushing Ryan Hall. But Hall, deep in preparation for the London Marathon, couldn't produce the sort of staggering performance he did at the Marathon Trials, and eventually faded to fifth. Ritzenhein began to pull away from Hall and Torres after 5K and wound up running the second half of the race by himself. He clocked 35:03 to clearly beat Torres, his former college teammate, who ran 35:29. Josh Rohatinsky and Ed Moran passed Hall in the second half to move into third and fourth, respectively. KIMbia's James Carney placed sixth in 35:56 to make the team for the world meet.
World Champ Kibet Escapes Second Attack in Kenya
Luke Kibet, world marathon champion last year, has again been attacked in Kenya. Unlike in the first attack at the end of December, this time the 24-year-old was fortunate enough to emerge unscathed. The unrest in Kenya in the wake of the disputed presidential election of Mwai Kibaki has cost the lives of at least 1,000 people. The country's runners have been affected, with many having to cut back on their training out of fear of mob violence.
Kibet, who also won the Vienna Marathon last year, was traveling by car to Eldoret from Nairobi with four other athletes when they were forced to stop by a flock of sheep that had been placed in their way. Six men confronted them and threatened to set fire to the car with the occupants inside. Kibet then drew a pistol that he had recently bought. The runners in the car were able to drive off and finally reach Nairobi unharmed. Luke Kibet, who has a job with the Kenyan prison service, is in a training camp there. He wants to try to qualify for the World Cross Country Championships at the end of March. His main objective in spring, however, is the London Marathon on April 13.
In a recent interview, Kibet explained how he was injured in Eldoret on the day the election results were announced. Together with friends he went to the aid of an injured man who had been attacked by rioters. But after he had called the fire brigade, he was hit on the head by a stone and became unconscious. "When I woke up, I was in hospital and they were stitching up the wound," said Kibet, who has been able to train again only for the past three weeks.
© Copyright 2008-2022 by Take The Magic Step®. All Rights Reserved.
Article Archive